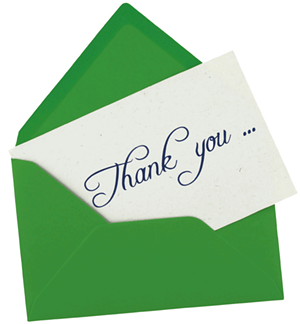 If ever you've tried to get a child to sit down and write a thank-you note, you know it's a lot like pulling a wheelbarrow full of baby monkeys uphill through mud. I have no idea why it's so hard. I'm honestly not convinced that children aren't born with a natural aversion to this particular task and an innate sense that if they complain long enough about having to do it, you'll give in, out of utter exhaustion, and let them off the hook.
Monkeys aside, the answer to the question is: Yes! You absolutely should make your kids write thank-you notes. It's good manners. It's good practice. It's a lost art. But more than any of that, writing thank-you notes is an expression of gratitude, and expressing gratitude is a crucial element in our overall health and well-being.
Robert A. Emmons, professor of psychology at the University of California and leading expert in the science of gratitude, explains that gratitude can "lower blood pressure, improve immune function and facilitate more efficient sleep. Gratitude reduces lifetime risk for depression, anxiety and substance abuse disorders and is a key resiliency factor in the prevention of suicide." Specifically, Emmons' research reveals that "children who practice grateful thinking have more positive attitudes toward school and their families."
Basically, it's good for our health to write thank-you notes. But how do we get our kids to actually do it?
Real Simple offers several helpful tips for engaging even the littlest note-writers. My favorite is "teach sincerity" because "you want your kids to learn to be authentically gracious." Sincerity means that kids don't have to pretend a gift is beautiful if it's not, and they don't have to say they love a thing if they don't. Encourage them to be honest but kind. Something like, "Thank you for taking the time to pick this gift out for me" is more sincere than "Wool turtlenecks are my absolute favorite!"
Other tips include taking time to write the notes together, making yourself the "designated writer" (especially when the kids are young) and making sure you have the appropriate supplies: notes, stamps, addresses, pens and snacks (of course).
Like anything worth doing, experiencing and expressing gratitude is a practice. It's a muscle we have to exercise and train. Teaching our children to recognize the people, moments and gifts that enrich their lives and guiding them in articulately expressing their thanks is, in itself, the gift of a lifetime.
In this monthly column, comedian, writer and mom Autumn Spencer answers tricky parenting questions. Have a question for Autumn? Send it to ideas@kidsvt.com.