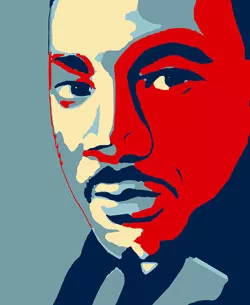 Amreeka, a bittersweet comedy about a Palestinian immigrant mom and her teenage son adjusting to life in Illinois, snagged a nomination for Best Feature of 2009 at the Independent Spirit Awards. But if you live in Vermont, you probably haven't had a chance to see it. The seventh annual Mountaintop Human Rights Film Festival offers one. Directed by Big Picture Theater and Café owner Claudia Becker, and inspired by the legacy of Martin Luther King Jr., the fest has 15 films on the menu this year. Some are classics, but others, such as Amreeka and The Yes Men Fix the World — about two activists who use pranks to expose corporate greed — are new and buzzworthy. Click here to find the full schedule.
Long before David Simon and co. were exploring the ins and outs of corrupt social institutions on "The Wire," Frederick Wiseman was doing it documentary style in controversial films aired on PBS. Titicut Follies (1967) took viewers on a harrowing journey through a Massachusetts mental institution; High School (1968) drew fire for its Vietnam-era portrayal of American education as indoctrination. The latest feature from the 80-year-old granddaddy of modern documentary filmmaking promises to be less gritty and a lot prettier: In La Danse, Wiseman's camera captures ballerinas preparing to perform at Paris' gilded opera house. You can see it — and Wiseman — when he accepts the Dartmouth Film Award this Friday.
As always, the Hop has lots of great film offerings this winter. Among them is a series called "Size Matters: Movies That Must Be Seen on the Big Screen" (for those who aren't convinced they want to watch Seven Samurai on their video iPod), and a showcase of works by the under-house-arrest director Roman Polanski. Find the full schedule here.