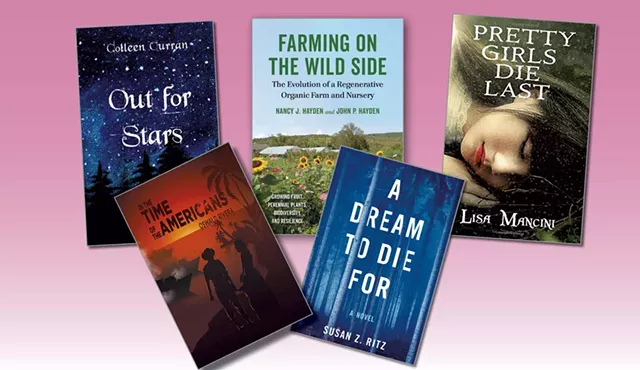 Seven Days writers can't possibly read, much less review, all the books that arrive in a steady stream by post, email and, in one memorable case, a scourge of mosquitoes. So this monthly feature is our way of introducing you to a handful of books by Vermont authors. To do that, we contextualize each book just a little and quote a single representative sentence from, yes, page 32.
Inclusion here implies neither approval nor derision on our part, but simply: Here are a bunch of books, arranged alphabetically by authors' names, that Seven Days readers might like to know about.
Out for Stars
Colleen Curran, Band Stand Island Books, 184 pages. $19.99.
Everyone knows the password: Cold beer.
What good is knowing the Wi-Fi password if you can't use it? A monthlong digital detox at a northern Vermont camp is a perfect escape for some, but for Diana Kellogg, this corporate punishment might as well be corporal.
After a video of her doing an unflattering impersonation of an uptight coworker makes the rounds on social media, Diana's banishment — and mandatory technology ban — is the only way she can keep her job. She has to survive 30 days without Instagramming, Facebooking or tweeting, and for every lapse she gets another month.
Colleen Curran is a playwright and novelist from Montréal who draws inspiration for the novel's small, unidentified lakeside town from her time as a self-described "part-time Vermonter" in Highgate Springs. Bats in the house, coy-dogs in the marsh and (gasp!) landline telephones plague Diana's time unplugged. It's a classic tale of a city person adapting to the Vermont way of life, told through exasperated letters mailed back to civilization. But if she can't tweet about it, did it really happen?
— J.B.
Farming on the Wild Side: The Evolution of a Regenerative Organic Farm and Nursery
Nancy J. Hayden and John P. Hayden, Chelsea Green Publishing, 272 pages. $29.95.
We believe that this ecological illiteracy in our minds of separating ourselves from nature, from other beings, from other humans, is the root cause of many of our societal problems.
Over the past 25 years, Nancy and John Hayden have turned a former conventional dairy farm into "a biodiversity-based regenerative organic farm." For them, to farm is to act "as cocreators with nature." Their agro-ecological and organic fruit farm, fruit nursery and pollinator sanctuary — the Farm Between in Jeffersonville — is a testament to their relationship with the land and its inhabitants. And it reflects their philosophical beliefs that ascribe the causes of and cures for American social ills to human/nature dynamics.
The Haydens bring expertise in education, research, environmental engineering and creative writing to their book. Part land-stewardship story and part expert guide, it offers practical information on topics such as soil health, agroforestry and beekeeping, as well as insightful essays on resilience, adapting to climate change, and defining pests and invasive species. Conveying a sense of urgency, the authors write that they hope the book will "encourage more land managers ... to cultivate a renewed sense of purpose by reconnecting, rewilding, and regenerating the land and the life it supports."
— E.M.S.
Pretty Girls Die Last
Lisa Mancini, self-published, 298 pages. $11.07.
I think the person who took my daughter was disturbed but rational enough to return her.
The third novel in Rutland author Lisa Mancini's series The Freya Barrett Mysteries has a topical tie-in. The central mystery concerns a popular 13-year-old girl whose corpse is discovered in a lake. Her friends reach out to small-town reporter Freya Barrett and implicate a group of local prep-school boys who hold regular "rape parties."
Both Freya and the author are passionate opponents of rape culture, and the novel draws explicit connections between the depravity in fictional Agatha Falls (located in Connecticut, but packed with Rutland-area landmarks) and the alleged behaviors of President Donald Trump and Supreme Court Justice Brett Kavanaugh. Meanwhile, 20-year-old college student Freya also grapples with a missing-child case, an Interpol-wanted criminal, a possible werewolf sighting, a book deal, an MIA boyfriend and more. This sleuth appears to make the news as often as she reports it — playing fast and loose with journalistic ethics and the law — but her adventures certainly don't lack for exciting twists.
— M.H.
A Dream to Die For
Susan Z. Ritz, She Writes Press, 256 pages. $16.95.
Over the past week, she'd noticed him huddled outside the Corner Cup Café, like a small grungy garden gnome, inviting every passer-by to sit down for a tarot reading.
At the start of A Dream to Die For, the debut novel by Montpelier author Susan Z. Ritz, protagonist Celeste Fortune is planning a breakup. After four years of dream analysis, the small-town bartender has resolved to cut ties with her money- and power-hungry therapist, Larry Blatsky.
Celeste's determination turns to panic when she finds Blatsky lying in a pool of blood in his office. Just before he dies, the unscrupulous therapist — whose eccentricities call to mind Dr. Lawrence Jacoby from "Twin Peaks" — implicates Celeste as his attacker. What's more, the computer on which he documented his clients' nighttime visions has gone missing. So much for patient privacy.
Complete with new-age therapy, an ominous tarot reading and a healing crystal turned murder weapon, this murder mystery takes readers on a mystical and mind-bending journey through one woman's pursuit of wellness gone wrong.
— K.R.
In the Time of the Americans
Oswald Rivera, Indigo River Publishing, 405 pages. $22.95.
He was last seen galloping toward the hill beyond the cemetery, a not-so-terrified Maria Benítez sitting calmly in the back of the carriage.
Oswald Rivera was born in Ponce, Puerto Rico, moved to New York City with his family at age 7, and now lives in Craftsbury, Vt. This thick volume — his third novel and fifth published book — is a multigenerational family saga based on the history and island lore of the so-called "American century" in the Caribbean.
In an extended prologue, Rivera recounts the invasion of the sleepy backwater town of Ponce at the dawn of the 20th century. American rule replaced Spanish rule, it's true, but this story soon centers on the ill-fated not-quite-romance of a young yanqui naval officer and a local dark-eyed beauty. It goes on to describe an era of colonialism, exploitation, international relations and the modernization of the western hemisphere, yet also relational dynamics that would satisfy fans of soap opera. Despite the history's unsavory and tragic elements, Rivera's aerial perspective, vivid writing and somewhat amused tone make his tale an entertaining one. His decades-spanning drama is woven with consistently twinned threads of human hubris and haplessness.
— P.P.