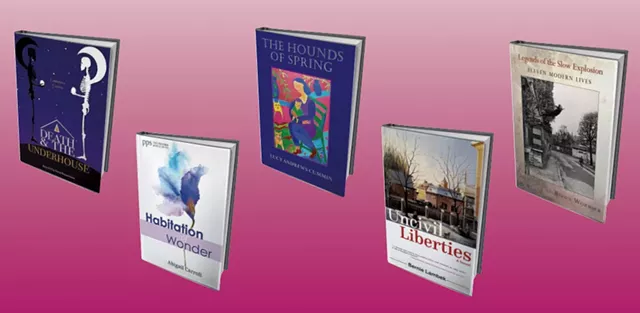 Seven Days writers can't possibly read, much less review, all the books that arrive in a steady stream by post, email and, in one memorable case, a scold of jays. So this monthly feature is our way of introducing you to a handful of books by Vermont authors. To do that, we contextualize each book just a little and quote a single representative sentence from, yes, page 32.
Inclusion here implies neither approval nor derision on our part, but simply: Here are a bunch of books, arranged alphabetically by authors' names, that Seven Days readers might like to know about.
Death and the Underhouse
Christina Caniyo, 1st Ride Publishing, 291 pages. $12.99 paperback; $3.99 ebook.
She used to ask the picture questions as if the ghost of her mother would manifest and respond.
In her bio, Christina Caniyo of Vergennes describes herself as a chocolatier, apothecarist and yoga instructor. An appreciation for good cacao permeates this urban fantasy novel, the first of a series, in which the inhabitants of a mystical realm swoon for the "rich, sultry goodness" of the homemade chocolates that our heroine, Kira, brings with her from the human world. The illicit offspring of a reaper — yes, the grim kind — Kira has discovered the portal to another plane of existence in the "underhouse" beneath her Vermont home. While she becomes embroiled in otherworld politics and romantic rivalry, her death-bringing dad struggles with the consequences of her existence. With an epic sweep, this busy, vivid, frequently trippy fantasy ends on a tantalizing cliffhanger.
— M.H.
Habitation of Wonder
Abigail Carroll, Cascade Books, 128 pages. $16.
O Father, who art in heaven,
I saw your name:
It was tall as the oak
I grew up under
the bark grooves deep enough
to tuck my fingers into.
The postmodern penchant for suspicion of faith and religion may serve many well, but it's best to set it aside when reading Abigail Carroll's newest volume of poems. Currently the pastor of arts and spiritual formation at Burlington's Church at the Well, Carroll has published poetry in journals such as the Midwest Quarterly and Sojourners, authored the 2013 book Three Squares: The Invention of the American Meal, and written pieces for the Wall Street Journal and New York Times. This collection explores the relationship between nature and godliness; but for sparse references to the biblical Adam and Genesis, Carroll's poetry could concern a universal god. The rhythm and cadence of her words evoke church choirs — not surprisingly, since some pieces were written for those groups. Yet her poems live wholly in the natural world, and it's a beautiful one.
— S.W.
The Hounds of Spring
Lucy Andrews Cummin, Leapfolio, 172 pages. $16.90.
At the end of one installment of their story, Irene tossed her head so that Poppy knew she was about to say something outrageous.
Poppy Starkweather is an appealing, relatable protagonist: As we meet her, she's bombed at graduate school and abandoned an anticipated academic career in English literature. (She's particularly enamored of 18th-century diarist and biographer James Boswell.) Instead, twentysomething Poppy has become a dog walker in her native Philadelphia — and finds that it suits her. She is, after all, a dog lover, and her own furry companion, Spock, is an engaging character in this slim volume. Huntington writer Lucy Andrews Cummin draws both people and pooches with familiar ease. The Hounds of Spring allows the reader access not only to Poppy's agitated mind but to her colorful clients and their pets. Cummin's prose and pace are comfortable, but not without drama concerning Poppy's boyfriend and family. Luxurious in detail, the entire story takes place over a single day. This reader was left wanting more.
— P.P.
Uncivil Liberties
Bernie Lambek, Rootstock Publishing, 228 pages. $16.95.
She remembered some story that Ricky had espoused fundamentalist religious opinions, and she had wondered whether his faith was what her daughter had admired, in spite of their differences.
Legalese and courtroom banter become relatable, even enjoyable, in this debut novel from Montpelier lawyer Bernie Lambek about a gay high school student's death. After Kerry Pearson is found at the bottom of a cliff, an apparent suicide, the tragedy throws Montpelier into an uproar, bringing lawyers into the fold who must explore the complexities of bullying, preferential treatment for heterosexuals, discrimination, and religious and sexual freedom. While the content is heavy, the familiar landscape helps readers feel at ease. The novel is littered with local landmarks — some slightly altered, such as "Sacred Grounds" standing in for local coffee shop Capitol Grounds. Such small changes aside, the book feels as if it could, and did, happen in our own backyard, and it couldn't be more timely.
— S.W.
Legends of the Slow Explosion: Eleven Modern Lives
Baron Wormser, Tupelo Press, 174 pages. $19.95.
The field of intelligence, to say nothing of Angleton's specialty, counterespionage, was like an uncontrollable novel in which characters continually questioned one another's behaviors and attitudes.
"I do not offer these legends as strict accounts," writes Baron Wormser, Montpelier resident and former poet laureate of Maine, in the preface to this collection. Indeed, while each of his 11 essays profiles a famous figure from the 20th century — ranging from Rosa Parks to Audrey Hepburn — Wormser spurns dry biographical details. He channels the lived experiences of his subjects with the lyrical immediacy of a novelist.
For instance, Wormser imagines philosopher Hannah Arendt, who escaped Nazi Germany, meditating as she strolls up Broadway: "That seems one of the beauties of the United States. There are no essences to aspire to. Beyond what a ballplayer can do, no one cares about greatness." Elegiac and urgent, these essays evoke the spirit that Wormser attributes to modernity: "the unnerving, headline feeling of everything giddily speeding up and everything ending." The lessons of these lives remain disturbingly relevant.
— M.H.