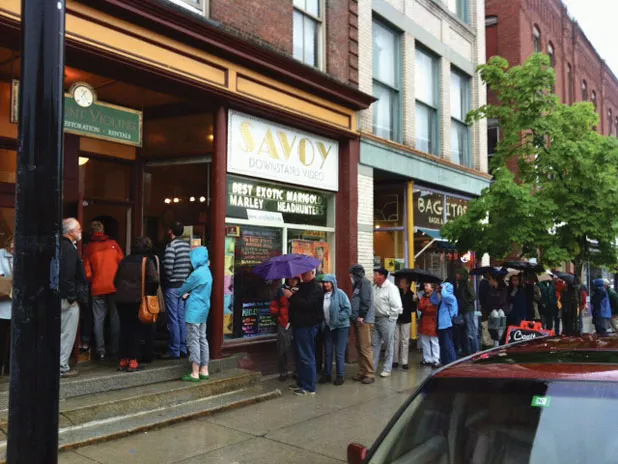 The Lake Placid Film Forum staff has designed a provocative poster for its annual mini-festival, which starts Wednesday, June 13: The event's name appears on a wrinkled red surface in a font all too reminiscent of a Netflix envelope.
That fits right into a panel discussion scheduled for Saturday at 1 p.m. at Lake Placid's historic Palace Theatre: "Do Movie Theaters Have a Future?" The question is not just theoretical for film exhibitors who screen traditional 35-millimeter prints, as several studios have announced that they intend to stop shipping reels and go all digital in the near future. Will small and indie theaters be forced to convert or die?
One discussion participant is character actor Michael Gaston, a veteran of TV shows such as "The Mentalist," "Damages" and "Unforgettable." (He also played Gen. Tommy Franks in Oliver Stone's W.) Gaston is at the LPFF to present Tending Fires, a documentary he produced about seven teenage boys undergoing a community-designed rite of passage in New York's Catskill Mountains. Director Peter Ferland will also attend the Saturday screening at 7 p.m.
The LPFF is somewhat scaled down this year, with just nine events scheduled. The films screened include festival hits such as Chicken With Plums, a live-action drama based on the graphic novel by Iranian comic artist Marjane Satrapi (Persepolis); and Searching for Sugar Man, a documentary about Rodriguez, the obscure Detroit musician who became the voice of South Africa's anti-apartheid youth. Joe Papp in Five Acts (screening free on Friday) tells the story of a groundbreaking theater producer whom LPFF Artistic Director Kathleen Carroll describes as "much like a Shakespearean character, a self-obsessed, occasionally cruel man who ultimately had to face a terrible personal tragedy."
And, of course, fans of short film won't want to miss the local North Country Shorts showcase or the latest installment of the annual Sleepless in Lake Placid student film competition. Better than Netflix? You be the judge.
*****
Speaking of struggling indie movie houses: In late May, the owner of Montpelier's Savoy Theater announced to members that "our financial position has eroded to the point where we may need to close the theater starting June 15th." Community response was swift. On June 11, owner Terrence Youk wrote in the Savoy's e-newsletter that "to date the community has sent in donations and renewed memberships totaling $27,191."
Meanwhile, reader Robert Lehmert sent Seven Days a photo (pictured) that he snapped outside the Savoy on June 2, showing moviegoers lined up in the rain for a show. Those reels are still rolling...
*****
Kickstarter campaigns for indie films are a dime a dozen these days, but not many of them were initiated by 12-year-old directors inspired by Quentin Tarantino. Caleb Hoh of Burlington wants to raise $1800 by June 27 to make a film called Reservoir Pups — a "serious spoof" of Tarantino's heist flick Reservoir Dogs, with kids in the lead roles. Hoh — the son of August First and Stacks Sandwich co-owner Jodi Whalen — has been experimenting with Adobe After Effects in his YouTube videos, which reveal that, for a preteen, he's got some editing skills. Check out his project at kickstarter.com.
And, while you're there, get a preview of "The Green Knight," a family-oriented, locally shot adventure from kidBrotherPictures, which brought us the inventive short "The Dragon Wall." Lamoille County filmmakers Mark Freeman and Brandon St. Cyr have already exceeded their fundraising goal.
Lake Placid Film Forum: Wednesday, June 13, through Saturday, June 16, at the Palace Theatre and Lake Placid Center for the Arts in Lake Placid, N.Y. Most films are $10-12; some events are free. For the complete schedule, see lpfilmforum.com/2012-schedule.