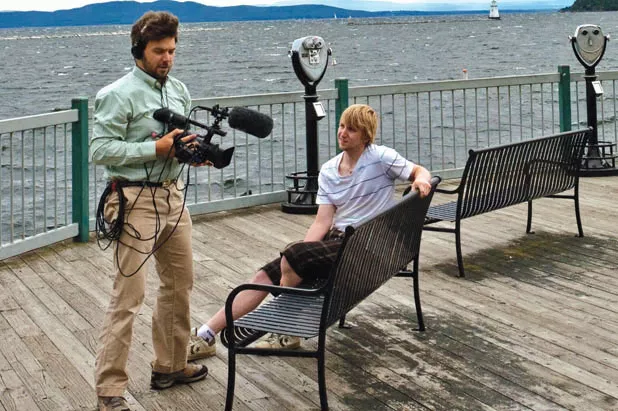 When Burlington filmmaker Derek Hallquist saw a Super Bowl ad touting a "zero-impact" electric car as the answer to America's energy troubles, he wondered, Does any of this make sense? To find out, he went straight to the source — his dad, David Hallquist, CEO of Vermont Electric Cooperative.
Now Hallquist is at work on a documentary, tentatively called Power to the People, that he hopes will show the world "electricity from behind the curtain." Besides drawing on the experience of Hallquist Sr. — who testified last February at the Statehouse on renewable-energy issues — the filmmaker has visited southern coal plants and gathered aerial footage of melting sea ice in Alaska.
Hallquist honed his research-driven approach to documentary working for Waitsfield-based director Eugene Jarecki. He was the director of photography on Jarecki's most recent film, The House I Live In, a skeptical look at the war on drugs that won the Grand Jury Prize: Documentary at the Sundance Film Festival last January.
As a director, Hallquist made his own foray into the hot-button subject of addiction with "The Opiate Effect," a short film about the overdose death of University of Vermont student Will Gates that began as a public-service announcement commissioned by the U.S. Department of Justice. The film, which has screened widely in New England, recently won a national Silver Telly Award and three Communicator Awards.
"The Opiate Effect" features wrenching testimonies from Gates' father and brother, local experts, and recovering users. "The opiates problem is growing, and it's up to us as media professionals to help, not law enforcement," writes Hallquist in an email, referring to Gov. Peter Shumlin's support for giving police the power to search prescription-drug databases without a warrant (see Fair Game in last week's Seven Days).
It's been two years since George Woodard's coming-of-age drama The Summer of Walter Hacks premiered in Montpelier. Since then, the locally shot film has been screened around Vermont, but never in downtown Burlington — until now. Next Wednesday, the filmmaker/dairy farmer and his coproducer, Gerianne Smart, will discuss the making of Hacks after a showing at FlynnSpace. All ticket sales help fund the Vermont International Film Festival.
Mark your calendars for the Lake Placid Film Forum, June 13 to 16. Guests include character actor Michael Gaston, who appears on TV's "Unforgettable"; and, as always, there will be a Sleepless in Lake Placid 24-hour student filmmaking competition. More info at lpfilmforum.com.
Jay Craven has kicked off a Kickstarter campaign to fund the completion of his film Northern Borders, based on the Howard Frank Mosher novel. Having finished local shooting with stars Bruce Dern and Geneviève Bujold on April 25, Craven is seeking $56,000 for the editing and postproduction of the film, which also serves as a hands-on workshop for students from several New England colleges. Donations start at $10; find more details at kickstarter.com/projects/543211196/northern-borders-feature-film.
'The Summer of Walter Hacks' Wednesday, May 23, reception at 5:30 p.m.; screening at 6:30 p.m. at FlynnSpace, Burlington. $35. vtiff.org