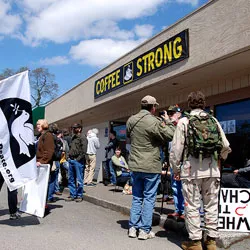 Scene from Grounds for Resistance
Java for justice? In Vermont, antiwar veterans spearheaded the Combat Paper Project, which uses art workshops to promote healing and activism. In Washington state, similar impulses led to the opening of a coffee house. University of Oregon folklorist Lisa Gilman's documentary Grounds for Resistance profiles Coffee Strong, located near the Joint Base Lewis-McChord, where veterans find not just caffeine but conversation, counseling and resources. The film has its New England premiere in Middlebury this Saturday. Catch a free screening and discussion with Gilman, organized by the Vermont Folklife Center, at the Ilsley Public Library.
*****
Observers may have noticed some recent programming changes at the Savoy Theater. For one thing, Montpelier's venerable arthouse cinema has begun showing high-definition (though not live) broadcasts of world-class opera and ballet performances on its eight-foot-wide basement screen. For another, the Savoy is now more apt to screen certain films, such as the documentary Page One: Inside the New York Times, before Burlington-area theaters do.
Why? It's all about format, explains owner Terrence Youk. He's added the Savoy to the network of Emerging Pictures, a company that makes digital content — films and performance recordings — available to properly equipped theaters through a server box. The Savoy now has digital capacity on both its screens, along with traditional film projection upstairs.
Digital projection is becoming standard at multiplexes, especially those that show films in 3-D. For arthouses like Youk's, it has pluses and minuses. "Some people say it's a little bit colder image," says Youk, who admits that for him "there's just a je ne sais quoi about film."
The advantages of digital format are many, though. For one thing, there are no 60- or 70-pound film prints to ship and lug. Once the initial investment has been made, the switch can cut costs; Youk says he no longer needs to employ a film buyer. Digital files don't get scratched. And they're easier for a small, rural theater to obtain than prints are.
"Getting prints is very political, and it's a market of scarcity now," says Youk. He notes that distributors tend to favor larger markets. By subscribing to a service like Emerging Pictures, however, "we can open films on par with what Burlington is doing."
Will young cinephiles, accustomed to the digital format, come to the Savoy to see films such as Errol Morris' controversial new documentary Tabloid instead of waiting for them to become instantly downloadable? Youk hopes so — "trying to skew a bit younger" is key to the Savoy's survival, he points out.
*****
Burlington playwright and filmmaker James Lantz has exceeded his $50,000 Kickstarter.com fundraising goal to take his drama The Bus on the road. He's making plans to bring the play to Manhattan — and as close as he can to the Kansas stronghold of the Westboro Baptist Church.
Meanwhile, Burlington's Mark Williams is using Kickstarter to try to raise $25,000 toward making a feature comedy called Vermont Vacation. The tagline: "When a family needs healing in the worst way." Check out a goofy preview video at vermontvacationthemovie.com featuring star James Horan, a frequent video-game voice actor and TV guest star who played Kate's briefly seen dad on "Lost."