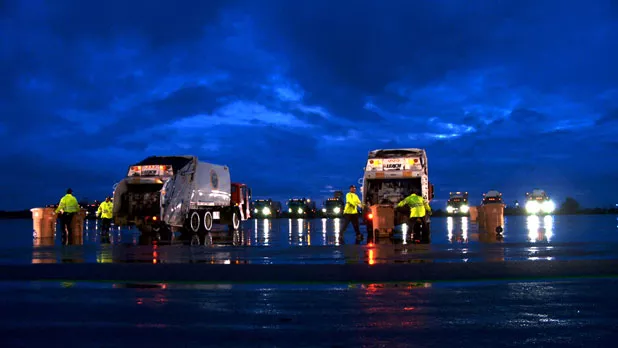 Vermont-based filmmaker Eugene Jarecki recently delivered a TEDxHollywood talk on "storytelling in the digital age." The decade since the start of the Iraq War has seen an incredible democratization of filmmaking, said the director of progressive documentaries Why We Fight and The House I Live In. The result is that, under the right circumstances, any individual with a camera can "have an amazing impact on the global narrative." (Find the whole talk on YouTube.)
Nowhere has that democratization been more evident than in documentary — typically the cheapest, most guerrilla form of filmmaking. You can get a sampler of the flourishing form this weekend at the Hopkins Center for the Arts' Full Frame Documentary Film Festival, part of a series called Best in Show: Dartmouth Salutes the World's Film Festivals.
The full version of Full Frame happens in Durham, N.C., and features more than 100 docs. The Hop is screening five of them, which range all over the map in their subjects, from whimsical to tragic. Trash Dance follows a choreographer who enlists sanitation workers and their trucks in her new piece. Wrong Time, Wrong Place spotlights five survivors of the 2011 mass shooting in Norway. Gideon's Army profiles public defenders in the deep South. Suitcase of Love and Shame tells a story reconstructed from found 1960s audio recordings, and Downloaded chronicles the rise of Napster.
Find the weekend's schedule at hop.dartmouth.edu.
Full Frame Documentary Film Festival: Friday through Sunday, May 10 to 12, 4 and 7 p.m. at Loew Auditorium, Dartmouth College, in Hanover, N.H. $10 per film or $30 for all five.
*****
War Witch is not a documentary, but it evokes terrifying realities. Set in an unnamed African country, this Oscar-nominated drama from Canadian director Kim Nguyen follows a child soldier (Rachel Mwanza) who is pregnant from a rape. When she begins seeing visions, she gains a certain power among the group of rebels who abducted her.
Critics say the film, shot primarily in the Democratic Republic of the Congo, observes its subject head on, without sentimentality. War Witch didn't play Burlington-area theaters, but you can see it on Thursday, May 16, in a presentation from the Burlington Film Society and Main Street Landing Performing Arts Center.
'War Witch' followed by Burlington Film Society discussion Thursday, May 16, 7 p.m. at Main Street Landing Film House in Burlington. Free; donations accepted. burlingtonfilmsociety.org
*****
Looking for a flick in a lighter vein? Or something for the kids without CGI? This Saturday, the Brandon Town Hall and Community Center will screen Peter Pan (1924), the original silent version prepared under the supervision of author J.M. Barrie himself. New Hampshire composer Jeff Rapsis supplies live music. The screening of the restored classic kicks off a season of monthly silent films — all free, with donations supporting the town hall.
'Peter Pan' with live music: Saturday, May 11, at 7 p.m. in the Brandon Town Hall and Community Center. Free; donations accepted. brandontownhall.org
*****
Good news for Vermont Public Television, which received a record of four regional (Boston/New England) Emmy nominations for its 2012 programming. Among the honorees is Little Jerusalem, a documentary about the once-thriving Jewish community of Burlington's Old North End. Another local nominee is Moretown's Bright Blue EcoMedia for Bloom: The Agricultural Renaissance, the third in its series about lake pollution, which aired on Mountain Lake PBS. The awards will be announced on June 1.