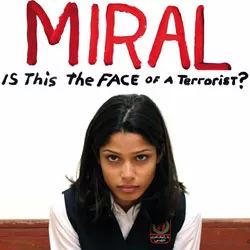 The latest film produced by University of Vermont alumnus Jon Kilik had quite a U.S. premiere. On March 14, Miral was screened at the UN General Assembly in New York. Director Julian Schnabel walked the red carpet in pajamas; and luminaries such as Robert De Niro, Sean Penn and Josh Brolin shared the room with diplomats.
Controversy also attended the event, which was moderated by Dan Rather. Miral is the story of a Palestinian girl (Freida Pinto) who grows up in a Jerusalem orphanage. The American Jewish Committee and other groups protested the UN screening on the grounds that the film presents an unbalanced view of Israel.
This Friday, Miral comes to a select few cities, not including Burlington. But locals can see it, and discuss it with Kilik, at Merrill's Roxy Cinemas on Sunday. Ticket sales benefit UVM's Film and Television Studies program, and Frank Manchel, a film professor emeritus who taught Kilik in the 1970s, will lead the Q&A.
Burlington has seen its share of debates over art depicting the Israeli-Palestinian conflict — remember the battle over Peter Schumann's "Independence Paintings" at the 2007 South End Art Hop?
In a phone interview, Kilik points out that Miral isn't a documentary and shouldn't be taken as "anything other than an artist's attempt at showing a particular point of view through a dramatized, theatrical narrative. We feel that this is a good story worth telling," Kilik says. "That's why we spent three years making it." He notes that Miral offers "a perspective that is rarely given attention to": that of a 17-year-old Palestinian schoolgirl. (Screenwriter Rula Jebreal based it loosely on her own youth.) "She's not a terrorist; she's not a suicide bomber," Kilik says. "She's an educated, beautiful, articulate girl who ... maintains her values of family and education but meets people who are deeply rooted in a political cause."
The UN screening, he says, had about 1800 attendees and "a big ovation afterward."
When Kilik went to UVM, there was no Film and Television Studies. But he says his classes with Manchel and two other instructors "turned a switch in me. I didn't even know you could pursue a film career." He graduated in 1978, did six months of "on-the-job training" at WCAX and headed for New York, where he worked his way up through the ranks of "assistants to assistants" and eventually started running the show. Beginning in the late '80s, Kilik produced a slew of Spike Lee indies and other notable films, including Pleasantville, Broken Flowers, Pollock, Babel and last year's Biutiful.
Kilik's next project is "a little bigger than my usual," he says. He's producing the film version of Suzanne Collins' best-selling young-adult novel The Hunger Games, which will star Oscar nominee Jennifer Lawrence and start shooting in May. While the media are describing the dystopian tale as a potential big franchise, Kilik says it has a "modest budget, considering what it is."
Kilik says he advises students to "follow your interests" — which, in his case, led him to the art house. His early career rode the rise of the American New Wave of directors such as Lee, Jim Jarmusch and the Coens. Now, he says, younger filmmakers such as Darren Aronofsky and David O. Russell "are influencing current college students, and that will feed the next generation."
How has digital technology changed the experience of young filmmakers? "The access is great, and the ability to start early without money is great," Kilik says. "I'm curious to see what students are doing and how they're telling stories."
A packed house got to see some of those stories last Sunday night in Montpelier at the finale of the Green Mountain 48-Hour Film Slam. The event, organized by local filmmaker and acting coach Richard Waterhouse, is a first for the annual Green Mountain Film Festival.
Eight teams presented films they wrote, shot and edited in just 48 hours after being assigned genres, a line ("What can go wrong?"), a setting (the Statehouse) and a prop (a clothespin). Then a panel of judges named three winners.
First prize went to a father-son writing-directing team from Hartford, Jake and Alan Haehnel, whose mini-comedy concerned a marriage proposal on Burlington's waterfront. It also made novel use of the Statehouse's Ethan Allen statue. For a closer look at the contest, see Eva Sollberger's "Stuck in Vermont" video at sevendaysvt.com.