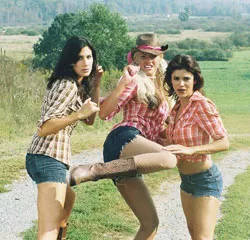 Most weeks, a call for short films that celebrate "Vermont's historical and culturally significant places" might sound a little dry. This week, not so much.
Last Sunday, many state residents (those with power) were glued to YouTube footage of flooding from Tropical Storm Irene wreaking havoc in some of those "historical and culturally significant places." CNN anchors called the images of water surging through downtown Brattleboro "mesmerizing," and a 35-second clip of the Ottauquechee River menacing the covered bridge near Simon Pearce Restaurant ended up on the New York Times' Lede Blog.
It was a reminder that, in this river-threaded state, historic buildings and covered bridges can't be taken for granted. Entries in the new Margot George Short Film Competition should drive that point home. Montpelier's Focus on Film, organizer of the Green Mountain Film Festival, announced earlier this summer that it will award two cash prizes to filmmakers who find creative ways to showcase such places: $500 for an entrant under 18, and $1000 for one over 18. The winning films may also be screened at next spring's GMFF.
The deadline for entries is December 1. Find details at greenmountainfilmfestival.org.
*****
"Craptastic" — that was TMZ.com's word for Illegal Aliens. Rutland-based director David Giancola shot the campy sci-fi spoof starring ex-Playmate and reality-show star Anna Nicole Smith at his Edgewood Studios in 2005. Before the film could be released, in early 2007, Smith was discovered dead, and Giancola found himself in the middle of a media maelstrom.
Now Craptastic! is the title of Giancola's new film. It's a documentary about Edgewood's strange team-up with a reigning tabloid queen and its aftermath — or, as Giancola put it in an interview with Seven Days last March, "a comment on modern society eating itself." Smith's death drew so much cable-news coverage, rivaled only by the Iraq War and the presidential campaign, that it occasioned a special hand-wringing report from the Project for Excellence in Journalism. "This is a commentary on the media circus that this was," said Giancola.
But Craptastic! also chronicles the making of Illegal Aliens, during which Giancola kept crew members recording the process — and Smith's on-set behavior — with video cameras. He ended up with "200 hours of footage," he said.
Editing that material into useable form has been a long process. Giancola screened a rough cut of Craptastic! for University of Vermont film students last April. Since then, he said last week, he's been reworking the film, holding test screenings outside Vermont and signing prominent artists for the soundtrack. Audience response, Giancola said, has been encouraging. Mark Ehrenkranz, director of the New York Film Critics Series, which screens upcoming films with well-known critics, has contributed a promising blurb: "I could not take my eyes off this film!"
Next up: a plan for releasing the documentary. Watch a teaser for Craptastic! on its Facebook wall, or check out craptasticthemovie.com.
*****
One of the fun parts of filmmaking is controlled destruction. Last spring, the local crew of Soul Keeper, an upcoming short based on a scary story by Joe Citro, sent a hefty old truck careening down a country road into a white pine. The vehicle was radio controlled, and five cameras, including one on the dashboard, filmed its frightening descent. To see the whole process on video, go to Soul Keeper's Vimeo.com pages, or our staff blog, Blurt.
Director Tim Joy of Middlebury says he's working toward a final cut of the film, and Vermonters may be able to see it when Halloween rolls around. For news, check soulkeepermovie.com.
*****
A bigger film gearing up for local production is Down Hill, a feature "comedy-drama" about a ski coach, produced by Vermonters Len Britton and Bradford Broyles. Ron Underwood (Tremors, City Slickers) will direct the movie, which was titled Woodchucks when it was announced back in March. Broyles says the movie crew, working with a production budget of about $5 million, will get ski footage at Sugarbush in January and February and visit "selected Vermont towns for the off-mountain portions." Casting is still in process, but the producers would like, Broyles says, to get a recognizable actor in the lead role who "also skis." Find Down Hill updates on its Facebook page.
*****
The 2011 Vermont International Film Festival is still nearly two months away (it runs from October 21 to 30), but organizers say to look for important changes. While Palace 9 Cinemas in South Burlington remains VTIFF's partner and official venue, the fest will spread out to several downtown locations, including FlynnSpace, Burlington City Arts, the University of Vermont and North End Studios. Farther north, expect screenings at the Essex Cinemas, as well. A VTIFF press release calls the expansion "a deliberate effort to engage with wider, more varied, and sometimes underserved neighborhoods."
And what will those neighborhoods see? The films in this year's fest will be grouped into thematic "strands," say organizers, such as "Food" or "Freedom and Liberty." A likely highlight, given recent events, will be a handful of films from Egypt, seldom screened in the U.S., that illuminate the nation's social and cultural struggles.
The festival's schedule — including its juried showcase of Vermont-made films — is still coming together. Check vtiff.org for updates.