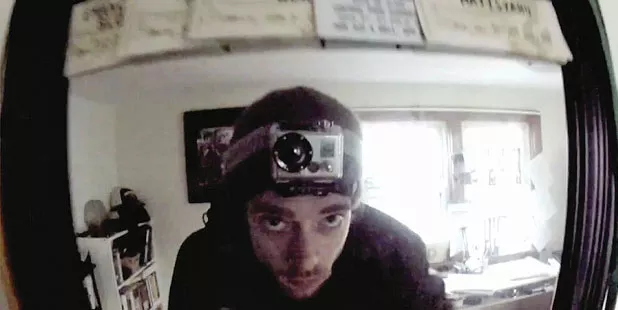 Still from "Vermont Energy Independence Day"
The 16th Green Mountain Film Festival kicks off this Friday in Montpelier. Check out the full schedule online, plus a preview of highlights in our movie-review section. Be sure to catch the sleep-deprived contestants in the 48 Hour Film Slam Competition presenting their quickie masterpieces on Sunday evening!
Friday, March 22, through Sunday, March 31, at the Savoy Theater and Pavilion Auditorium in Montpelier. $7-9 per film. Schedule and ticketing info at gmffestival.org. 48 Hour Film Slam Competition screening and judging, Sunday, March 24, 7 p.m. at the Pavilion Auditorium in Montpelier.
*****
Do Vermonters have what it takes to achieve energy independence? Filmmakers Victor Guadagno and Jon Erickson of Moretown's Bright Blue EcoMedia aim to find out by producing the state's first "crowd-sourced documentary." Last spring, they asked Vermonters to submit short films documenting their own progress toward sustainable energy use. This Thursday at the Statehouse, they'll premiere the results — on Vermont Energy Independence Day, natch.
Thursday, March 21, 4 p.m. at the Vermont Statehouse, Room 11, in Montpelier. Free.
*****
Want to decide an indie film's fate? The Manhattan Short Film Festival's Feature Film Project screens a film for audiences across the country, then asks them to vote on whether it should return for future screenings. This Thursday at Merrill's Roxy Cinemas, the candidate is Nairobi Half Life, a drama created by Kenyan first-time filmmakers with the help of a German production company.
Thursday, March 21, 7 p.m. at Merrill's Roxy Cinemas in Burlington. Regular admission.
*****
Next Wednesday, the Burlington Film Society and Burlington College will team up to present a screening of Vermont-based director Eugene Jarecki's The House I Live In, a Sundance-lauded documentary about the ruinous burden that U.S. drug policy puts on our prison system. Engaging in a panel discussion of the issues the film raises will be its Burlington-based cinematographer, Derek Hallquist; Chittenden County State's Attorney T.J. Donovan; and state rep Suzi Wizowaty (D-Chittenden).
Wednesday, March 27, 6:15 p.m. at the Main Street Landing Film House in Burlington. Donations accepted.