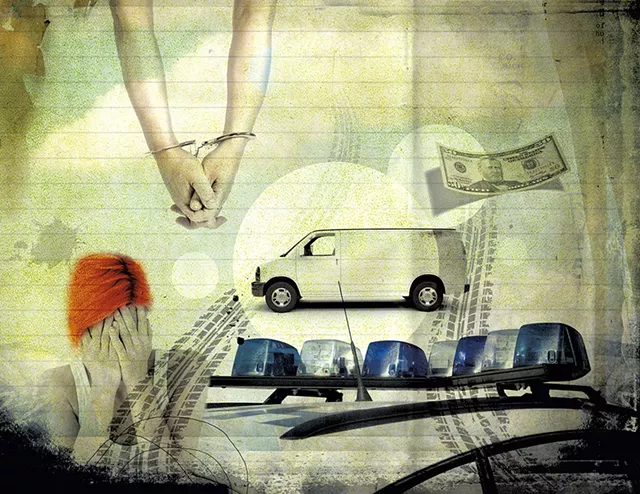 On the Middle Road, just around the curve below Harts', a scene. Accident? Three State Police cruisers, one pulled onto the shoulder, the others in the center of the road, their blue lights dancing. Two county sheriffs' cars, the deputy driving one climbing out of it, the deputy in the other on his radio. A dirty white van, angled, half on the blacktop, half on the shoulder. Trooper Snodgrass, the one nobody liked, was catching the traffic. Accident? No accident — a bust.
I stopped beside the trooper. I rolled down the window.
"Need any help?" I asked Snodgrass. At that time, I was Second Constable in Dumfane. For my sins.
Snodgrass shook his head. "Give us a minute," he said. "And stay where you're at."
I took the truck out of gear. I waited. One of the sheriff's cars backed around out of the way, and I could see the people from the van. A couple in their twenties, the man bare-chested, wearing a scrawny goatee beard and a black baseball cap turned backward with printing in white on the front that I couldn't make out; the young woman striking: tall, white top, bare shoulders, and surrounding her head a beautiful curly blaze of red hair. They were talking to the troopers.
Snodgrass and I watched. From time to time he'd glance back up the road toward Harts'. Two or three more vehicles had come along and stopped behind us.
"What is it, do you know?" I asked Snodgrass.
"Give us a minute," he said again.
Now one of the troopers lifted the young man's baseball cap off his head, looked into it, turned it inside out, looked into it again, and laid it on the hood of the cruiser. He spoke to the young man. The young man raised his hands from his sides and put them on the top of his head, fingers laced. The first trooper spoke to him again. The young man shook his head. Then the second trooper took him by his shoulders and turned him toward the cruisers, while the first brought his arms back down with his hands together behind. They bent him slightly at the waist to lean against the cruiser and locked handcuffs on his wrists. The young woman watched this. She put her face in her hands.
The troopers opened a rear door of the cruiser and helped the young man to get in. The two sheriff's deputies waited with the girl. She continued to cry into her hands. We watched her shoulders shaking. Nobody spoke to her, nobody laid a finger on her. I understood. They were waiting on the arrival of a female officer. None of the men wanted to touch the young woman, or none wanted to be seen to touch her. Not without a visible reason. Not with half a dozen taxpayers looking on.
One of the troopers made to shut the young man in the back of the cruiser, but his partner said something, and he paused. The other trooper went to the front of the cruiser and picked up the young man's baseball cap. He took it to the rear door and tossed it onto the lap of the handcuffed man. When he did, I got a look at the white lettering on the front of the black cap:
FUCK COPS
***
At the house, I found my mother in flames. She'd just sacked Belinda, who was sitting in the kitchen waiting to be paid off and driven home.
"I don't want to look at her," Mother said. "I knew she was a little tart. I didn't know she was a little thief."
"Thief?"
"You heard me," Mother said. "She takes things. She took three silver coffee spoons."
"Nonsense," I said. "You mislaid them."
"I did nothing of the kind. And that wasn't all. She took your father's Colorado River book."
"Powell?"
"It's gone," Mother said.
"It's gone because I took it myself," I said. "I borrowed it."
"You? What for?"
"To read."
"Listen," Mother said. "I know she's your little protégée—"
"She's not my protégée," I said.
"Isn't she? What is she, then?"
"She's our neighbor. She has no money. She needs the job. She has a tough time. She has Sean to take care of. She's all by herself."
"She has Sean to take care of because she got herself knocked up by that McCorkle thug."
"So what? None of that makes her a thief."
"Doesn't it? There's more, you know. I laid a trap. I laid a trap for your little friend. She fell right into it."
"What trap?"
"I got a fifty-dollar bill and left it out on the hall table. Now it's not there. What do you think of that?"
"Not much," I said. "For that, you fired her?"
"For that, I fired her."
"Well, then, unfire her."
"Don't be silly," Mother said.
"I'm not silly," I said. "You are. Who's going to do for you?"
"Find someone. There are all kinds of people."
No, there weren't. Not by any means. Mother was famous. She wouldn't have a hired man in the house, unless you count me. For housekeepers, she insisted on young women, then she abused, insulted and tormented them. Therefore, Mother's housekeepers turned over like subalterns on the Somme.
"You'll find someone," she said.
"I already found someone," I said. "I found Belinda. I'll talk to her. Maybe I can get her to stay. Maybe if you gave her a raise."
"Stay? A raise? What are you talking about? She didn't quit, remember?"
"All right," I said.
"She didn't quit. I canned the little tramp."
"All right," I said.
"Your little game?" Mother said. "Over."
"You think?" I asked her.
"Over. Finished. Done with."
"You think?"
***
I drove Belinda back to her place.
"I don't know what I'm going to do now," Belinda said. "What do I do?"
"Nothing," I said. "I'll talk to her. I'll fix it. It may take a little time."
"What do I do, in that time? What does Sean do?"
"Don't worry," I said. "I can help out. Whatever you need. You know that."
"I know," Belinda said. She patted my thigh.
Below Harts', the white van was still pulled onto the shoulder. Nobody was at the scene. The law was gone. The onlookers were gone.
"Know whose rig that is?" I asked Belinda.
"It might be Kevin's," Belinda said.
"Kevin who?"
"Kevin I-don't-know-his-last-name."
"Does he have a girlfriend with a bunch of red hair?"
"Stephanie Collier," said Belinda. "We were in school together. Poor Steph. Kevin's such a jerk. They must have run out of gas."
"No," I said. "They were arrested. I went past it. The whole police academy was here. They had the cuffs on the guy. They had him in the back of a cruiser. They were waiting on transport for the girl."
"Poor Steph," Belinda said. "No big surprise, though. That's Kevin. Kevin can get you whatever you want."
"Not today," I said.
"I guess not."
"Mother said you took some money. She'd left it out, and you took it."
Belinda turned in her seat to look at me. She raised her eyebrows. "Are you asking me if I took it?"
"I'm telling you what she said."
"OK," Belinda said. "I saw the money. Fifty. I knew what your mom was doing. I brought it to her. I handed it to her. I told her she should be more careful. Not leave her money lying around. Somebody might take it. She got pissed off at me."
"She sure did," I said.
"Do you think I'm lying?" Belinda demanded. "Do you think I took it? You do, don't you? Fuck you."
"Take it easy," I said. "I know you didn't. I know my mother, don't I? I ought to."
Belinda sighed. She leaned toward me and laid her hand on my cheek for a moment. "I'm sorry," she said. "I'm sorry. I'm having a really bad day."
But I thought of that beautiful, bright-haired young woman weeping beside the road in the jittering blue lights.
"You're not the only one," I said.