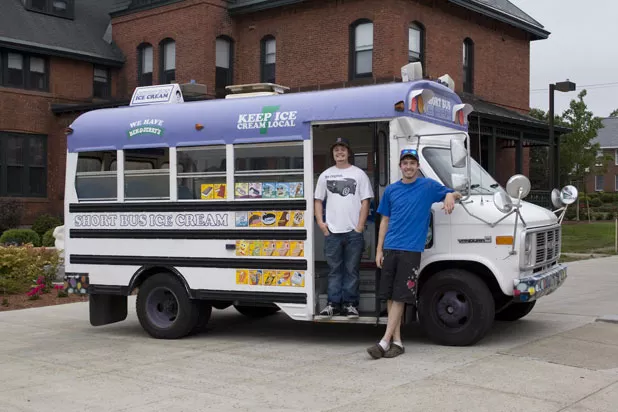 Ian Frisch, left, and Keegan Flynn
The idea came while we were watching an episode of "Family Guy," and the moment was straight out of a cartoon. One minute, we didn't know how we'd spend our summer; the next, a light bulb clicked on above our heads. "Let's start an ice cream truck!" we said.
It was April 2007, and Keegan Flynn and I were finishing our sophomore year at Champlain College. (Keegan is in the Business program but loves to turn a wrench; I'm in the Professional Writing program.) We wanted a summer job that was profitable enough to fund life in Burlington, involved no applications and no bosses, and was ridiculously easy. We knew Church Street was where vendors made the major bucks, but we weren't up for the hassle of obtaining a highly sought-after license, or cooking and preparing food. Impossible demands? Not in our minds. Short Bus Ice Cream was our brainchild.
At Champlain, students becoming their own bosses is nothing new. The college encourages enterprise with a program called Bring Your Own Business (BYOBiz). Directed by Robert Bloch, co-founder and CEO of rural satellite provider Northeast DBS Enterprises, it offers new entrepreneurs a "simulated board of directors" and yearly strategic audits.
Eventually we would join BYOBiz and take advantage of its guidance, but Short Bus started as a leap into the unknown. Our total ignorance about the ice cream truck business didn't stop us from starting in the logical place: with a vehicle. Within 10 minutes of putting our ears to the (virtual) ground on Craigslist, we had our match. We found a 1991 GMC Vandura mini school bus that was yellow, had new tires, and was everything a school bus should be - at least in the grainy cellphone pictures. The bus' current owner had written a blurb that was poorly worded and vague, promising only that the tires would hold up and the mileage clocked in at 40,000. It didn't seem too promising until we saw the price tag of $1000. My jaw hit the desk. This was it. We had lifted a rock and discovered the Holy Grail.
The bus resided in Staten Island, and within two days we had two, cheap one-way plane tickets to New York City. Note that we were planning this trip with no exit strategy. If the bus was a bust, we had no way of getting home. We didn't have enough money to fly back, and hitchhiking was not an option.
We left our cab and inspected the bus in the owner's driveway. She was still yellow, but the labels had been removed, the lights were blocked off, and the flip-out Stop sign was nowhere to be found. The entrance door worked flawlessly, and the seats were mint green, lined in snappy bright blue vinyl. The tires had immaculate tread, all the windows were intact, and the odometer read as promised.
Joe, who'd posted the bus for sale on the Internet, had seen us drive up. "So they gave you an Arab for a cab driver?" he said with a smirk, presumably referring to our turbanned chauffeur. "Yeah, I'll get Steve."
Standing before us like a 6-foot wall of interrogation, Steve and Joe grilled us about what two kids from the woods of Vermont wanted to do with a bus. These New Yorkers had enormous stomachs, which made their pants sag but also gave them a makeshift plate for the remaining crumbs from their lunch. Their vocabulary ranged from four- to six-letter words, all of which are spelled with asterisks in "family" papers but made their personalities indelible. I liked that.
After poking and prying into our every intention regarding the bus, they put on serious faces, and we got down to business. We forked over the money, only to realize we had no license plates or papers to indicate that we were legally driving this thing seven hours back to Burlington. A friend of Steve's who owned a car dealership gave us a photocopy of a New York dealer license plate for $100. Its quality was so poor that you could barely read the identification number, never mind the "Dealer" label or the registration date. As Steve handed us the plate, he gave us his last words of advice: "Listen. If you get pulled over, you don't fuckin' know me. You didn't get the plate from me. You are transporting the bus to a dealer in Vermont. Got it?"
We made it home, narrowly escaping being pulled over by a New York cop. (The guy in front of us got nabbed. Go figure.) After taking a few friends around the block, we parked the yellow beast and got some much-needed sleep.
******
Purple and white. We had to do it, because, well, what stands out better than a white bus with a purple roof? We used electric rotary sanders to grind the entire bus down, preparing it for paint. The Rustoleum heavy-duty exterior paint had the consistency of watered-down applesauce - thick without the chunks, but still really heavy. On the fifth day, we did some touch-up work to the wheels, mirrors, grill and bumpers.
The bus had 12 seats bolted to the floor, each with a nut on the underside. It took two days of lying underneath the bus and going bolt by bolt to get nine of the 12 seats out. After a week of nonstop labor, we came away with scraped knuckles with caked-on purple paint, sweaty brows, and an awesomely spacious bus that had started to look like an ice cream truck.
We found a 15-cubic-foot freezer for cheap, screwed in a few shelves, threw down some fake turf from Home Depot, and spray-painted the walls a bit.
After a short meeting with an enthusiastic sales representative from Ben & Jerry's, the local and logical choice, we were on the bill for weekly deliveries. But first we had to untangle the red tape.
Early in May, we met with a committee appointed by the city to obtain our peddler's license. Not expecting anything formal, I showed up without showering, clad in gym shorts with a dingy headband and Ray-Bans. The committee members yapped at one another in professional jargon, often agreeing in unison, while a clunky tape recorder sat on the table documenting the entire process. One of them had highly vocal opposition to our plan. But we spouted fact after fact, proving we'd done our homework, until they relented. They must have felt like they were helping us kick-start our lives.
We learned that zoning regs forbade us to sell in the immediate downtown area, from Main Street to Pearl on the north-south axis and between South Union and Battery. Trolling through parks and playing music after dark were also off limits. (Apparently the siren song of ice cream trucks makes it hard for parents to get their kids in bed. Who knew?)
Once we were clear on the city's ordinances, our next challenge appeared on the horizon: the competition. Mr. Ding-a-Ling is an ice-cream vendor out of New York with three known trucks in the Burlington area. Out on the street, we bumped into them from time to time, but no fistfights ensued. When we saw a truck from afar, we hopped along to another town hot spot, our music blaring.
Those hot spots tended to be either very wealthy or heavily populated areas, many of them flooded with children. As our ice cream wheeling-and-dealing adventures began, we concentrated on the neighborhoods in Burlington, later expanding to South Burlington.
And we started to collect stories. Like the one about the Corona-bearing customer who glanced at the red-white-and-blue Mega Missile pop and observed, "A Mega Missile, eh? Well, don't need one of those because I already got one . . . in my pants."
We soon learned that kids will do anything for ice cream. They'll stand at the end of their driveways flailing in a manner that's halfway between vigorous calisthenics and hyperventilation. If they have no money, they will beg, plead and trick their way to the sugar rush. Some kids forget the babble and go straight for an act. One took off his shirt and spun it around his head, then attempted to moonwalk.
Others go straight for the throat. We've had some kids on bikes latch on to the bus, and a few have even tried to jump into it as we were leaving. We've gotten ambushed by water balloons and squirt guns, screamed at, and even bartered with. (A Magic Hat for a few Reese's is an easy decision.)
We had a love-hate relationship with our $50 music box, an eBay find that came with 20 tunes, numerous siren options and even more animal noises, plus a microphone that projects your voice from the external speaker mounted on the roof. Tunes blaring from the bus included "Row Your Boat," "Old McDonald," "Silent Night" and "Jingle Bells." For a while, I could hear the music while I was brushing my teeth, taking a shower, and even sleeping. The dainty notes embedded themselves in my waking thoughts, and to this day I still get flashbacks. But enduring Post-Dramatic Christmas Musical Stress Syndrome was worth it to stand out from Mr. Ding-a-Ling, whose trucks play "It's a Small World" on endless repeat.
When our first summer came to an end, we got involved with the folks at BYOBiz, who put our experience of spontaneous entrepreneurship into the context of how other businesses operate and expand. We posted a profit - not a huge one, but I can say the job paid the bills.
This year, we added more flair to the interior and had Miles Ewell, a fellow student entrepreneur, spin a few custom music tracks for the bus - blissful relief from the holiday tunes. Earlier this month, at Burton's request, Short Bus Ice Cream made its second appearance at the Burton Snowboards Summer Sale, where we mustered a few bucks between thunderstorms and sheltered our friends who were volunteering. Jeff Wynne of Burton set us up in a prime spot in front of the line and spouted hourly announcements about the Short Bus through a megaphone.
For most of the summer, though, the bus stayed parked. As the season progressed, Keegan and I started concentrating on other things: Keegan got a job working on mopeds and small engines, and I did a lot of traveling and journalism: things we love to do, and hope to get into after we graduate.
So, for now, our competitors have the streets to themselves, and the two of us have the kind of hands-on small-business experience you can't get in the classroom. And that's a sweet deal.