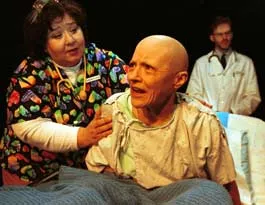 PATIENT CARE Veronica Lopez, Morgan Irons and Christopher Campbell in W;t
A bald woman wearing a hospital gown walks on stage pulling her IV drip alongside her. It's a pretty strong image. And in the opening scene of W;t, the Center Stage Theatre Company play currently running in FlynnSpace, the image sends an equally powerful message: You're about to see a serious play. So the humor that follows comes as a bit of a shock. "It is not my intention to give away the plot," says Vivian Bearing, Ph.D., wryly addressing the audience from beneath the brim of her baseball cap, "but I think I die in the end."
This darkly humorous statement sets the tone for a stirring 90 minutes of drama rich in irony — tragic and comic — as one woman endures the ravages of cancer and the rigors of treatment. Directed by Andrew Doe, the play earned Margaret Edson a Pulitzer Prize, among many other accolades, in 1999.
Bearing, played by Morgan Irons, is a distinguished literary scholar specializing in the Holy Sonnets of 17th-century poet John Donne. When she is diagnosed with late-stage ovarian cancer, she consents to undergo an experimental treatment regime that promises to be rigorous and harsh. Yet this critical decision, which she makes at the urging of Harvey Kelekian, M.D., plays like a professional courtesy from one doctor to another, almost as if Bearing doesn't want to appear weak in front of a fellow academician.
The ironies begin to emerge: A woman known for mental toughness has finally met her match in the physical realm. The agent of analysis is now the object. And, in one of the most engaging match-ups in the play, the pupil becomes the master: It turns out Kelekian, played by James Reid, has a senior research fellow, the ambitious Dr. Jason Posner, who is a former student of Bearing's.
Parallels also come to light to enrich the story, as in the confounding topics of Donne's work — Life, Death, God — and the confounding behavior of cancer cells. That Bearing finds herself in the care of one particular scholar, Posner — who seems more interested in the questions cancer raises than in answers about its cure — creates another link between the work of Donne and the Metaphysical poets and that of today's cancer researchers.
The result is an exceedingly smart play that, like some of the plays of Tom Stoppard, may come off as even smarter to those initiated in the disciplines under investigation. (Don't worry: B and C literature students, which would include most theater reviewers, can still catch most of the deftly sown connections between literary scholarship and cancer treatment.)
W;t is not a one-woman play, but the demands of portraying Vivian Bearing could not be greater. Literally stripped of any trace of professional or social position, she has only her language to mark her. Irons plays the part with stoic intensity, skillfully evoking the intellectual trying to think her way through an ordeal more painful than anything she has ever imagined. Her surgically precise diction blends with occasional self-deprecations to dramatize a woman coming to terms with her own mortality. Perhaps like Donne, Bearing is hiding behind her intellectual gifts, and it is Irons' challenge to draw her out gradually, to reveal the frightened soul beneath the book smarts. On the whole, Irons succeeds admirably; she is thoroughly convincing as a joyless, childless, significant other-less, savagely witty academic.
Her transitions to more emotional states, however, are not as strong. The hospital setting and other characters suffuse the play with a clinical coldness that sometimes numbs compassion for the patient at those moments when wit is exchanged for deeper feelings.
Two supporting roles boost spirits throughout the play. As Dr. Posner, Christopher Campbell is a believable and not unlikable whippersnapper, even when he is at his most sneeringly aloof. While he may have been drawn to wear the blank, unemotional mask of medical research, he comes off as more funny than villainous, even when he forgets the cells that so fascinate him are killing the person with whom he is speaking. One sees in Campbell's Posner shades of the literary scholar looking to intellectual curiosity as a panacea.
Picking up the slack in the bedside manner department is Veronica Lopez as Susie Monahan, R.N., B.S.N. Familiar to local theater audiences for many leading roles, Lopez executes the part of nurse Monahan with notable subtlety. As the compassionate counterpoint to Bearing et al., she looks beyond the patient-as-datum and focuses on the person. Amused rather than embarrassed by the gaps in her own knowledge, she exudes real warmth and empathy. Lopez's understated portrayal, with the right measure of emotional energy, helps humanize pivotal scenes in the scholar's transformation.
W;t does reach emotional heights as the play progresses, leading to a climax equal in intensity to the work's thematic content. While there are some unresolved issues here and there, such as this production's ambivalent portrayal of the medical establishment, and the unexamined source of Bearing's obsession with the Holy Sonnets, this powerful work is well served by Center Stage.
Part of the play's impact derives from Leslie Day's spare lighting and set design, and a proscenium stage uncluttered by anything unnecessary. The less-is-more approach makes the most sense in the intimate FlynnSpace, particularly when the play's language stands so firmly on its own — as Vermont Stage Company also demonstrated with its lean adaptation of Chris Bohjalian's novel Midwives. Another similarity is more striking: Midwives and W;t both concern medical ethics and feature female patients. What is this, Community Medical School: The Master Class?