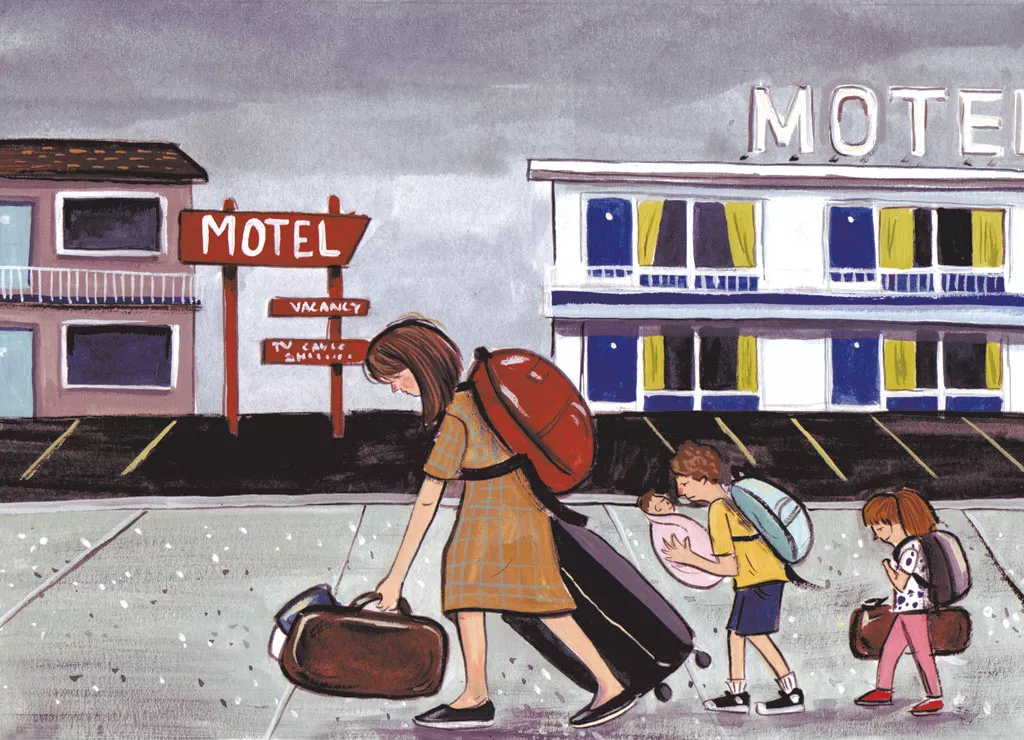 Last month, state Sen. Norm McAllister (R-Franklin) was charged with sexual assault and other crimes involving three women. One of them has since died, apparently from natural causes. Key questions remain unanswered, including what happened to another of the alleged victims — a woman who lived on his property and told police she felt compelled to have sex with him in order to keep her housing.
A group of advocates, former governor Madeleine Kunin, a retired judge and several dozen Franklin County residents gathered last Friday in St. Albans for a rally organized in response to the scandal. Although the speakers never referenced it directly, their message was clear: Whatever the plight of the women in this high-profile case — which advocates declined to discuss for confidentiality reasons — people should understand that the challenges they likely face apply to countless abuse survivors.
"Many victims are making untenable choices between homelessness and abuse," Auburn Watersong of the Vermont Network Against Domestic and Sexual Violence told the small crowd at downtown Taylor Park.
She wasn't being hyperbolic. Recently, emergency shelters for abuse victims have been unable to welcome everyone who comes knocking. Those who are turned away often end up in unsupervised motels along with the homeless and mentally ill.
In St. Albans, the Champlain Valley Office of Economic Opportunity runs a 10-bed shelter — one of 10 scattered across the state that offer secure accommodations to fleeing victims and their children. Program director Kris Lukens, who helped organize the rally, noted in an interview that it's been full since last September.
Head southeast and the story is the same. WISE operates a safe home in the Upper Valley. "We don't have the beds," said director Peggy O'Neil.
Chittenden County's Women Helping Battered Women has been full for roughly a year, according to executive director Kelly Dougherty.
Collectively, Vermont's 10 shelters have a maximum capacity of 115 beds. In 2014, they provided emergency housing to 782 people for a total of nearly 29,000 nights, according to the Vermont Network Against Domestic and Sexual Violence, a coalition of organizations that includes the shelters.
In the same time frame, they turned away 346.
One of them was "Rachel," 31, who spoke to Seven Days on condition of anonymity on her day off last month. The self-assured young professional in jeans and a North Face jacket left her boyfriend last year, after more than a decade of abuse. She fled the apartment they shared without belongings, money — he had emptied her bank account — or a place to stay. At a friend's urging, she got in touch with Women Helping Battered Women.
Here's what should have happened: Rachel would have stayed at the shelter — where adult males aren't permitted and there's staff on-site 24 hours a day — for a few days, or maybe weeks, until she could find a place of her own.
But the 15-bed facility — the only one in Chittenden County — didn't have space for her. Instead, Rachel received a voucher from the Department for Children and Families, which puts homeless people in motels temporarily if they meet certain criteria and other shelters are full. She stayed in motels for more than two months, moving to a different one every couple of weeks. Rachel described the experience as traumatic. She witnessed drug activity and, at one locale, lived across the hall from an alcoholic. Without a car, she had to figure out new ways to get to work each time she relocated.
What's causing this supply-demand problem? Shelter residents are staying longer because they can't find places to live. Women have lived at the Burlington shelter for as long as eight months, according to Dougherty.
"Usually, we could find housing within 30 days," said Anna Pirie, executive director of the advocacy organization AWARE in Hardwick. "Now you're talking months."
The shelters are understandably reluctant to boot people who've got nowhere else to go. But longer stays lead to bottlenecks, which mean more victims are diverted to motels. It's impossible to know exactly how many, because DCF can't track that data. Anecdotally, DCF deputy commissioner Sean Brown said, they've seen an increase in the number of battered women seeking vouchers.
Advocates are also struggling to find accommodations for a growing number of homeless Vermonters. But there's a reason why separate shelters were created for victims: to create safe and comfortable places for people escaping traumatic situations. Advocates emphasize that they're grateful to have motels as a fallback option — and sometimes people actually prefer it — but they also point out that they don't offer the same safeguards as shelters.
The motels, Dougherty said, can be "kind of a crazy environment."
Pirie was more explicit: "You've got batterers in there. You've got rapists in there. You've got drug addicts in there." Sometimes, she drops off people who don't have cars. "When I leave a woman at a motel, it's not a good feeling," she said.
Rooms don't have kitchens, which can be a hardship, particularly for people with children.
State officials say they're well aware of the drawbacks. "We try to connect people with services," Brown noted, but "it's much more difficult when they're out in a motel." The deputy commissioner acknowledged that frequently moving people among motels makes that even harder. But, he said, it's unavoidable for now because a state law allows people to establish tenancy after occupying a place for more than 28 days.
The department works closely with domestic abuse and sexual violence organizations, according to Brown, and it does what it can to make victims feel safe. "If we place a victim in a motel and it turns out that something happened where they no longer feel safe, we work to move them to a different facility where they do feel safe," he said.
Even so, the instability can have negative consequences. Victims often return to their abusers multiple times before leaving permanently, and that option can seem more palatable when their housing situation is volatile.
"We're putting people in a precarious position," Dougherty said. In some cases, she continued, "It's easier to have a roof over your head and be abused than to not know where you're living."
In early December of 2013, "Karen," 46, left an abusive marriage after 25 years. WHBW's shelter was full, so she and her teenage son landed in a motel. After someone told her that a drug addict had tried to assault her son, she opted to move back in with her husband on Christmas Eve. "I decided it was safer for him to be at the house, where I could pay attention, than to be out there where there were people who I didn't know what they were going to do," she explained.
Rachel also returned to her ex when her housing situation fell through. "It's easy to get sucked back," she explained. "Especially when you don't have a stable place to live."
Finding affordable housing is a challenge for many Vermont residents. A recent report from the National Low Income Housing Coalition found that the fair market rent for a two-bedroom apartment in Vermont is $1,075 — out of range for many residents.
Abuse victims often face additional hurdles. Some are dealing with mental health or substance abuse issues, and many are under serious financial constraints.
Rachel, who moved in with her boyfriend right out of college, had no landlord references. He'd also ruined her credit. Again and again, she explained the situation to potential landlords, while also working with WHBW to rebuild her credit. She recalled how embarrassing it was, sharing her story with strangers in the hopes that they'd take pity on her. Ultimately, none did. "They just looked at the numbers. They didn't look at me," she said.
Karen also lacked landlord references because she'd never rented a place of her own. Her husband had complete control of the finances. "Everything was in my ex-husband's name, so I basically walked away with the clothes on my back ... I had maybe 28 bucks to my name," she said.
Karen and Rachel both left their homes a second time. In each of their cases, the shelter was again full. Both women were given state vouchers and sent to Harbor Place — a former motel that the Champlain Housing Trust turned into temporary housing with supportive services. Dougherty and Brown agree that it's a much better arrangement than what women find in commercial motels. For one thing, it provides 24-hour security. But in separate interviews, Karen and Rachel said that despite the strict rules imposed on Harbor Place residents, they still observed drug activity and altercations.
Service providers are trying to come up with solutions. They're not keen on the most obvious one: adding shelter capacity. Watersong explained that they want to focus on finding transitional and permanent housing for victims.
With that goal in mind, the network organized a first-of-its-kind summit two months ago, where 13 domestic and sexual violence organizations met with 11 housing organizations and several DCF staff.
Organizations broke out into groups by region, and some emerged with specific plans. In the Northeast Kingdom, Pirie and others are considering buying one or more motels to convert into temporary housing with wraparound services, modeled after Harbor Place.
Some organizations shared strategies they've found successful. WISE, for instance, already works closely with the region's housing trust, Twin Pines, to find apartments for clients.
In December, the Burlington Housing Authority hired a housing retention specialist to help victims find, and keep, housing. Jennie Davis, who previously worked at WHBW, explained that she helps coordinate services among different organizations and can act as a go-between with landlords.
In the meantime, groups are patching together solutions for the people who come through their doors.
After roughly 70 days at Harbor Place, Karen got a bed at the shelter. With WHBW's help, she was shortlisted for a Section 8 voucher. It took her several months to find a two-bedroom apartment. In January, after being homeless for more than seven months, she and her son moved into a place of their own.
Rachel also eventually got a bed at WHBW. She stayed for several months until she was accepted at Sophie's Place, a unit of WHBW-managed transitional housing apartments. "If there had been space available for me the first time, I'm not saying I wouldn't have gone back, but I think there would have been less of a chance," she said of her first failed attempt to leave her boyfriend. Now, she continued, "I consider myself lucky."