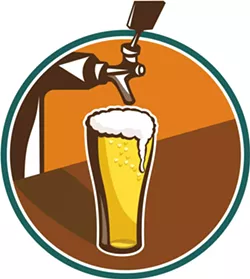 Ask any food-industry expert why restaurants typically fail, and you'll hear the same reasons cited over and over. Too many new eateries lack experienced kitchen staff, strong bookkeeping skills, good customer service, and a sense of what the locals like to eat and drink.
If those are the key factors, husband-and-wife team Ed Lambert and Sandie Maynard should have all their bases covered when they open the Shelburne Tap House in the next four to six weeks.
Lambert has spent 25 years in the restaurant industry, including four years as executive chef at the now-defunct Ethan Allen Club in Burlington; he's been head chef at the Rocky Ridge Clubhouse Restaurant in St. George for the past two decades. While Maynard admits she's "not the foodie person," she brings 20 years of financial planning experience to the table. "That's why we hope this is going to be a good fit," she says. "I'll do what I do well, and he'll do what he does well."
As the name suggests, the Shelburne Tap House, located in the Shelburne Bay Plaza Shopping Center, will offer at least 10 different Vermont-made beers and ciders on tap, as well as a "very large" bottled beer selection. Another tap line will be devoted to Rookie's Root Beer, a perennial favorite among younger customers who frequented the Town Tavern, whose space Shelburne Tap House will occupy.
Vermont-made beers and ciders won't be the only locavore fare. Lambert points out that the restaurant won't even have a freezer, as he intends to buy as much fresh, local food and produce as he can find. He also plans to do "a lot of braising" and produce pulled pork, ribs, chicken and briskets, as well as homemade pancettas and chorizos. Seafood offerings and plentiful, daily-changing specials will round out the menu.
"I'm going to be all over the place," the chef says of his cuisine. "I don't want to get bored, and I don't want my people to get bored, either."
Lambert and Maynard plan to start by offering just dinner service, in part because they don't want to cramp the style of neighboring businesses such as Bruegger's Bagels, which draws heavy lunch traffic immediately next door.
All appears copacetic with the residential neighbors, too — some of whom may recognize the familiar faces of the tavern's owners.
"We live in the neighborhood right behind the shopping center," Maynard adds. "So it's literally in our own backyard."