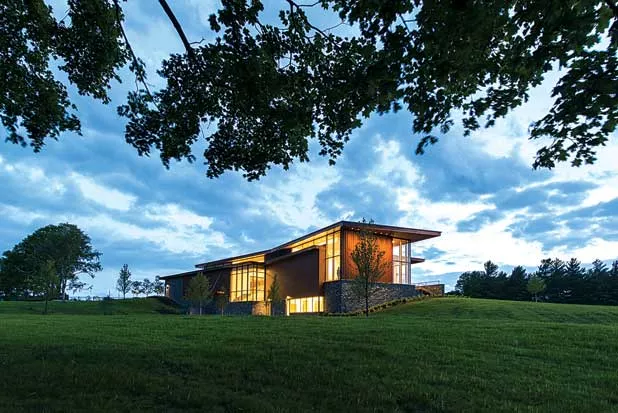 Pizzagalli Center for Art and Education
The Shelburne Museum's Pizzagalli Center for Art and Education finally throws open its tall doors to the public in a grand opening this Sunday, August 18. The daylong celebration begins with a gallery talk about an exhibit that has been on view all summer, "Wyeth Vertigo," and continues into the evening with live music under a tent on the Circus Lawn.
In between there is the obligatory ribbon-cutting ceremony, more gallery talks, art activities and tours of the entire campus. The star of the show, of course, is the stunning new 18,000-square-foot Pizzagalli Center itself, and for that reason attendees would be advised to listen to the hourlong panel discussion about building the place. A recent similar presentation for media was a fascinating behind-the-scenes explication for anyone interested in architecture, native construction and the technological necessities of modern museums. Accordingly, the presenters are museum director Thomas Denenberg, director of buildings Chip Stulen, and representatives from PC Construction, Boston-based Ann Beha Architects and Efficiency Vermont.
Museum staffers are justifiably excited about the opportunity to provide year-round classes, programming and exhibitions for the first time since the museum opened in 1947. And it seems only right that the Pizzagalli's inaugural exhibit is a paean to founder Electra Havemeyer Webb. "Color, Pattern, Whimsy, Scale: The Best of Shelburne Museum" fills the two-floor Theodore H. Church Exhibition Wing with nearly 100 objects — representing more than 150,000 in the permanent collection — and honors her unique vision. Though she grew up surrounded by the trappings of wealth, including impressionist paintings, designer clothing and the finest furnishings, Webb had an impeccable eye for folk and decorative art and was an "early adopter." For this exhibit, museum curators Jean Burks and Kory Rogers classified a sampling of items along themes of color, pattern, whimsy and scale. Those on display in this luxuriously spacious, high-ceilinged, climate-controlled gallery include toys, hatboxes, ceramics, furniture, textiles, advertising signs and more.
According to publicity materials, Webb presciently stated in 1948: "[I]t is my hope we can have a building or adequate space in one for educational programs and loaned exhibits and also space to be devoted to the interests of Vermonters." This Sunday, her wish comes true.
Pizzagalli Center for Art and Education Grand Opening Sunday, August 18, 10 a.m. to 8:30 p.m. Free ($5 for "Wyeth Vertigo"). "Color, Pattern, Whimsy, Scale: The Best of Shelburne Museum," August 18 through December 31. Shelburne Museum. Info, 985-3346. shelburnemuseum.org