"Tractor and Ag-Bags" by Altoon Sultan
When one thinks of the Shelburne Museum, one may think first of its iconic red Round Barn, or quilts, or the prodigious gardens, or just the pleasure of stepping through time in its historic buildings. Straddling past and present, the museum is one of Vermont's — and New England's — foremost cultural destinations.
The Pizzagalli Center for Art and Education, opened in 2013, enabled the museum to engage further not only with its formidable collection but with contemporary art writ large, and to do so year-round. The museum is now positioned to play a pivotal role in shaping what defines the region's character — precisely the objective of its new initiative, the "New England Now" biennial.
Organized by assistant curator Carolyn Bauer and director Tom Denenberg, the inaugural exhibition opened September 15. It features large-scale paintings and photographs that contend with shifted, and shifting, views of the New England landscape. Approaching these 30 works from 13 regional artists (five from Vermont, all but one living), viewers may find themselves challenged — and perhaps pleasantly surprised — by the show's underlying rejection of spotless pastoralism and quaintness.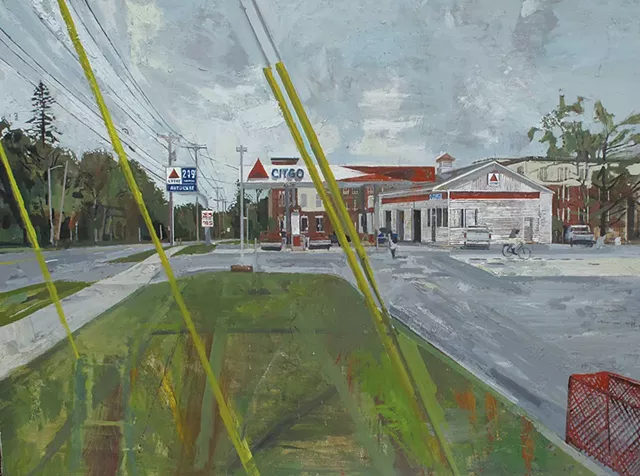 "CITGO Rt. 7" by Peter Fried
"I've been waiting for a rebuttal," said Bauer in a recent interview about the show. "[Someone saying], 'That's depressing. It's too gritty, it's too real. Where are those covered bridges?' It's surprised me that I've yet to have this conversation."
Instead of cows and covered bridges, the show proffers trailer parks and wind turbines, gas stations and bird's-eye views of floodlit parking lots. This is not to say beauty is forsaken, just that it's not the only aspect of life in the northeastern U.S. to which the selected artists give their attention. Geeda Searfoorce, the museum's marketing and communications manager, described visitors as leaving with the sense of having encountered "unexpected beauty."
Maine painter Linden Frederick's "Trio," for example, is a photorealistic canvas that captures three almost anthropomorphic trailers set against the woods at twilight. Its content and tone speak simultaneously of cozy hominess and rural, end-of-the-road isolation.
The focus of the biennial's inaugural show remains the perennial Vermont topic of land. Or, in Bauer's words, "If we're doing New England as a region, we should start with land." In that respect, the museum picks up a pattern: "New England Now" launches the same year that Burlington City Arts opted to discontinue its annual place-themed "Of Land & Local" series, established by former BCA curator DJ Hellerman in 2012.
Like many Shelburne Museum exhibitions, the show is divided into several broad categories: urban expansion, industrialization, rural repose and new neighborhoods. Painting and photography are the only mediums represented, through artists such as Vermont painters Peter Fried and Altoon Sultan, Vermont photographer Jim Westphalen, New York and Maine painter Yvonne Jacquette, and Maine photographer Elke Morris.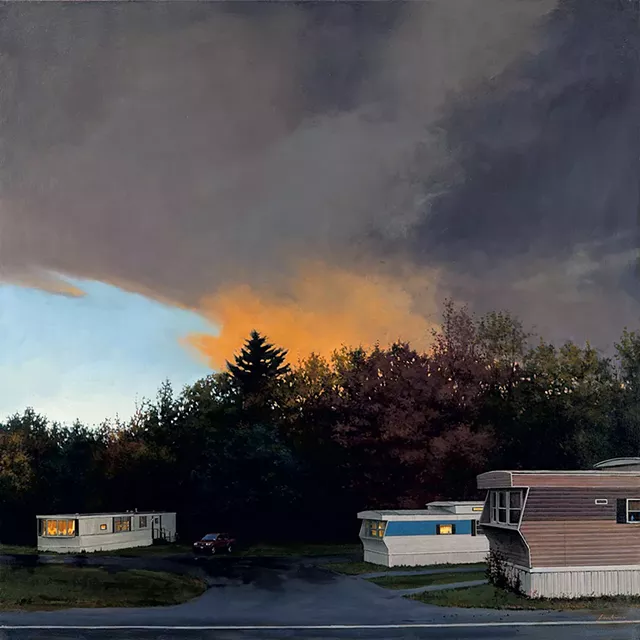 "Trio" by Linden Frederick
The juxtaposition of the two mediums, Bauer and Denenberg said, happened almost by accident. "[That] wasn't something that I saw coming," said Denenberg. "[But] we're all willing to give a lot of space to the serendipity of the checklist." Future "New England Now" exhibitions, Bauer suggested, may even be themed by medium.
"We elected to make [this] a curated project," Denenberg continued, "because we wanted to have more of a relationship with the artists and not just make it a cattle call, which is what juried shows can be."
For his part, the director said he has wanted to establish a recurring exhibition series since he joined the museum in 2011. Maine's Portland Museum of Art, where he previously worked as chief curator, had its own biennial. Denenberg also cited the influence of the "MATRIX" exhibitions of contemporary works at the Wadsworth Atheneum Museum of Art in Hartford, Conn., a series that began in 1974.
"I'm a big believer in the idea of a branded series," said Denenberg. "What I realized years later [about the "MATRIX" shows] was that people recognized the name of the series even when they didn't recognize the artist."
Though much remains to be determined, Bauer and Denenberg confirmed that the next overarching "New England Now" theme will involve the region's people.
"That show's going to get rough," Denenberg said, noting the potential for the documentary and ethnographic traditions and the opioid crisis to make visitors uncomfortable.
"MBNA (Credit Card Co) Parking Lots" by Yvonne Jacquette
Crucial to Bauer and Denenberg is the biennial's identity as a regional affair. "[It's about] New England, and we mean it — rather than just the Vermont biennial," Denenberg declared. "We spend a lot of time thinking we're sui generis in Vermont."
He described his growing understanding of "micro-regions" within New England. "Northern New England has a lot of affinity to Maine," Denenberg said, intimating that a north/south divide could inform future iterations of the biennial.
"The visual sensibilities of [Maine's] Linden Frederick ... play very well with [Vermont's] Kathleen Kolb," he noted. "I was tickled by [discovering] the micro-region of northern New England within the bigger region."
As Denenberg put it, "I would argue that the whole global economy ... has maybe divorced us a little bit from the idea of region. But I would argue that makes understanding the idea of region all the more important."