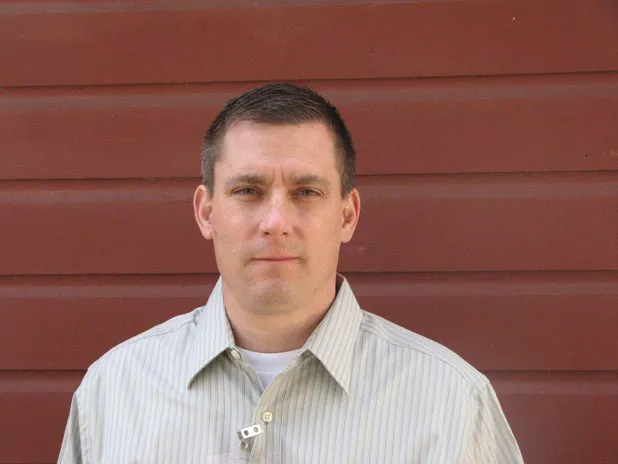 After 21 years of wearing an officer's badge in the largest municipal police force in the State, Stephen Dixon had to learn to be the top cop in a small town, and he had six weeks to do it.
After a career with the Burlington Police Department that took him from street patrol to canine officer duty and ultimately to an administrative post as head of recruitment, Dixon, 45, has been appointed the director of protection services for the Shelburne Museum. Museum Director Stephan Jost announced the hire in a press release last week, though Dixon has actually been on the job since March 31.
"And I've needed every second of that time," he says during an interview in the museum's administration building on Shelburne Road. "Because it really is a town here: 45 acres, 39 exhibit buildings, barns, a lighthouse, a café, a schoolhouse . . . and a jail. This is as far from a conventional museum site as you're likely to get, so there was some very quick learning to do before we open on May 18."
Dixon will not be questioning suspects in the circa 1890 jailhouse, which was transported to the site from Castleton in 1953 as an exhibit, along with 24 other historic buildings brought to the museum by its founder, Electra Havemeyer Webb (1888-1960). Still, for this new security chief and his 12-member staff, the structure is on a list of concerns that includes 150,000 works of art, the behavior and welfare of 110,000 yearly visitors, and a physical plant that exceeds the Metropolitan Museum of Art in patrolled space. (The Met, on Fifth Avenue in New York City, measures 32 acres.)
During his time with the BPD, Dixon received Life Saving Awards from both Sen. Patrick Leahy and the Burlington Rotary Club, and was once named Burlington City Employee of the Year. His time in uniform was more than enough to guarantee him full pension, so why would he opt for a raft of new worries rather than a life of leisure at home in Milton?
"[The museum] was actually one of the first places I visited when I moved to Vermont," Dixon notes. "And this is the only job that could ever have taken me away from the force, really. If I didn't get it, I'd still be at my desk. But everything they needed here," he continues, "was experience I'd acquired at the BPD: security technology, training, hiring, administration . . . everything. It was almost spooky."
Dixon also admits to being a mechanical-artifact junkie. He has rebuilt old airplanes, army trucks and a three-wheeled Czechoslovakian motorcycle. To him, getting the opportunity to crawl around exhibits like the passenger steamer Ticonderoga seemed like nothing less than kismet at work.
"What do you do when you have a passion for history and security?" Dixon says, smiling. "I'd really have to move to a Civil War museum-rich place like Virginia if I wanted to come close to this kind of job."
As for the heavy burden of ensuring a safe environment for the priceless paintings by Monet, Manet, Degas and Cassatt - never mind what may be the most impressive collection of folk art in the nation - Dixon embraces a stress-reducing brand of relativism.
"You just go from concern to concern, and you try not to keep a running tab of what's more important. It's all important, from helping to safely see a piece of art in or out of the museum to keeping kids from jumping on the couches. Small-town-cop stuff . . . just writ large."