Shelburne Museum
The Pizzagalli Center for Art and Education, Shelburne Museum
The Shelburne Museum is known and admired worldwide for its immense collection of folk art, objects, tools and other artifacts of 19th-century New England. Last August, the museum finished construction on a new, state-of-the-art addition to its nearly 40 historical buildings: the Pizzagalli Center for Art and Education, located at the crest of its gently sloping campus. For the first time since Electra Havemeyer Webb founded the museum in 1947, it now has a venue that is open year round.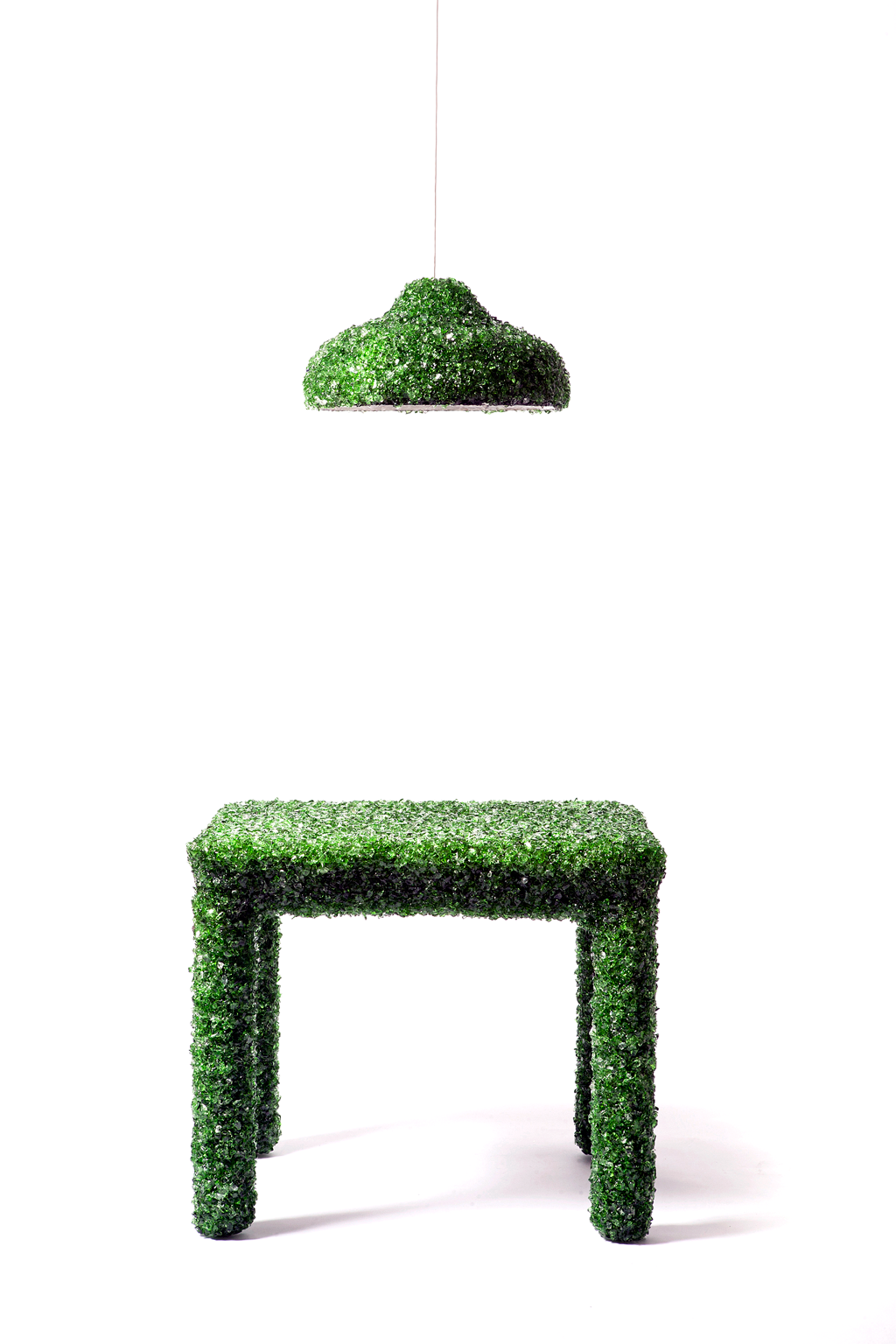 Glass-encrusted chair and light fisture by Mark Riegelman II
The building itself is a beauty: sleek, minimalist architecture constructed of local stone and lumber and outfitted with tall windows that afford views of the surrounding grounds and passersby on Route 7. But more relevant to visitors is what's inside. In addition to classrooms offering art instruction, talks and other activities, capacious galleries on two floors present contemporary art — that is, work that's au courant but in line with the legacy of fine crafts represented by the museum's collection.
Currently in the upstairs gallery, "John Bisbee: New Blooms" consists of sculptures and installations that the Maine sculptor has made exclusively from foot-long nails. Yes, nails. Bright Common nails, to be precise. But don't let the simplicity of the medium fool you; Bisbee has crafted eloquent, delicate-looking wall sculptures with a floral motif, as well as massive, stand-alone pieces. In one corner of the room, a clump of individually worked "stems" form what the artist aptly calls a "Thicket." Collectively, these works are both elegant and playful.
Bisbee's extraordinary workmanship disguises the equally impressive amount of labor involved. As museum director Thomas Denenberg puts it, "You come up with some simple idea — bending a nail — and then you bend 10,000 of them."
Shelburne Museum
John Bisbee's "Hearsay," foreground; "Floresco" on wall
In the downstairs gallery, Shelburne Museum curator of design arts Kory Rogers has assembled an exhibit he calls "Supercool Glass." The superlative is justified. Intended to show a spectrum of glassworks over two centuries, the show features items from the permanent collection, ranging from dining vessels to medical instruments to clothing with glass beads.
These are juxtaposed with contemporary pieces from Vermont and national artists that range from the decorative to the phantasmagoric. Think glass noisemaker, glass skeletons, glass furniture and sculptures literally blown out of proportion.
In other words, don't expect to find cups and bowls at "Supercool Glass." Expect to be amazed.
Le musée Shelburne se dote d'un nouvel immeuble contemporain ouvert à l'année
Le musée Shelburne est connu et admiré dans le monde entier pour son immense collection d'art populaire, d'objets, d'outils et d'autres artefacts de la Nouvelle-Angleterre du XIXe siècle. En août dernier, s'est achevée la construction de nouvelles installations ultramodernes, qui s'ajoutent à ce complexe muséologique de presque 40 édifices historiques, érigés sur un terrain légèrement en pente; le nouveau Pizzagalli Center for Art and Education est situé tout en haut. C'est la première fois qu'un immeuble du musée est ouvert toute l'année depuis sa fondation par Electra Havemeyer Webb, en 1947.
L'immeuble est de toute beauté : d'une architecture épurée et minimaliste, il est construit en pierre et en bois provenant de la région, et est pourvu de grandes fenêtres permettant d'admirer les terrains avoisinants et d'observer les passants sur la route 7. Mais c'est ce qu'il y a à l'intérieur qui intéresse vraiment les visiteurs. Outre les classes où sont offerts des ateliers d'art, des conférences et d'autres activités, de vastes galeries sur deux étages présentent des œuvres d'art contemporain – sans rupture avec la tradition des métiers d'art qui caractérise la collection du musée.
Actuellement, dans la galerie de l'étage supérieur, l'exposition « John Bisbee: New Blooms » regroupe des sculptures et des installations que cet artiste du Maine a construites en utilisant uniquement des clous de 30 centimètres. Vous avez bien lu, des clous. Des clous communs au fini brillant, pour être plus précis. À l'aide de cet objet en apparence tout simple, John Bisbee a créé de délicates sculptures murales à motif floral d'une grande éloquence, ainsi que des œuvres autonomes massives. Dans un coin de la salle, des tiges individuelles forment un bouquet que l'artiste a judicieusement nommé « Thicket ». Collectivement, ces sculptures sont à la fois élégantes et ludiques.
L'extraordinaire finesse d'exécution de John Bisbee fait oublier l'imposant travail nécessaire pour parvenir à pareil résultat. Comme le fait observer Thomas Denenberg, directeur du musée, l'idée est simple : il s'agit de plier un clou, puis un autre clou... et encore 10 000 clous.
À la galerie du rez-de-chaussée, Kory Rogers, conservateur de design du musée Shelburne, a mis sur pied une exposition intitulée « Supercool Glass » – un superlatif tout à fait justifié. Cet événement présente divers travaux de verrerie réalisés sur deux siècles, dont certaines œuvres de la collection permanente : récipients, instruments médicaux, vêtements de perles de verre.
Ces objets se juxtaposent à des créations contemporaines – tantôt décoratives tantôt fantasmagoriques – d'artistes du Vermont et d'ailleurs au pays. Au menu : crécelle de verre, squelettes de verre, meubles de verre et sculptures soufflées démesurées.
Autrement dit, ne vous attendez pas à des tasses et à des bols. Préparez-vous plutôt à être émerveillé.