Bear Cieri
Kory Rogers standing in front of the "Joel Barber & the Modern Decoy" exhibit
Some Shelburne Museum staff admitted they were worried about mounting a major exhibition of duck decoys. "They thought it wouldn't be captivating," chief curator Kory Rogers said. "But once they stepped into the gallery, they were completely enchanted by this fascinating character who took the decoy from a utilitarian object to a contemporary work of art."
He was referring to the Colgate Gallery of the museum's Pizzagalli Center for Art and Education, and to its current exhibition, "Joel Barber & the Modern Decoy." It's the first retrospective of the man nicknamed "the father of decoy collecting," featuring more than 100 decoys, watercolors and ephemera from his collection.
Rogers' vision germinated during the renovation of the Dorset House five years ago. That building on the museum's campus is home to a world-renowned collection of more than 1,200 decoys. The nucleus of that bounty once belonged to Joel Barber.
After his death in 1952, Barber's two sons sold his collection to the three sons of Shelburne Museum founder Electra Havemeyer Webb, who in turn gifted it to her. Watercolors, drawings and historical photographs arrived in 23 barrels and some 40 boxes along with the decoys.
In the Dorset House, Rogers began going through every piece. "No one had really looked at the collection in any great detail, and there were a lot of mysteries," he said. "In my research, I began to find all these stories — which, when added together, became an exhibition, and I had to do it.
"It's been one of the longest exhibitions I've ever worked on," Rogers added, "and also one of the most satisfying."
One of the first licensed architects in New York City, Barber designed interior spaces for some of its landmark art deco buildings, including Rockefeller Plaza. On Long Island's South Shore in the summer of 1918, he found a pile of decoys in an old shed. Barber took one, a red-breasted merganser hen, and used it as a doorstop; eventually he elevated the decoy to a place of honor on the family mantel.
"It's not the most beautiful decoy, or the rarest, but it's the most historically significant because it is the very first recorded to be collected as a work of art," Rogers said. Today that duck greets visitors to the exhibit.
At the time Barber adopted his first decoy, they were utilitarian objects used primarily by market hunters who hunted waterfowl in great numbers to supply restaurants and butcher shops. However, the passage of the Migratory Bird Treaty Act of 1918 made it unlawful to hunt shorebirds, which reduced the demand for decoys.
Courtesy Of Shelburne Museum
Red-breasted Merganser hen
"I think interest in preserving the history of decoys is what set Barber on his trajectory of collecting them and promoting them," Rogers said.
"No one has ever bothered about [decoys] as I have," Barber wrote in his seminal 1934 work Wild Fowl Decoys. "But it is my wish that decoy ducks of American duck shooting have a pedigree of their own. For this reason I became collector and historian."
Barber's was the first book on the history of American waterfowl decoys. He illustrated it with 69 diagrams and watercolor portraits.
"One of my favorite things about Barber is that no two of his illustrations are exactly alike," Rogers said. He took pains to depict each decoy's plumage in detail, as well as ambient water conditions and even clouds.
"This is one of my favorites," Rogers said, pointing to the watercolor-and-ink-on-paper piece, "Chesapeake Bay Canvas-Back, Susquehanna Flats," that Barber used as the frontispiece of his book. The orthographic depiction, showing top, front and profile views, illustrates the decoy's three-dimensionality. The checkerboard edges of the illustration are one-inch scale markings. "The painting encapsulates the entire decoy," Rogers said, noting that Barber even recorded the bird's sex.
"This exhibition is like 'I Spy,'" Rogers said. "The decoys in the paintings are also in the exhibition, and visitors can match them up."
To promote decoys as "floating sculpture," Barber lent his collection to galleries, exhibitions and museums. In 1923, he participated in the very first decoy show, organized in the Long Island village of Bellport by the Howell's Point Anti-Duskers Society. The group wanted to raise awareness of hunters who would kill — illegally — flocks of shorebirds as they landed at dusk.
At this show, Barber met Charles "Shang" Wheeler, who was known for the realism he achieved in his decoys. Wheeler would become the only contemporary decoy carver whose work Barber collected en masse.
Some nine years later, Barber held an exhibition in the Abercrombie & Fitch store's penthouse in New York City. It included 116 of his own decoys and 54 pairs of birds made by Wheeler. An enlarged photo of the exhibition is included in the Shelburne Museum show, along with the decoys pictured in it.
Collecting decoys inspired Barber to make them himself. He picked and chose what he considered the best elements from decoys in his collection to create what he called "modern decoys."
"I refer to them as 'frankenducks,' as the amalgamations are clunky and not very attractive," Rogers said with a laugh. "They also had a tendency to list or capsize, which may be indicative of the fact that Barber was not a hunter." Some of his frankenducks are on display.
After retiring in 1947, Barber moved next door to his son David's home in Wilton, Conn. There the two converted a backyard chicken coop into the world's first decoy museum. A large photo of the Shanty Museum of Old Decoys also hangs in the Shelburne exhibit.
Barber's willingness to share his collection with various institutions came at a price. When New York City's National Folk Art Center went belly up, the gallery sent back Barber's decoys in three crates. But the crate containing 34 of his most prized decoys never arrived.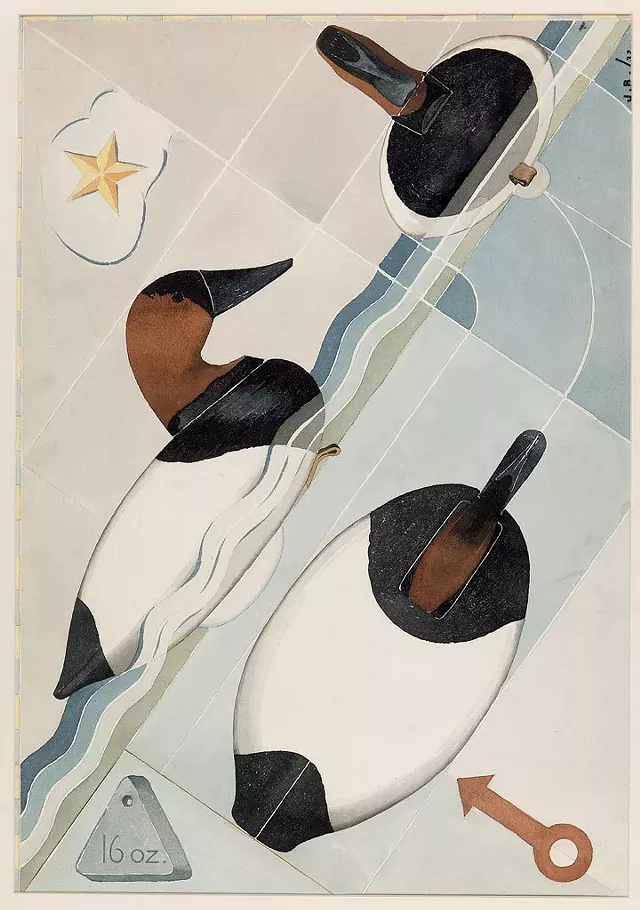 Courtesy Of Shelburne Museum
Barber Canvasbacks
"Some people say it was just a mistake, but others believe it was something more nefarious," Rogers said. "It's the greatest mystery of decoy collecting, and they could still be out there somewhere. I just want them to come home."
In place of those lost decoys, the Shelburne show offers Barber's images of them, including Albert Orne's Southport loon, Captain Jesse Birdsall's Canada goose and Captain Charlie DoVille's Lake Ontario redhead with hinged wings that flap.
The exhibit does include what Rogers called one of his most extraordinary finds: a recording Barber made with collector Dr. George Ross Star Jr. describing the chapters planned for his second book. Barber, who knew his health was failing, was intent on completing The Decoys of North America.
On January 1, 1952, Barber was working on a watercolor of a redhead drake decoy for the book when he suffered a fatal heart attack. That unfinished work hangs in the final section of the exhibit, along with the illustrations Barber had already completed for the manuscript.
Said Rogers, "It's really nice to end the story of Joel Barber with this section based on his last project, the one that consumed him until the day, the moment, he died."