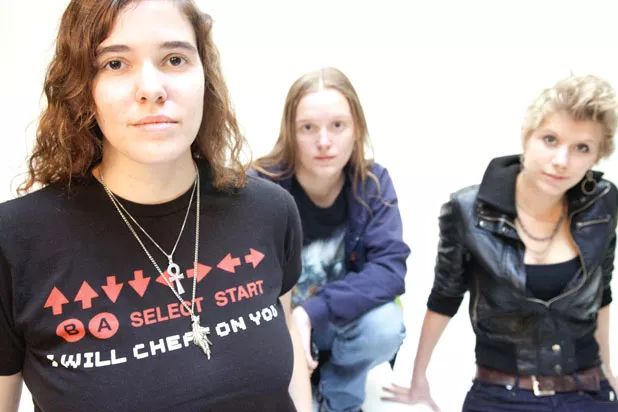 Matthew Thorsen
Erin Trzcinski, Lena Wagner and Marguerite Dibble
Just about everybody these days plays video games, from Words With Friends to Call of Duty, from Angry Birds to Wii Sports. Mobile and social platforms make gaming easier, more accessible and more popular than ever.
Studies have shown that women make up about half of all game players. But recent incidents have highlighted an undercurrent of misogyny in the gaming community.
Earlier this year, a female contestant in the Cross Assault video game tournament quit after being harassed by her coach. The New York Times wrote about the incident: "Over six days of competition ... her team's coach, Aris Bakhtanians, interrogated her on camera about her bra size, said 'take off your shirt' and focused the team's webcam on her chest, feet and legs. He leaned in over her shoulder and smelled her."
In May, feminist blogger Anita Sarkeesian launched a Kickstarter campaign to fund research into the way women are portrayed in games. In response, angry dudes vandalized her Wikipedia page and overwhelmed her social media channels with angry rants and rape and death threats. One guy even created a video game in which players beat her up.
The silver lining: Sarkeesian ended up surpassing her $6000 fundraising goal, bringing in more than $158,000.
Sarkeesian told the Times that "The gaming industry is actually in the process of changing ... That's a really positive thing, but I think there is a small group of male gamers who feel like gaming belongs to them and are really terrified of that change happening."
To see that change in action, look no further than Burlington-based Champlain College, which is turning out newly minted female game designers, programmers, animators and creative media managers. Champlain has one of the top 10 video game design programs in North America, according to the Princeton Review and GamePro Media.
But the program is still a male-dominated one — of Champlain's 379 game program students, just 32 — 8.4 percent — are women.
Game program director Amanda Crispel, a former Brøderbund Software staffer who helped create the classic kids' game Where in the World Is Carmen Sandiego?, notes that the percentage of women in the program is below the industry average. She's been purposefully trying to increase it by reaching out to female high school students.
The female students at Champlain seem unfazed both by the harassment they've experienced in online games and by their status as trailblazers in their field. We spoke with three of them to find out what they love and what drives them crazy about gaming.
For the record, they all said they like and get along with their male classmates. "One underclassman got a little sassy with me," remembers Champlain grad Marguerite Dibble, "and he regretted it."
Photos by Matthew Thorsen.
******
Marguerite Dibble
Age: 22
Hometown: Landgrove, Vt., a Bennington County town of fewer than 200 residents
Major: Game Art and Animation, Class of 2012 — she graduated in May
Occupation: Founder and president of Birnam Wood Games, a game design studio, and Offshoot Studios, which produces commercial projects for clients. She works with three of her former classmates — all guys.
Story behind the name of her new gaming studio: In Macbeth, the English army uses branches from the trees in Birnam Wood to camouflage itself in a stealth assault. The Birnam Wood website likens that army to video games: "The unsuspected force steadily forging a name as the next artistic media format."
Favorite games: Dibble doesn't have much time to play, but she enjoys the sci-fi first-person shooter game Half-Life and classic real-time strategy games such as Civilization 5. "You slowly build an empire over the course of 1000 years," she explains. "It's really fun. When I get some extra cash, I'm going to buy Dishonored. It's an assassination game that takes place in some futuristic whaling town. I'm pretty stoked about that."
Why study video games? Dibble wanted to double major in film and video games, but she quickly discovered she'd have to choose between the two. She picked games because they combine "the storytelling elements of literature" with "a complex, user-designed experience." Plus, she says, "I like the humility of video games. It's not an aggressive media experience. It's like saying [to a player], 'I made this, and you've got to define it yourself.'"
What drives her crazy about her field: The misconceptions about who plays video games. "Most people don't realize that women between the ages of 35 and 45 make up a market twice the size of boys under 18. And people over 50 play more games than people under 18. That's shocking to a lot of people."
Stories of in-game harassment: When she was younger and playing online games, "I got a lot of crap," Dibble says. When they found out she was a girl, other players would say things like, "Can you post a naked photo?" She thinks the climate has improved but points out that she doesn't play online games as much anymore.
Current professional project: The Offshoot team is working on an interactive brainstorming game for Michael Jager of JDK Design; he's planning to use it in a presentation to the New England Museum Association.
Recent avatar: Dibble made one to use in The Elder Scrolls V: Skyrim — a warrior mage with half her head shaved. She describes her in-game alter ego as "very lovely. Very hardcore. She looks like what Daenerys Targaryen from Game of Thrones would look like if she worked at an '80s nightclub in a harsh part of town."
*****
Lena Wagner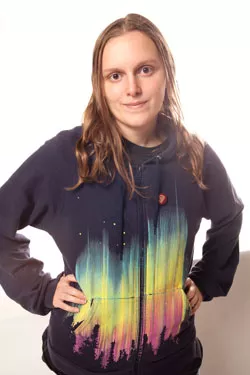 Age: 19
Hometown: Pleasantville, N.Y. — a small town on the outskirts of New York City
Major: Game Art and Animation, class of 2015
Why she likes games: "You feel like you're part of the story, as opposed to a movie."
What drives her crazy about her field: People crusading against violent video games. "There are definitely violent video games, but I haven't met anyone who went out and hurt someone because of them," she says. "Movies are really violent. I don't understand why video games get all the hate. I think that video games are unfairly targeted."
Game with a good female character: "I'd recommend Mirror's Edge," she says. In the single-player action-adventure game, a young woman named Faith Connors must save her sister, Kate, who has been framed for murder. Using parkour, climbing and leaping techniques, Faith navigates the streets and rooftops of their dystopian metropolis, evading enemies. "Faith is not an overly sexualized character that is just there as eye candy — she's a very real, strong woman and is one of the greatest heroines in games out there," Wagner says.
Stories of in-game harassment: "I've been kind of looked down on," Wagner says of her experiences playing multi-player online games. "When people hear your voice, and they hear you're a girl, it's just like, 'Shut up, you're a girl.' It's really immature." And, she adds, "Everybody gets very angry, very fast." As a result, she says, "I tend not to play online games."
Dream job: "I would love to be a character animator. I really enjoy the beauty of the human body, and the motion it creates."
Recent avatar: For Fallout, she made one who "has really rough, dark hair and really detailed features," says Wagner. "I gave her a bit of a rounded face, and green eyes. I wanted to make her normal and not way out there. My ideal armor is full body armor with just one arm uncovered. It looks very makeshift. The game is postapocalyptic, after a nuclear war, so everybody's just wearing whatever they can find. It definitely fits that look."
What her parents think of her career path: "My mom and dad like to brag that I'm doing this."
*****
Erin Trzcinski
Age: 22
Hometown: Chittenden, Vt. — a rural town in Rutland County
Major: Game Programming, Class of 2013 — one of just three women in the 100-student program
What she loves about video games: escaping into the stories and the characters. "Some of the worlds developers create are so extensive and detailed," she says. "It's like a book or a movie." And, Trzcinski adds, "It's a good stress reliever. When you've had a hard day, you can just go around and kill things — in a nongenocidal way."
How she approaches game play: Some people rush through games, eager to solve the puzzle and get to the end. Not Trzcinski. "I'm a completionist," she says. When she starts a new game, she makes charts and lists of the levels and various objectives so she doesn't miss any of the details. She hunts for "Easter eggs," little messages or inside jokes left behind by the designers. "It's what I like to do," she says.
What drives her crazy about games: "Bad mechanics, characters that are not well thought out," she says. "And, unfortunately, these tend to be female characters, because they're just the arm candy for the male characters."
A time when she felt awkward being the only woman in the room: Trzcinski studied last year at Champlain's Montréal campus. An instructor there tasked her group with creating a video game satirizing the over-the-top characterizations in comic strips, telling them, "I want lots of tits and ass."
"At first, I was a little shocked that he had asked for that," she recalls, then points out in the instructor's defense that he was trying to make fun of the way comic books depict women. "We made it as tasteful as we could," she says.
Recent programming accomplishment: Trzcinski used a flocking algorithm to make a group of orcas swim around each other. "It's usually birds, but I figured that was overdone, so I used orcas," she explains. "It's really cool to see something you've been working on for so long, all this code, coming together. It just comes to life before your eyes."
Recent avatar: Trzcinski doesn't play many games that require avatars, but she created one for XBox live. "I kind of just made a little mini version of me," she explains. "It looks like the cartoon version of me — long hair, glasses, jeans and a T-shirt."
How her parents reacted to her major: They were "a little dubious" about it at first, Trzcinski says, but after she showed them that "programmers make a good chunk of change," and explained that the skills she's learning will be useful across various fields, they came around.
Dream job: She hasn't thought about it too much. "I would love to work on a AAA title game that gets a lot of fans, having my name in the credits and getting to be part of it," Trzcinski muses, referring to a big-budget game project. Right now, though, she says, "I just want to get my first job."
Marguerite Dibble will be exhibiting with her companies, Birnam Wood Studios and Offshoot Games, at the Vermont Tech Jam on Friday and Saturday, October 26 and 27, at the Champlain Mill, Winooski. Info, techjamvt.com.