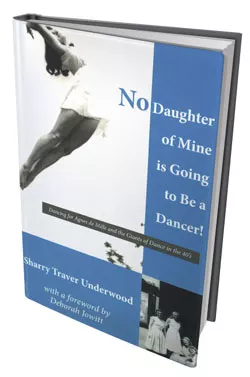 Sharry Underwood didn't take a formal dance class until she was 20 years old. But she would go on to dance in the '40s with some of the earliest icons of American modern dance — Ted Shawn, Martha Graham and Agnes de Mille, to name a few.
"I knew nothing, so I took notes on everything," she says of starting out in the nascent modern-dance scene. Those notes, and her diaries, were the starting point for the 90-year-old's recently published memoir, full of lively stories of her life on stage: No Daughter of Mine is Going to Be a Dancer!
Underwood was born in 1922 in Harrisburg, Pa., to a professional baseball player father and an organist mother. In 1927, her parents suffered a car accident in which her mother was thrown through the windshield, her vocal cords severed. From then on, Underwood and her two sisters were told to be quiet when they were inside the house. As a result, Underwood spent much of her early childhood outside.
That's where she taught herself to dance. Underwood says she knew immediately that she was destined to become a professional dancer. But her parents, especially her father, didn't approve. At the time, Underwood says, "there was only vaudeville and Busby Berkeley. Ballet didn't come to America until 1910. To dance on stage was nasty and not ladylike."
It wasn't until she left home for Syracuse University that she was able to pursue her dream. Thanks to a family connection to Jacob's Pillow founder Ted Shawn, Underwood was accepted in 1942 into a three-week program at the brand-new dance school in the Berkshires.
"Ted Shawn saved my life, he really did," she says. "I felt free to be who I was."
Underwood has lived in Vermont since 1952, when she moved to Middebury with her late husband, Wynn. As she talks about her book in her South Burlington apartment one recent afternoon, she raises her arms frequently, as if she were dancing right there at her little kitchen table. She looks younger than her 90 years, neatly dressed in a blue button-down shirt and black pants, her silver hair in a stylish bob.
At Jacob's Pillow that first summer, Underwood met Joseph Pilates, the German-born inventor of the eponymous exercise technique. She arrived early for her first class with him and found the eccentric Pilates standing on his head. "Ach, your back is no good," he told her. "We fix you, we fix you." And, says Underwood, he eventually did.
At the end of her first summer in the Berkshires, Underwood asked Shawn if there was any hope of her becoming a professional dancer. "In my mind, you have the talent, the beauty of face and body and the love of the art to be a fine artist of the dance," she recalls that he told her. "I wish I could be as sure of everyone as I am of you."
Later, after getting her master's in dance in Texas, Underwood moved to New York City with exactly $100. "I wasn't afraid. It didn't occur to me to be afraid," she says of trying to make it on Broadway. But it wasn't a smooth ride. Underwood blew her first big audition, for Oklahoma! Desperate for income, she went to the city unemployment office, but couldn't find any work. Finally, she got a job at a restaurant — but she soon quit to pursue dancing. Underwood never doubted that dream. "It was who I was," she says.
She went a little rogue — started exploring the city on her own and wearing her hair down to dance class. One day, she stopped by the theater where Agnes de Mille was choreographing the Civil War musical Bloomer Girl. They were in the middle of private auditions. Underwood was wearing shorts, an ill-fitting sweater and no tights, but she managed to finagle herself a tryout.
She was cast in one of the lead roles. "I just felt like I was in heaven," she says.
Underwood's book, which traces her life until the mid-1950s, is at its core about "respecting who you are," she says. "The world comes swirling at you, but you don't let it devour you."
And six decades later, Underwood is still at it, writing dance criticism and keeping up with the local dance scene. Two years ago, she brought dancers from all over Vermont together to perform on the Flynn MainStage in a production called "Chance to Dance."
As for dancing herself, "I still try," says Underwood, though she's uneasy on her feet. "I could be a pole dancer," she jokes. "But I'll spare the world that."
She's happy having danced as long as she has. "Fame wasn't my quest," Underwood says. "Being able to dance the way I wanted to was my quest."
"No Daughter of Mine is Going to Be a Dancer!" by Sharry Traver Underwood, self-published, 372 pages. $15.95. daughterdancer.com