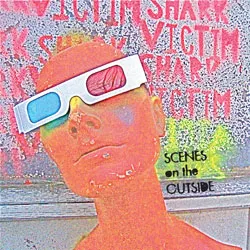 (Self-released, cassette, digital download)
Genre labels are meant to be helpful, a way of generally identifying a band's sound for potential listeners. The problem is, very few artists fit neatly into preordained boxes — and those who do are often not worth your time. Worse, generic genre tabs can be confusing. This is why, as both a fan and a critic, I appreciate when bands invent their own terms. After all, you've gotta call it something, so why not exert some control? The result could be something like "chaos pop," the pitch-perfect term devised by Burlington duo Shark Victim to describe the grimy and subversively hooky sounds found on their recently released debut EP, Scenes on the Outside.
Shark Victim is a collaboration of drummer and lead vocalist J. Boom Mateik and bassist Michael Clifford, the latter better known locally as a guitarist and co-frontman of Burlington's Lendway. But where that band bathes listeners in shimmering pools of harmony-laden, indie-rock jangle, Shark Victim bloody the waters with manic savagery. And a shit ton of bass-guitar distortion.
The EP opens, appropriately enough, on "Theme Song." Over a hypnotic surge of the aforementioned distorted bass and a rudimentary backbeat tethered to some manner of scratchy effects loop, Mateik howls with irascible anguish, "I'm a victim! / Shaaark victim!" "I-I killed a man," she continues, presumably now from the shark's perspective, with a trace of sweet innocence, as if wiping a crimson trickle from her razor-toothed grin.
As with "Theme Song," SV's debut succeeds on a sort of gleefully sinister simplicity. On "I'm Sick of It," Clifford's yo-yo-ing bass line lurks just below the surface, waiting to strike. It does just that on the following cut, "White Lizard," which contrasts Clifford's Pixies-ish bass rumble with Mateik's reserved snarl before the two sniff blood in the water and descend into, well, pop chaos.
Though not formulaic, the remainder of the EP follows in similar expand and contract — or catch and release? — fashion. It also, somewhat surprisingly, touches on a theme of heartbreak. "Hear It Still" offers the recording's lone love song and fleeting moments of nostalgic sweetness. It's directly followed by a bruising breakup song, "Mixtape," which is a setup for the gnarled closer, "It Goes Down." On the last, as Mateik describes being dragged underwater, resurfacing for air and being subsumed again, it's difficult to discern whether she's referring to yet another shark attack or, metaphorically, the perils of romance. The guess here is both. Because, as Def Leppard once sagely noted, love bites. And, as Scenes on the Outside proves, few bands locally bite with as much dead-eyed fury as Shark Victim.
Scenes on the Outside by Shark Victim is available on cassette at local record shops and as a digital download at sharkvictim.bandcamp.com.