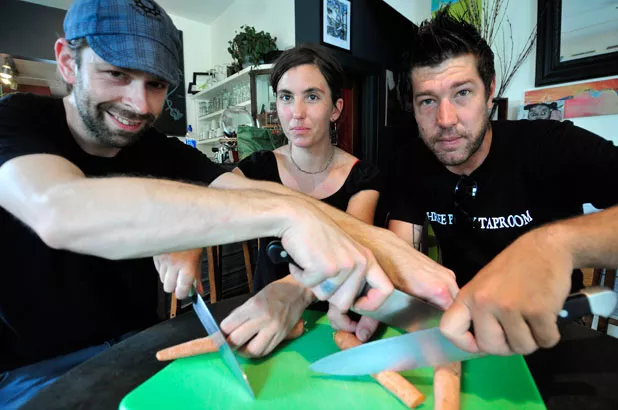 Matthew Bilodeau, Crystal Maderia, and Joey Nagy
It's 11:30 on a sunny Friday morning, and Montpelier's Three Penny Taproom is packed. Huddled around the bar, patrons are watching the Netherlands play Brazil in the World Cup semifinals. As they cheer, many keep one hand curved around a stein of beer. Aromas of hot corn tortillas, meat and spices waft from pieces of aluminum foil.
On the shiny faux plates are the bar's daily specials — tacos stuffed with pork carnitas or lamb — with the occasional veggie quesadilla thrown in. Chef Joey Nagy's beer-braised lamb tacos, studded with bits of refreshing cilantro and thin slices of crisp red onion and topped with any of four housemade salsas, are the perfect game-time finger food.
You'd never guess Three Penny doesn't have a real kitchen. Nagy makes do with a couple of Crock-Pots, a sandwich press that also serves as a griddle, and a water boiler (perfect for poaching lobster or boiling eggs, he says). And when he needs to prepare something more complicated, he has the option of heading off site — to Kismet, Crystal Maderia's breakfast and lunch spot on Barre Street.
It's not unusual for professional cooks to feel camaraderie. After all, while mainstream Americans are wrapping up a day of keyboard tapping in air-conditioned cubicles, chefs are slicing and dicing in 120 degree kitchens ... and they're just getting started. But Nagy, Maderia and Matthew Bilodeau, head chef at the Black Door Bar and Bistro, are taking cooperation to a whole new level. Even as their eateries compete for Montpelier's dollars, they're sharing resources, time and space.
The result is that in-the-know central Vermonters are able to try fare — such as Eastern European dumplings or Moroccan tagines — that they would otherwise have to sample in Burlington, or even Montréal.
Capital City diners agree that theirs is a tight market — and a discerning one. While everyone wants to see more variety, "the concern on the street is about whether or not Montpelier can support another restaurant," says Rick Winston, former owner of the Savoy Theater.
Beck Norman, meat and seafood buyer at Hunger Mountain Co-op, calls Montpelier a "foodie town" that has "gotten pretty stagnant. I think [Maderia, Bilodeau and Nagy] are changing the dining scene," she says.
How? Last year, Maderia came up with an idea for a new revenue stream to help support her restaurant. Since Kismet closes by mid-afternoon, Maderia decided to invite chefs to cook out of her kitchen in the evening for a small fee. She helps promote the event, plate food and serve. It's not just about the money: "I got excited about the prospect of offering the space," Maderia says.
Bilodeau of the Black Door was the first chef to take advantage. Through the harvest he'll borrow Kismet's kitchen on a monthly basis to prepare ultra-seasonal multicourse dinners with beverage pairings concocted by Three Penny co-owner Scott Kerner.
On June 22, Bilodeau offered an exclusive menu for just 10 people, at $45 for 3 courses, $70 for five or $100 for all seven, with a drink for every course. It included goat-cheese-and-wild-mint sorbet with radishes, red beet tartare with duck egg, and braised rabbit with wild mushrooms and greens. Once he knows what local farms are harvesting, he'll start working on a menu for his next dinner.
Norman attended Bilodeau's meal and opted for the three-course pairing. "It was a different style of food than you can find anywhere else in town," she says.
Bilodeau's boss, Black Door owner Phil Gentile, doesn't mind that his chef sometimes spends a night at another restaurant: "He knows that it's good for me to step outside and do my thing," Bilodeau says.
Later this month, Nagy of Three Penny will do his thing. He and Maderia will work together on a family-style Hungarian meal that draws on Nagy's grandmother's classic recipes. In August, the two will prepare a feast in which each course evokes traditions of a different Mediterranean country. Then they'll serve a Brazilian menu that demonstrates how Portuguese culture has influenced the South American country's cuisine. "I've got a lot of tricks I'm planning to pull out," Nagy promises.
For Nagy, with a makeshift kitchen, having the resources of other restaurants at his disposal is a boon. When he runs out of salad greens on a busy night at Three Penny — which has no walk-in cooler for storage — he borrows some from Bilodeau.
The three chefs support each other in little ways, too. A few weeks ago, when Bilodeau accidentally trekked to Hunger Mountain sans bike lock, he "snuck into the back of Crystal's restaurant and hid my bike in there," he says. When Maderia wanted to have a staff retreat on a Sunday, the Three Penny guys cooked brunch for her customers.
As summer draws to a close, Maderia, Nagy and Bilodeau will prepare a massive meal for more than 100 people at a yet-to-be-determined local farm. "Our relationship is not just based around restaurants; it's based around community," says Nagy, who touts the high quality of local produce.
Maderia adds: "We'll feature the farmers as our VIP guests. We'll have music."
Can the trio sell 100 tickets? Probably, but they may have an easier time if they do more marketing. While a core group of fans knows about their collaborations, plenty of local diners seem to be out of the loop.
Take Christina Pace, a stay-at-home mom and aficionado of "fresh, local, organic" food, who calls Maderia's fare "a feast for your eyes," and says she had "the best drink of my life" at Three Penny. Pace had no idea the chefs were teaming up. And at a recent meeting of a local boosters club, she recalls with evident surprise, "Some people had never even heard of Kismet."
Winston wasn't aware of the after-hours experiments at Kismet, either. But he likes the idea: When one spot can offer different types of cuisine, he suggests, it fills a need without taking revenue away from existing establishments.
That's one reason Maderia is so keen on having other cooks work out of her restaurant. In addition to her collaborations with Nagy and Bilodeau, Maderia invited one of her employees, Alexis Hurley, to sell handmade Mexican food at Kismet every Tuesday.
She also shares space with Lalitha Griffin, an expert in Indian and Malaysian food. Last Saturday evening, Griffin dished up coconut-butter prawns, slow-simmered lamb rendang and sticky rice to dine-in and take-out customers at Kismet. A series of Italian dinners, prepared by Corinne Novetti, is in the works.
Kismet isn't the only eatery making space for variety. Three Penny, which began as a gastropub with plates of local cheese, pickled eggs and unusual items made with offal, has branched out to serve Latin food on Friday and sushi on Saturday. On Sunday, it offers a full-fledged oyster bar.
Michael Belenky, cofounder of Zutano, cites some other exciting meals he's had in Montpelier — exquisite Thai food from a truck, sourdough pizza at the farmers market and a tapas menu at New England Culinary Institute's Main Street Grill & Bar. But he's particularly impressed with the fare at Kismet and Three Penny, and recently sampled the "best taco [he's had] in Vermont" at the Black Door.
Belenky is familiar with "taco Tuesdays" at Kismet, but he hadn't heard a word about the dinner series, or the special weekend fare at Three Penny. "It's wonderful that people are thinking creatively about collaboration and space," he says.
What may look like moonlighting is actually a way for chefs to try out new and potentially risky ideas. Back in the day, Belenky recalls, Steve Bogart prepared his authentic Chinese food after hours at River Run in Plainfield. When the concept caught on, he opened A Single Pebble.
"If we can be good enough that people will want to get in their cars and come for something that's a little more authentic and from the heart … [Montpelier] can become a [dining] destination," Belenky suggests.
When the World Cup game ends and the rush at Three Penny dies down, Nagy — lean, tan and kind of bad-ass looking, like a young Anthony Bourdain — goes through his daily routine. He grabs an Arnold Palmer — half iced tea, half lemonade — from nearby Langdon Street Café and stops at The Uncommon Market around the corner to pick up a fish order.
Back at Three Penny, he packages a pair of tacos to bring to Bilodeau — all three chefs regularly frequent each others' restaurants.
"He won't be out of work until really late," Nagy confides, "and we might be sold out."