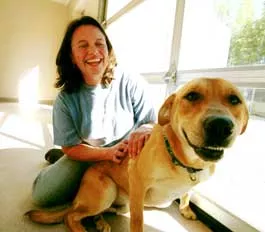 Jordan Silverman
Shara Tarule
Wielding the kind of rubber hand-on-a-stick often used as a Halloween gag, Shara Tarule gently strokes Sassy's lush black fur. The little cocker spaniel mix doesn't seem to mind. She's busy gnawing on a leathery, dried pig ear at the Humane Society of Chittenden County's spacious new headquarters behind K-Mart on Shelburne Road in Burlington. But when the artificial appendage moves closer to her prize, Sassy freezes. If pushed, she might snap or growl. It's apparent to Tarule that this affectionate pet is probably not suited for a home with young children.
The FBI hires profilers, but the Humane Society has Tarule: its very own dog-behavior consultant. Incoming pooches are frequently disoriented by the unfamiliar surroundings. The 31-year-old Underhill resident's job is to evaluate these "relinquished animals" so the organization can match them with the appropriate adoptive families or individuals.
Tarule lived in Plainfield until age 10, when her family moved to Massachusetts. After spending the better part of a decade devoting herself to the Earth's fauna in far-flung places, she returned to Vermont in early 1996. The green-eyed brunette now has a cat and two dogs of her own — not to mention a toddler, Lincoln. Tarule acknowledges that in a life devoted to other species, she and her husband, Guy Owen, named their son after a particularly intelligent sea lion.
SEVEN DAYS: What prompted you to pursue this career?
Shara Tarule: As a child, I spent time with my grandparents every winter in the Florida Keys. I began "playing" with dolphins when I was seven. At 17, I had a three-month internship at the Dolphin Research Center there. After graduating from a private high school in Massachusetts, I took a year off before college to do research with humpback whales as an intern in Australia and then as a paid naturalist in Hawaii.
SD: Wow. All that before continuing your formal education?
ST: Yeah. I came back to New England to attend Hampshire College, where I concentrated on environmental studies for two semesters. I went back to the Keys to do a summer internship with dolphins. That turned into employment as a senior trainer for five years. And it's where I met Guy, who was also a researcher. We burned out on perpetual summer, though, and came north.
SD: To be near your family?
ST: (Nodding) My parents had moved to Burlington in 1991. And I wanted to finish my undergraduate degree at the University of Vermont. I majored in animal science in the pre-veterinary program.
SD: Did the Humane Society have a previous dog behavior consultant?
ST: No. They essentially created the position for me. Shelters everywhere are starting to have behaviorists on their staff. It's a new direction here, so we're sort of figuring it out as we go along.
SD: Why is there a need?
ST: Being given up for adoption and staying in a shelter can influence a dog's well-being. My job is to find out what's really going on with them. I'm trying to make a prediction of future behavior in the home.
SD: What are the steps for making that prediction?
ST: First, I do a temperament test like this: I'm now opening Sassy's mouth several times to observe her reaction to predictable and not-so-predictable actions. I think this is OK with her because she's already bonded with me. I also want to see how social a dog might be. How much do they care about people? The less dominant ones look right at you and seem to be saying, "Hello, new human. Show me what you want to do." But the more social, dominant and confident dogs look away as if saying, "Hello, new human. Where are we going together?" Sassy, for instance, is less dominant.
SD: But she sure wanted to dominate that pig's ear.
ST: That's what we call "resource guarding." In a home, that could be a peanut butter and jelly sandwich she steals off the table. Another test we do is to check the "prey drive," a dog's inherent desire to chase after fast-moving objects — like squirrels or children on skateboards.
SD: How would you do that with Sassy?
ST: I'll hold onto her while someone runs back and forth. I also test for compatibility with other animals, and for their activity and energy level. And there's a "stranger meeting" test: I see how they respond to a loud knock on the door.
SD: How long does it take to evaluate a dog?
ST: It depends, but we don't begin the evaluations until after they've been here for 48 hours. We wait for them to stop looking for their old owners.
SD: That breaks my heart. Dogs are so loyal.
ST: I know. My goal is to make them more adoptable.
SD: How?
ST: We train our staff and volunteers on all the little things they can do that make a difference. Our walkers used to just slip on a collar and take them out. When I started here two years ago, I established a "four on the floor" rule. We ignore them until they're no longer jumping up or barking. Then they get food, praise, rewards. We just turn our backs on them till they quiet down. Within three weeks, the kennel became a quiet place. Dogs figure it out. That's self-control.
SD: Are there other tricks of the trade to help them improve?
ST: We have "pawjama parties." People can take a dog home temporarily while we're closed on Sundays and Mondays, or even just overnight. In some cases, staff members take dogs home to assess them in a more natural environment.
SD: To what extent do you profile the aspiring owners?
ST: We do an intake interview. Our primary adoption requirements are that they be over 21, have permanent housing and have provided regular veterinary care for their other pets. After the application process, they meet for an hour or more with an adoption counselor.
SD: Have the behavioral techniques been successful in terms of your own dogs?
ST: If I forget to put away the garbage when I leave and they redecorate the kitchen floor with it, I say: "Bad owner!" They're scavengers; that's what they're meant to do. It happened to us the other day. Some level of destruction is normal. Makena, my Dalmatian mix, has potential aggression problems with people and dogs. He's a difficult dog to own. The silver lining is that I know how to handle aggression. Kiska is a bluetick coonhound. She's a rescue dog. But Bessie, our tortoiseshell cat, rules the household.
SD: I suppose none of the approaches you use here would make sense with a cat.
ST: Not necessarily. Our shelter manager, Teal Church, is developing a cat program with a similar evaluation process, especially for strays.
SD: You've pointed out that the new building offers cat colonies, doggie dorms, a living room décor for adoptees called Camp Take-Me-Home and a separate space for rabbits and small pets like hamsters, ferrets and guinea pigs. This must be a shelter that really cares about critters. Is that what attracted you?
ST: (Laughing) I came to the Humane Society because Vermont doesn't have dolphins.