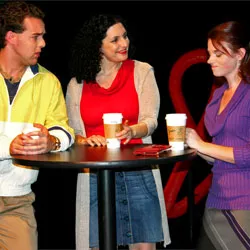 From left: Jayden M. Choquette, Kim Jordan and Emily Marie Benway
Playwright Neil LaBute has issues — with the entire human race, it seems. Village Voice critic Rob Weinert-Kendt calls LaBute "American theater's reigning misanthrope." Last year, the Broadway advertising for Reasons to Be Pretty listed the author as "playwright and provocateur." In a New York Times interview before that show opened, LaBute 'fessed up that his calculating, antisocial characters are "intellectual constructs." Creating characters as cerebral abstractions, however, rather than believable people, makes for astonishingly unprovocative theater.
In The Shape of Things (2001), LaBute demonstrates the inexorable tedium of a play as an academic exercise, even when the story intends to shock. Champlain College's current production at the FlynnSpace suffers from LaBute's didactic script, and several ineffective production choices. The four-person cast struggles valiantly to overcome the one-dimensionality of the characters.
The action takes place during spring semester at Mercy College, described as "a liberal arts college in a conservative midwestern town." Periodic references to California, the beach and travel to a nearby city for an avant garde art show, however, confuse the certainty of the location. At the school's museum, Adam and Evelyn meet in front of a statue of God. (Subtle symbolism, anyone?) Evelyn, a grad student working on her MFA in art, plans to spray-paint a penis on the sculpture, whose package has been plastered over with a fig leaf.
Evelyn flirts with nerdy museum guard Adam, an undergrad in English, and graffitis her digits inside his corduroy jacket before she bedecks the deity with a dick. Of course, this begins a beautiful romance … in which the smart, charming Adam allows Evelyn to change his personal habits and physical appearance. He exercises more, eats better, stops biting his nails, cuts his hair and gets a nose job. Eventually, he accedes to her demand to drop his longtime friends, engaged fellow undergrads Phil and Jenny.
Why doesn't the sensitive, perceptive Adam have a clue about his manipulative girlfriend? Is Adam really "so whipped," as he admits to Evelyn in bed? Or does LaBute rely on this hoary, sexist cliché to maneuver his plot toward its bombshell surprise ending?
Champlain sets the The Shape of Things in 2010. But many of LaBute's cultural references, meant to be contemporary, were badly outdated by its 2001 debut, such as the '70s TV show "Kung Fu" and LIFE magazine. Storytelling loses steam when the audience puzzles over jarring anachronisms and egregious factual errors, such as Adam heading for the gym wearing the splint from his recent nose job. Patients have to wait weeks after rhinoplasty before resuming vigorous aerobic exercise, as any actor, doctor or Google could have told the playwright.
Since the script can't be changed without the author's permission, production elements are the best way to convey a modern vibe. Cora Fauser's costume design lacks cohesion and fails to communicate "2010" or "college." Odd wardrobe choices match the actors poorly to their characters' ages. In all black with sunglasses on his head, Phil dresses like a thirtysomething L.A. club douche. Jenny sports ill-fitting, brightly colored garb she could have snatched from her granny's closet. And grad student stipends sure have changed if Evelyn can afford sexy, black suede boots and strappy dominatrix heels.
The plot pivots on the evolution of Adam's appearance. But his opening geek-chic look — straight, shoulder-length hair, ski cap and hot-nerd glasses — has more sex appeal than his final style. The baggy khakis and windbreaker are more George Costanza than George Clooney.
Jim Lantz's lean set provides flexibility and space. Three long, rectangular boxes become benches, tables, columns and a bed. But five stagehands take a long time rearranging the simple pieces, which interrupts the story's flow as the audience yaks loudly between scenes. Director Joanne Farrell's staging fails to take advantage of the room Lantz's minimal scenery provides. Her static blocking also means that theatergoers too often gaze at the back of an actor's head.
The actors shine best in the few meatier scenes that allow them to play off each other's emotional energy. These moments occur when two characters confront an issue in their personal relationship, rather than expounding on one of LaBute's esoteric themes. For example, when old roomies Adam (Jayden M. Choquette) and Phil (Benjamin Cavallari) hang out on a quiet afternoon, underlying tensions in their friendship erupt. Choquette and Cavallari ably show how trust, suspicion, anger and love roil unhappily between the characters.
Evelyn oozes predatory sexuality, and Kim Jordan embodies this aggressive energy well. Unfortunately, a one-note role, even when done well, becomes tiresome — LaBute's fault, not Jordan's. Emily Marie Benway effectively captures Jenny's reticence and genuine affection for Adam. But her vocal delivery lacks polish; she sometimes rushes lines and fails to clearly enunciate phrases.
LaBute tackles intriguing Big Ideas in The Shape of Things: using a human being as "base material" for sculpture, and "manipulation as a palette knife." But to tell a good story, characters have to be more than mere vehicles for a writer to convey theories, lessons or morals. Aesop's 650-plus fables might give LaBute some tips on where to start.