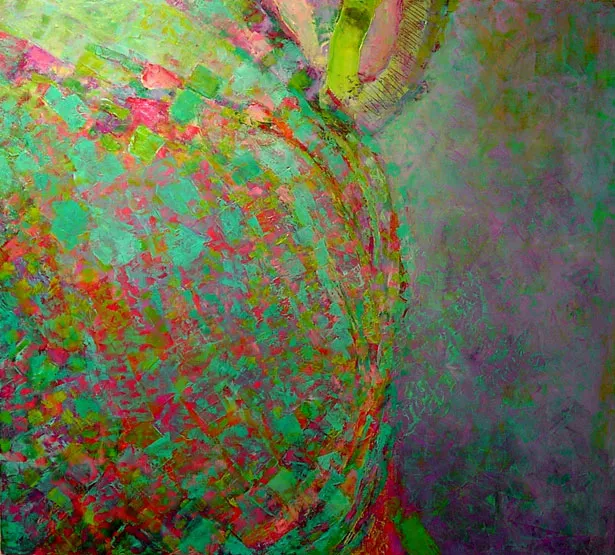 "Colorshape 9" by Tad Spurgeon
Most painting exhibitions consist of images hung on the walls, along with titles and prices. There's often an accompanying artist's statement shedding more (or less) light on the work, and sometimes a curator weighs in with further exposition. Tad Spurgeon's "Troupe: Recent Landscape, Still Life and Colorshape Paintings" at the Shelburne Art Center radically departs from those conventions. The artist posts extensive writings that dig deeply into technical matters and his conceptual development. What's also remarkable is that the three distinct bodies of work on display were executed at practically the same time - most of the 50 paintings date from 2007.
Spurgeon is best known for his sparse still lifes, which are influenced by a keen study of Giorgio Morandi (1890-1964). Both artists typically depict everyday objects forward in the picture plane, on neutral tabletops and against featureless gray backgrounds. Spurgeon's paintings are somewhat more naturalistic than Morandi's, however, his treatment of light more complex.
"White Peonies," a 12-by-16-inch still life, presents three flowers in a reflective steel can situated on a pale beige surface. The subject is pushed slightly to the left, creating a subtle tension in the composition. The flowers have delicate, rose-colored stamens, and only a few green leaves are visible. Regarding his Morandi-inspired pieces, Spurgeon writes, "This work has taught me - relentlessly, without mercy - that simplicity is inherently complex."
Spurgeon's landscapes are as lush as his still lifes are minimal. This exhibit includes a 10-by-14-inch study of "The Hay Wain" by John Constable (1776-1837). The painting depicts a wagon crossing a stream near a cottage in the woods; Spurgeon's lively version features wildly dynamic brushwork and heightened hues. "Constable's more informal outdoor work has always fascinated me," he notes, "because of its incredible functional tension between observation and painterly execution."
In fact, the original practically dissolves in Spurgeon's interpretation. Several of his own informal outdoor works also appear here. While Spurgeon has been known to spend more than a year on a single still life, he can create several landscapes in a single visit. "Button Bay Outdoor Study 6" is an 11-by-15-inch oil on gessoed paper, replete with sweeping brushwork and a limited palette of hues that reflect the scene's vibrant color.
The biggest surprise in the Shelburne gallery is Spurgeon's "Colorshape" series. The dozen nonobjective abstractions include the show's largest piece: "Colorshape 9," a 36-by-40-inch symphony of color. In it, a spherical universe of broken greens, reds and purples encroaches on a softer field devoid of red. Spurgeon worked with a closely calibrated triadic harmony that Monet would have applauded.
"Colorshape 5" is a 10-by-20-inch oil on paper that includes passages of scratches and a more raw use of color. Loose squares of bright red and blues seem balanced on a fulcrum of pale earth tones. While the style is new to those familiar with Spurgeon's work, he writes, "Having grown up with abstract art, this is the body of work I've been working on the longest."
But the artist relates that he put the genre on hiatus in the 1980s, when he embarked on his exploration of Morandi's impulses. Spurgeon reveals that the "impetus" behind his nonobjective abstractions "ended abruptly, and an effort to revive it in the fall of 2007 resulted in a morass of work that simply didn't have it, whatever 'it' is in this case."
Nonetheless, Spurgeon is beyond doubt a versatile and inquisitive artist - he may even be the most technically knowledgeable oil painter in the area. Considering the impressive abilities on display in "Troupe," where does he go from here? Will he now commit to a specific, personal aesthetic at the expense of all others, or will he remain productive in several areas at once? Last year seems to have been a transformative one for Spurgeon, so perhaps he, and we, will learn the answers to those questions in 2008.