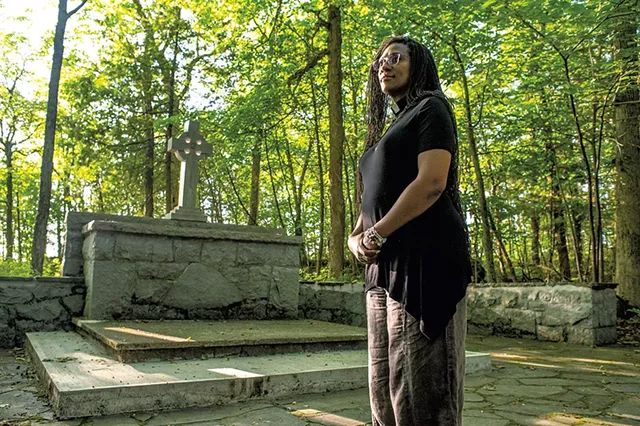 Glenn Russell
Shannon MacVean-Brown
By the time she entered an Episcopal seminary in 2004, Shannon MacVean-Brown thought she knew what sort of priest she wanted to be. In her 30s and pregnant, the seminarian had already run a design business, taught elementary school art and become a preacher at her unconventional childhood church in Detroit. She saw full priesthood as a way to take her creative approach to other congregations.
MacVean-Brown did not initially see her race as particularly important to her ministry. That began to change when she entered Seabury-Western Theological Seminary in Evanston, Ill., where, as one of the few nonwhite students, she was confronted with a church that wasn't quite living up to its ideals.
During her orientation, one of the professors made disparaging comments about the church's African American hymnal, and several classmates registered their displeasure with a required antiracism training.
"I was shocked at people's ignorance and," she recalled, pausing to choose her words, "racism. Pure and simple racism."
Her priestly calling took new shape. To fully embrace its values, she concluded, the church would need leaders from more diverse backgrounds, who, like her, could bring new perspectives to ministry.
Fifteen years later, MacVean-Brown, 52, is about to become the first black woman to lead an Episcopal diocese in New England. Vermont lay leaders and clergy elected her in May as the state diocese's 11th bishop, succeeding Thomas Ely, who will retire next month after 18 years in the post.
Once formally consecrated as bishop on September 28, MacVean-Brown will lead a church that is small but increasingly feisty. Slightly fewer than 6,000 Vermonters are Episcopalians, spread out among 45 congregations, the largest of which is the Cathedral Church of St. Paul in Burlington. Like Vermont, the church is mostly white, and like many of the state's traditional Christian denominations, its congregants are aging.
The Episcopal Church, the American offshoot of the Church of England, has a long-held association with polite society, as a place where the wealthy practiced a restrained form of worship. It has begun to shake its stodgy reputation by embracing progressive causes and more diverse leadership. The Episcopal Diocese of New Hampshire elected the church's first openly gay bishop in 2003, and Michael Curry became the first African American to preside over the national church in 2015.
In Vermont, Ely has been a vocal advocate for marriage equality, gun safety and other social justice causes. Church members have followed. Episcopalians are some of the most active participants in the Vermont Interfaith Action, a progressive group, according to its executive director, the Rev. Debbie Ingram, who is also a Democratic state senator representing Chittenden County.
In the country's least-religious state, Episcopal leaders see feistiness as central to the church's future. The diocese's baptized membership dropped 13 percent between 2011 and 2017, and average Sunday attendance declined by 15 percent, according to data from the national church's General Convention, its governing body. Some parishes have closed or consolidated and have struggled to afford clergy.
Faced with declining budgets, a search committee composed of laity and clergy considered abandoning a full-time bishop upon Ely's retirement. Instead, they resolved to find a leader with a "sense of holy scrappiness," as the job description read, who could bring innovative approaches to the church's challenges and advocate for social change.
"We know we need to change," said Rev. Rick Swanson, rector at St. John's in the Mountains in Stowe. "We're scared, but we know we need to do it."
In MacVean-Brown, church leaders believe they've found an independent thinker who can lead in partnership with church members — while also challenging them.
That's a tall order, but it's one that aligns with MacVean-Brown's approach to the faith.
"This church thing is not about coming and singing pretty songs on Sunday and saying our perfect prayers," she said. "It's about: How are we changing the world? How are we living into this countercultural activity we've been called to?"
The bishop-elect spoke to Seven Days for more than two hours in a small, sparsely furnished office at the diocese's Rock Point headquarters, surrounded by vegetable gardens and trails that crisscross the scenic and forested 130-acre property on the shore of Lake Champlain. She has moved into the historic bishop's residence nearby, where her husband, their teenage daughter and chihuahua, Detroit, will soon join her.
MacVean-Brown described her path from the country's blackest city to one of its whitest states and how her experiences as a black woman can help push the church to realize its inclusive ideals.
MacVean-Brown grew up on Detroit's east side in an unusual congregation where many of the members lived in an intentional community, or what outsiders might call a commune. As a 4-year old, MacVean-Brown said, she had convinced her church-weary mother to join the Episcopal Church of the Messiah, whose daycare center she was attending. Her mother met and married the priest, and they lived in church-owned communal housing throughout her childhood in the '70s and early '80s.
MacVean-Brown's enthusiasm for the church waned as a teenager, and she stopped attending regularly. She explored Buddhism and taught Laotian classical dance, but she returned to Christianity while in the Kendall College of Art and Design of Ferris State University in Grand Rapids, Mich., where she studied art.
She moved back to Detroit and worked as a commercial interior designer and, later, as an elementary art teacher. When her stepfather retired, fellow members of the church she had grown up in selected her as the leader of their congregation. Her creative personality became central to her leadership: When few people volunteered to decorate the church for Christmas, she incorporated the chore into a Sunday service. When the church needed money for repairs, she had members create art tiles to help raise funds.
Having found her calling, MacVean-Brown decided to pursue full priesthood and entered the seminary. She finished her master of divinity at the Episcopal seminary in Evanston, where, she said, a series of experiences opened her eyes to the racism that still existed within the church.
MacVean-Brown had encountered discrimination before. White members of the Detroit commune didn't want their children dating the black teens. In Michigan, she recalled, someone threw a brick through the car window of the Laotian family she was living with. But realizing that institutional racism also permeated the church to which she felt called to dedicate her life was "heartbreaking," she said.
The realization formed the seed of her eventual dissertation, which focused on how black women priests could help advance the church. She felt like an outsider inside her own church, which she came to see as her biggest strength.
"You can say, 'We want to be inclusive' all you want, but if ... it's only white men in charge, that's not true," she said.
To effect that change, MacVean-Brown said, she decided to seek out places where she could serve the church as an "other" and not just as "one black woman priest in a black city in a diocese that has a bunch of other people who look like me and are thinking the same things." She thought of it as a "ministry of otherness," where she and her congregations must constantly confront what it means to create an inclusive community.
Her first opportunity outside Detroit arrived in 2014, when she was assigned to Christ Church Cathedral in Indianapolis. The church was multiracial and multilingual, in a state dominated by Christianity's more conservative strains. She became president of Indiana's counterpart to Vermont Interfaith Action, called Faith in Indiana, lobbying for social justice causes.
She also witnessed another church milestone. In 2016, her colleague Jennifer Baskerville-Burrows became the first black woman elected as an Episcopal diocesan bishop; the consecration was held at MacVean-Brown's church.
The Vermont diocese's unusual job ad, with its pitch for "holy scrappiness," prompted the priest to apply last year, she said.
Episcopal bishops are elected by a majority vote of clergy and lay representatives in the diocese. The church appointed a group last year to develop the job posting and select a group of finalists, said committee chair Maggie Thompson of Calais. Six of the top seven candidates, and the three finalists, were women.
"This is a generalization, but for the most part, the women were more energetic and willing to try new things," Thompson said.
MacVean-Brown was elected in May on the first vote — a rare occurrence that reflected enthusiasm for her perspective, local church leaders said.
Swanson, the Stowe rector, who is gay, said MacVean-Brown is positioned to help the mostly white church confront racial justice issues, much as it began addressing LGBTQ equality in earlier years.
"She is here to take them to the next space of real uncomfortable conversation on race," he said, referring to the church's congregants.
MacVean-Brown said she hadn't put race at the "top of the list" of her priorities as incoming bishop, though since moving to Vermont over the summer, she's learned more about its fraught history here.
In one of her sermons, the bishop-elect said, she talks about Episcopalians' ability to stay united during hard times. But there was one time when the church should have fractured, she preaches — during the abolitionist movement, when the church failed to take a stand against slavery.
It was only after moving to Vermont, MacVean-Brown said, that she learned of the work of the reverend John Henry Hopkins, who in 1861 authored a pamphlet that defended slavery on biblical grounds.
Hopkins was Vermont's first Episcopal bishop, writing more than 80 years after the state outlawed slavery. He went on to preside over the national General Convention in 1865 that reunified the church's northern and southern factions.
Hopkins' story, she said, reminded her that issues of race may, indeed, have an important place in her work as she takes on the ministry he once held.
Correction, September 6, 2019: An earlier version of this story used an incorrect name for Vermont Interfaith Action.