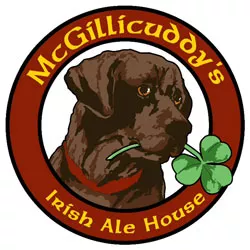 As owner of McGillicuddy's Irish Pub in Montpelier and Mulligan's Irish Pub in Barre, Dave Nelson has his hands full. That isn't stopping him from adding a third pub to his empire this Wednesday with the opening of McGillicuddy's Irish Ale House at the Maple Tree Place shopping center in Williston.
Though the complex is already home to restaurants such as Three Tomatoes Trattoria and Mexicali Grill & Cantina, chain eateries dominate the area. "We're just a little different than a chain," Nelson says. "I thought [this area] needed a local option for good beer and good burgers and good bar food."
Not just the ownership is local. Vermont Highland Cattle Company supplies the pub with steaks and, for a $2 upcharge, any burger can be made with the processor's grass-fed beef. The build-your-own burger option allows diners to load on as many toppings as they want, for a price never exceeding $8.99 for conventional beef or $10.99 for the local patties. Either way, the signature McGillicuddy's Burger is marinated in Guinness and a spice blend. Nonbeef burgers include a house black-bean patty with avocado and a pork patty topped with pickles, mustard and cheese to mimic a Cuban sandwich.
Unlike Nelson's other restaurants, the Williston pub will also serve some Irish fare. Dishes including corned beef and cabbage, shepherd's pie and Irish stew are classic preparations. Others are less conventional, such as bangers and mash that uses sweet potatoes for its starch.
The 28-tap list includes everything from brand-new Newport-based Kingdom Brewing's Skinny Bitch to little-seen New Hampshire's Woodstock Inn Brewery Red Rack Ale to Pabst Blue Ribbon and Bud Light.
Glasses will surely be raised in tribute to Shamrock, the Nelson family's black Lab who passed away last year. Her image spreads the luck of the Irish across the restaurant, appearing on everything from the glasses to the sign to a mural inside the pub.