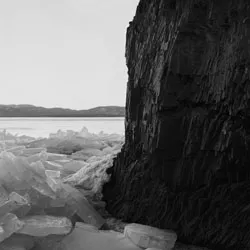 "Cliff and Ice, study 1, Lake Champlain, VT" by Gary Hall
South Burlington-based photographer Gary Hall is a masterful technician, capturing light in every square inch of his images. The 20 prints on view in his solo exhibition at the Amy E. Tarrant Gallery, entitled "Explorations in Contemporary Luminism," translate light and shade into magnificent gradations of value, from satiny whites to silvery grays to pure, deep blacks. Like the Luminist painters and photographers of the 19th century, Hall captures the natural world. "I am attracted to scenes that hold the promise of their eternal nature," he writes in his artist's statement, "as if they have been there for centuries and will be there for centuries to come." While many photographers try to capture transient moments, Hall targets the enduring qualities of every subject his lens is trained on.
One of the wonders of Planet Earth is the ever-changing nature of water, and nearly all its states of being appear in Hall's photographs. His careful composition and eye for detail imbue mist, rapids and ice with a sculptural quality.
Dating from 2007, "Cliff and Ice, study 1, Lake Champlain, VT" is a 20-by-20-inch picture of contrasts. A dark, craggy cliff face bisects the landscape vertically, and piles of thick, broken ice are heaped around it in the foreground. The smooth surface of Lake Champlain and a gently rolling section of the Adirondacks span the far-off horizon.
Mountain mist, as in a vista in a Chinese landscape painting, dominates "Green Mountains, study 1, New Haven, VT" from 1998. Five trees denuded of leaves stand on a sharply focused rise of land in the foreground of the 24-by-24-inch image. Three successive layers of fog and ridgeline recede into the picture plane. Clouds obscure the sun, so that it becomes a bright blur in the upper left corner of the piece.
Rapids become mist in "White Water, study 1, New Haven River, Bristol, VT." The 20-by-20-inch 1996 photograph contrasts a rushing torrent in the foreground with a wall of heavily textured dark stones spread over the upper two-thirds of the piece. Just as Hall captures rolling hills in another photo, this one reveals successive boulders. He finds formal unity in different kinds of spaces by breaking down subjects into key shapes and lines. Stories and narratives are less important than graceful, Zen-inspired pictorial elements. Hall notes in his artist's statement, "I hope the viewer to find my work contemplative, meditative, and to impart a sense of timelessness."
The 20-by-20-inch "Trees, study 1, Otter Creek, VT" from 2007 has a strong horizontal axis where a thick screen of small trees meets its reflection in a placid, intimate river cove. The background of the trees is bright, with shadows blending into the pattern of vertical lines in the water. "Winter Woods, study 1, Shelburne, VT" is compositionally related. Shot in 1995, it's the earliest piece in the show. It's also the largest, measuring 24 by 30 inches, and records a low sun casting light through another dense stand of tall trees. In this case, shadows lie like an open fan over snowy ground, receding to a vanishing point beyond the copse.
Hall's images were taken with large- and medium-format cameras and reworked with "digital darkroom techniques." The final photographs are artist-quality ink-jet prints. The Luminists of a century ago shared Hall's concerns, but never could have dreamed of his tools.