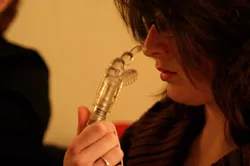 Five female friends are gathered in a Burlington apartment on a weeknight evening. At one end of the living room, a table holds bottles of soda, bowls of salsa and chips, and a platter of veggies. But the real focus of attention is a display of tubes and jars. They might be confused with ordinary moisturizers and cosmetics if it weren't for their labels: Fresh & Frisky, Tingling Tootsies, Lickety Lube. This is a "Passion Party," part of a growing trend: women selling one another sex toys, Tupperware-style, at parties in private homes.
As hostess, 24-year-old Rebecca will receive 10 percent of tonight's sales. Forty percent will go to Kristen, a 29-year-old blonde with a nose stud and a T-shirt that spells out her larger role: "Passion Party Consultant." Tonight's demo, she explains once the chit-chat has subsided, will have two parts: first the "romantic" products, and then the toys. As in a good sensual session, "We'll start mild," Kristen promises, "and get progressively more wild."
Twelve-year-old Passion Parties is North America's largest direct-sales sex-toy company, with some 28,000 consultants on its roster. To hold its own among competitors such as Slumber Parties, Moonlight Secrets, Sugar & Spice Toys and For Your Pleasure Incorporated, Passion Parties pitches primarily to newbies. The demos are "Sex Toys 101," Kristen explains later. Guests at most parties, she reports, aren't accustomed to talking about sex and would never shop at an adult toy store. "They're really getting their first experience of sex toys at that party."
The members of tonight's gang, who have agreed to party with the press present, are atypical. Sally, 23, who works in construction, guesses she spends around $150 a year on sex-enhancement merch she buys online or at Imago in Colchester. Shanna of Highgate has worked at Good Stuff, the Burlington adult toy store that used to be based in St. Albans. Rebecca volunteers that she needs a new riding crop, since hers broke at a recent fetish party.
The topic comes up when Kristen pulls her own crop from her rear pocket. It has a purple puff on the end and retails for $15 in the Passion Parties catalogue. "I've heard a lot of jokes, and it's very hard to make me laugh," she says, brandishing her little stick. "If you tell a joke that I haven't heard or you make me laugh, I'll give you a swat." She who receives the most swats will win a bottle of Ultra-glide lubricant.
Kristen's stick schtick is designed to normalize a product that might make some guests uneasy. That's not an issue with this crowd.
"What if we like getting swats?" Sally shoots back.
Kristen, undeterred, explains that she'll be passing around sample lotions for the women to try on their arms. To help them avoid confusing edibles and nonedibles, she recommends a mnemonic: "Right is for rub and left is for lick."
Rub-only "Pure Instinct" cologne contains a "powerful attractant," Kristen claims. "Our company president Pat Davis drives a very fast car, and when she gets pulled over, if she has Pure Instinct on, she gets out of the ticket," the consultant quips, dabbing the scent on the women's outstretched wrists.
The next product is Passion Powder White Chocolate, which comes with its own feather-tickler applicator and lets you "bring edibles into the bedroom without the mess," Kristen says. The idea: Tell your partner you've placed the powder on five parts of your body, and there won't be any sex until he licks them all off. Then only apply it to four places. The guests nod knowingly.
They rub and lick their way through strawberry-flavored Crèmesicle Edible Massage Lotion and Fireworks Edible Body Gel, which heats up with friction - "Rub, blow, lick," Kristen coaches. Then she introduces Fresh & Frisky, with its handy dispenser that sprays upward. "This is for when you're having sex and you wonder, 'What's my vagina smelling like now?'" she explains.
It's a startlingly specific image in a script that so far has featured only euphemisms and innuendos. Like every other aspect of tonight's program, Kristen's word choice aims to ease her audience into the hard stuff. She introduces her next product, an edible gel called D'Lickious, with a warning: "Now we're ramping up. As we talk about vaginas, we'll now talk about penises. If you have a penis in your life, you have a second job. I mean a blow job. It's called a blow job because it's not fun," she continues. "It's hard work. You'd rather be watching 'Grey's Anatomy.'"
That sounds pretty negative. But reflecting on it later, Kristen argues, "It's not meant to be a slam on oral sex. It's to get people to laugh." D'Lickious "tastes good and has a tingling effect on your tongue and your partner's genitals," she points out. "The idea is to take an act that many people perceive as being about one partner and make it be about both partners."
The focus is on doing it à deux; the company's official materials never mention solo sex. "Our products assist loving couples to enhance their sexual relationship," the website states. "We stress monogamy, safe sex and the importance of keeping a relationship exciting."
Kristen is more direct. When she reaches the vibrator portion of the evening, she lists three reasons why a woman should have one: to enjoy herself when she's not in a relationship or her partner's not around; to get to know her body better; to experience her first orgasm.
Rebecca also endorses DIY satisfaction. She was eager to host tonight's party, she says, because "I believe in being sexually independent and open." That means "not feeling like you need a man to achieve orgasm."
**************
Kristen isn't just some free spirit spreading the gospel of open sexuality. Before she became a Passion Party consultant, she'd never attended a sex-toy party, much less held a sex toy in her hand. "I supported them in theory," she says, "but lacked the exposure."
That was two years ago, when Kristen and her husband were living in Denver. After their daughter was born, she realized she wanted to stay home with her baby, not return to her office job. But they couldn't survive on her husband's bank-teller salary. "Within a couple of months we were running out of money," Kristen recalls. That's when she happened to see a TV show in which two women attended a sex toy party.
Surfing the Web, Kristen stumbled on Passion Parties. Her $250 starter kit included a training DVD, but her most valuable prep came from her "sponsor," an Arizona woman with whom she linked up online. "The night before my first party, we were on the phone until 2 in the morning," Kristen says. "She gave me a great script and I did exactly what she did." Kirsten's routine has since evolved to include original material, improvisation and bits borrowed from other consultants.
Before she got into the business, Kristen wasn't a big fan of home sales parties. Now she's a convert. Private homes are the perfect place to buy sex toys, she asserts. "Most women are uncomfortable going into a store where adult toys are available, and they like to get together." Besides, she points out, if you're going to have a home-buying party, sex products are "a lot more fun than plastic storage."
Then there's the money. As she boasts on the "My Success" section of her website - http://www.thejoyofpassion.com - after two years, Kristen has risen to the highest level in the company's three-tiered system. That puts her ahead of 98 percent of Passion Parties consultants. Besides making profits from parties she facilitates, Kristen sponsors and trains other consultants. She earns 5 percent of their sales - and of sales made by any consultants her trainees sponsor.
With 64 consultants under her wing, Kristen takes home between $3000 and $5000 a month - enough to support her family while her husband finishes grad school.
Most Passion Parties personnel aren't as successful. A consultant who runs four parties per month and brings in the company average of $350 per party will earn a monthly $1600. Kristen says she works 30 hours a week, splitting her time between training recruits and doing parties - two or three a week, mostly in northwestern Vermont and Charleston, South Carolina, where she has family.
Vermont women generally "giggle a lot less" than their sisters in South Carolina, Kirsten notes. Women here also tend to ask more questions, but "They're not asking, 'Where is my clitoris?' They already know that." This crowd sure does.
**************
Before moving on to the toys, Kristen assures the group that the devices she's about to demonstrate have never been used. "You can pass them around with confidence," she says. "Try it on your nose, and you'll see how it would feel on your clitoris."
The $29.50 Pulsing Orbiter Bullet vibrates at five tempos you set with a heart-shaped switch, located on a controller at the end of a cord - so you can slip the gizmo inside you and it won't get lost. The Bullet is primarily a clitoral stimulator; Kristen notes that 70 percent of women need such stimulation to achieve orgasm.
The Honey Bunny vibrator, with its clear silicone case, works simultaneously on the clitoris and the vagina. The soft plastic Adventure Arouser is worn on a belt for secret, hands-free stimulation - at a club? While vacuuming? At work?
The women pass the gadgets around, testing the switches and touching the buzzing parts to their hands and faces. Then Kristen pulls out the impressive, anatomically correct Jelly Cliterrific, "for women who enjoy girth and deeper penetration."
"Too big," one guest comments.
"Too small," another counters.
The Ultimate Stroker is pricey at $100. But, unlike other vibrators, it moves up and down, Kristen notes. "For $100 it better do my dishes, too," Sally sasses.
Kristen rewards her with a swat of the crop. When the presentation is over, Sally gets a free tube of lubricant.
While the women fill in their order forms, the conversation turns from toys to actual penises. "It's not about the size of the boat," Shanna recites. "It's about the motion of the ocean."
That seems to be the general consensus. Only 17 percent of products sold at Passion Parties are shaped like a penis, according to Kristen. Her own best sellers include a masturbation sleeve for men; a gel that promises to "wake up the nerve endings on your clitoris"; and the Lilac Elephant - a squishy ring that slides over a penis. Its trunk tickles the clitoris while the little legs nuzzle the labia.
For all their tough talk, tonight's guests order products that are on the tame side: more lotions and discreet aids than flamboyant phalluses. Kristen goes out to her car and returns with red shopping bags filled with goodies. Of the $285 she's taken in, she'll keep $120 - not bad for an evening's work.
With a job like this, is it hard to draw the line between work and play? "A lot of people say to me, 'Wow, you must have the best sex life ever,'" Kristen comments later. She acknowledges that "I have felt more empowered in the bedroom. But on the other hand, it's my job. What's more important is the financial success."
When it comes right down to it, banishing worries about money may be the best aphrodisiac.