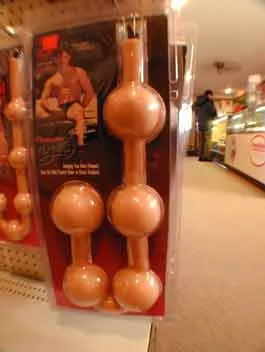 Walking into Imago, or any "adult store," for the first time is a uniquely crystallizing experience: You know right away whether you're secretly a prude. And, perhaps more importantly, you know whether you want to remain one. People in my demographic — middle-class baby boomers — usually like to think of themselves as reasonably progressive in matters sexual. That is, even if they don't personally frequent aisles laden with dildos and T&A magazines, they're fine with others doing so. First Amendment, consenting adults and all that…
Full disclosure: Last week was the first time I'd set foot in a so-called sex shop. Before, I'd never even had a quiver of interest in the adult section of my favorite video store. I'd managed to soldier through life without owning a vibrator, or any kind of toy for auto- or other-stimulation. Now, my curiosity is, well, aroused. Anthropologically speaking, of course. And I'm willing to admit that my rejection of this particular X-game has been rooted in hardline feminism which sternly insists all porn is bad because it exploits women.
So what to think, then, of Femme Productions, headed by former porn film star "Candida Royale," which makes adult movies specifically for women because she thinks the industry doesn't represent them well? What to make of the fact that her videos are snatched up as soon as Imago gets them in? Or of the fact that 25 percent — and counting — of the store's customers are now women?
Karen Adam understands perfectly. She's seen plenty of tentative women, and men, like me in the year or so she's worked at Imago. She's seen all kinds, in fact, come through the door of the Colchester store. Giggling bridesmaids, college students, adventurous couples, moms and dads, politicians, even clergy. Couples, singles, straight, gay and "other." Blue- and white-collar. All ages, from 18 — which you have to be to get in, and they're strict about it — to septuagenarians. In other words, just about anyone with a pulse. And most of them are a little uncomfortable their first time, Adam reassures. "It has a lot to do with the way society looks at things like that," she says. "It's a general human reaction."
Once customers get over their initial embarrassment, though, many of them turn into regulars, according to Imago owner Gerard Rainville, who asserts that his store "meets the needs of consumers" better than the other adult stores in Vermont. He suggests that's not just a result of the products, but of a pleasant appearance, friendliness, confidentiality and respect. Adam "doesn't talk down" to customers, he says. "She treats them as adults, says what things are for and doesn't make a joke about it." Ditto for the other five employees, all of whom are male.
One thing Imago customers don't have to worry about is naughty behavior in dark corners; there aren't any dark corners. Every nook and cranny is as well-lit and clean as a library. In fact, the carpeting, curtains, plants and down-to-earth staff make Imago welcoming, almost homey. Almost. Adam says even her mother, concerned about her daughter's job in a sex-oriented store, was mollified by the look of the place. Of course, she may not have seen the nudie pictures behind the fish tank, or thumbed through the "Trans She-Male" video selection.
There's no denying that the inventory at Imago is far more titillating than, say, your typical produce section — unless you have a special relationship with vegetables. In my case, the function of certain items eluded me and — between modesty and not wanting to reveal the magnitude of my ignorance — I didn't necessarily ask. When I did, though, it was… educational. An expanding cock ring? And that does what? Oh, I see. Other products, of course, were amply self-explanatory — and I'd like to know who's getting those hefty, 14-inch dildos. Horses?
Some items seemed juvenile, the stuff of bachelor-party ribaldry — inflatable dolls, for instance. But when I asked Adam who is likely to buy the life-size plastic faux femmes with anatomically correct orifices, she patiently gave me the "all walks of life" reply — male and female. Hmmm… Other products, like penis pumps, seemed medically questionable. There were also ordinary massage oils and lubricants with saucy names like "Hot Hooters Warming Booby Oil."
The rows and rows of what my father once called "girlie" mags did, in fact, seem to me exploitative — though it's a safe bet those models make more money than journalists. At the very least, the concupiscent babes with Barbie doll bods and amplified breasts do their utmost to undermine the self-esteem of real-gals-packing-cellulite. Can't say I got much of a tingle from the thought of nipple or clitoral "jewelry." And bondage? None for me, thanks, even if the handcuffs are soft and fuzzy.
On that subject, and to my relief, I did not spot any really gnarly S&M items — the little leatherette mini-whips and skimpy dominatrix gear seemed to say "Let's pretend," not "Let me lacerate your flesh." If Imago caters to individuals with more arcane or perverse fetishes, it's not evident.
What the store does cater to is something so primal it's shared by every living being on the planet: sexuality. What we all do with it, of course, is a function of temperament, upbringing, culture and other mitigating factors. "It's not something we invented," notes Adam. "It's been around a long time, and it's very different in different countries."
Physically, there are only so many ways to insert Tab A into Slot B — or C or D. Otherwise the act varies only in position and with the exponential possibilities of group sex. So it occurs to me that some people are easily bored with the standard equipment and need to embellish, to assist what comes naturally. This may be one reason for the popularity of sex toys, props and enhancements; indeed, Rainville confirms his biggest sellers are "novelty items."
Another explanation, it must be noted, is that people can have a sense of playfulness about sex — the antithesis of the lie-back-and-think-of-England approach that restrained our Anglo foremothers. You can also have, or acquire, a healthy willingness to expand the ways to give, and receive, pleasure. Adam notes that when men ask how they can get their wives "interested in this stuff," she always asks, "Did you talk to her?" "What people need to do in that particular area is talk to each other," she advises sagely. "They need to know what their partner is, and is not, comfortable with and respect those boundaries."
Watching people do the nasty on screen is a different deal than using sexual helpers, though, I think. Sure, an engagingly romantic movie can put me in the mood — but not for watching someone else get laid. When I finally noticed the video playing on an overhead screen at Imago, I thought the robotic licking, sucking and humping made sex look pretty silly, the fake passion as icky as the desperate groping of a drunk at last call. But other people — lots of other, mostly male, people — clearly disagree. Porn, after all, is big, big business.
Even Rainville, who reveals Imago's annual revenue to be a half-million bucks, expresses awe at the industry he got into just four years ago. "I've only been to three trade shows, one in Atlantic City and two in Las Vegas," he says. "It's dumbfounding to see the money being made."
Growing up on a farm in North Hero, he was as conflicted about sex as the next guy. "People in Vermont [were] raised to believe sex is only for procreation," Rainville says. "When I first bought the store it was an embarrassment. I was raised French-Catholic — then I had to order things like 'Pocket Pussy'… Now I see business, I don't see sex."
Rainville learned a thing or two about business from a previous job in management for Mobil Oil. One of them was, "the three items that always sell regardless of the economy are cigarettes, alcohol and smut." He admits the stuff in his store is "not my thing," but he leaves customer relations, and product knowledge, up to his sales staff. "They know all the stuff and are into it," he says.
When he bought Imago from a previous owner, Rainville says it was "disgusting, physically dirty." It was also a lot smaller. Located on the ground floor of a building with three apartments overhead, not far from Exit 17 on I-89, the place was a cramped 25 x 25 feet. Rainville cleaned and brightened it up, and when tenants of an adjacent apartment moved out about a year ago, he expanded Imago into that space. Now the store is a roomy 1700 square feet. Thousands of videos neatly line the shelves in the original section; the other merch, including novelty items and prominently displayed HIV/AIDS home-testing kits, fills the front. It's like a hardware store for sex.
Rainville says it's not possible to grow any more in the current location, and that's OK. "We're maxed out, but this is big enough" for the current demand. He notes that customers come — often — from as far as Montpelier and New York State. "People feel comfortable here," he says. "It's secluded."
Apparently no one, especially neighboring business owners, felt "comfortable" with the store's previous location: It was expelled from Taft Corners in Williston not long after it opened more than 17 years ago. Rainville would consider opening another store elsewhere, but he's waiting, he says, to see what the new administration in Washington will bring. "There's a Bush, a Dick and a Colin in the White House," he quips, chuckling at the irony, but "they're looking to alter free speech, and having this type of industry is free speech." He notes that some of his store's suppliers are "nervous about it."
Even in the comparatively bawdy climate of the Clinton years, though, Rainville experienced the slings and arrows of conservative values. A Burlington car detailer refused to apply the store's image — a relatively p.c. photo of a non-interacting man and woman — to the doors of his van. The owner cited "a conflict of interest." A local carpet cleaner refused to come to the store. A Chamber of Commerce-approved Web site wouldn't accept Imago in its business directory. When Rainville informed a local newspaper of his difficulties getting services, the editor declined to report it.
"A lot of businesses won't do business with me because of what the store carries," Rainville laments. "But there's a difference between me and my store. People in public service should be in public service, and not discriminate because they don't like your beliefs. People in the U.S.," he adds, "are very prudish and hypocritical."
It's no secret, of course, that the sex industry contains, and attracts, more than its share of sleazebags. On the day of our interview, Gerard Rainville handily defies that stereotype. Though understandably wary of a journalist's motivation, he's got a pleasant and gentle demeanor. Trim and casually dressed in a Gold's Gym sweatshirt and jeans, the boyish 39-year-old seems like the kind of guy who would stop to pull your car out of a snowbank. He interrupts our conversation to do just that, in fact, when he hears spinning tires in the parking lot.
Rainville's office is neat as a pin. The walls are decorated not with "dirty" pics but the type of motivational posters found in health clubs. The only clue to his personal life is a small statuette sitting on the shelf indicating that Rainville was "Mr. Vermont" in 1986. The award, he explains, was for a combination of "bodybuilding, communication and presentation," and required a year of Miss America-type behavior such as "representing" at parades.
Gradually, Rainville reveals more: that around the same period, he eliminated alcohol and drugs from his life, and came out of the closet as a gay man. These details are less surprising, though, than his litany of other experiences:
He was a Chittenden County traffic cop for three and a half years before leaving because "it wasn't me." He went back to school — three of them: O'Brien's School of Cosmetology, and Champlain and Community colleges. "I'm still working on a psychology degree," he explains. He was a first-line cook on a gay cruise ship for two seasons — which unfortunately left him with a permanent case of dizzying "sea legs" — and also cooked at Loretta's restaurant in Essex. He lived in Hawaii for six months — three of which were spent helping the Red Cross in the aftermath of a hurricane. He dreams about starting a daily newspaper, but a more plausible pursuit might be the gay and lesbian "welcome center" he thinks Vermont needs.
"I don't like to be bored," Rainville understates. "I don't mind hard work; I was raised on a farm."
If he was discomfited by Imago when he first took it over, that's history now. Fanny Slappers? Ho-hum. Love Swings? Whatever. Huge, scary-looking, cherry-red Supercocks? To each his — or her — own. And that, I'd say, is "adult" thinking.