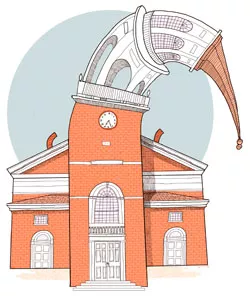 Right now, it's money-shot time in northern Vermont — for the exploding trees and the ecstatic tourists in the middle of peak foliage season, that is. When it comes to Burlington residents' life between the sheets, however, things are as limp as a soggy leaf.
Or so claims a sex survey that appears in the October issue of Men's Health. In the magazine's rankings of America's most sex-happy cities, Burlington isn't even in the top half. In fact, frigid BTV ranks 99 out of 100, dribbling in just ahead of Portland, Maine. On top is Austin, followed by four other Texas cities in the first 10.
"I think it's bullshit," says sex therapist Israel Helfand, PhD, who has a practice in Cabot.
Indeed, the magazine editors' analysis of condom and sex-toy sales, and rates of births and sexually transmitted diseases does seem more sophomoric than scientific. So I did my own tongue-in-cheek investigation of the nasty numbers.
First, condom sales. Helfand points out that, while many Vermonters may indeed resist buying rubbers, that doesn't mean we don't need them. Condoms, you see, are gratis in most medical centers and doctors' offices and many other places around the Green Mountain State. "In Vermont, we're more socialized than just about any other place, so condoms are free," Helfand says. "In Plainfield, they give them out like candy."
Helfand adds that Vermont's graying population could also be skewing the sex statistics, at least when it comes to purchases of protection. And these older folks — many in long-term, committed relationships — could be having the best sex of all, in part because they're no longer worried about pregnancy or STDs. "Couples in their fifties report more sexual satisfaction than couples in their thirties or forties," says Helfand.
Condoms are also free on the campuses of Burlington's colleges and university, where we assume there's plenty of knockin' boots. (Perhaps the Men's Health editors should have factored average January temperatures into their analysis.) "There is a lot of sex happening anywhere there are people between the ages of 18 and 24," says Gretchen Gross, a University of Vermont lecturer who teaches human relationships and sexuality. "And we have a lot of those folks in town."
Still, a lot of sex doesn't necessarily mean happy sex, as both Gross and Helfand point out. And neither does a high rate of STDs, which are factored into the survey. The magazine accurately gives Vermont a "low" score for this one. In 2007 (the latest year for which numbers are currently available), the state had a chlamydia rate of 169 per 100,000 population; gonorrhea was 10 and syphilis was 1.6. Compare that with the national rates of 401.3, 111.6 and 4.5, respectively. This is good, right? Yet those positively low rates just made Burlington sink on the sexiness list.
Moving on to birth rates — again, not the greatest. In 2007, Vermont residents had 6514 babies, or a birth rate of 10.5 per 1000 residents. The national rate: 13.5. But, as any new parent can tell you, more babies doesn't mean more action in bed. "You'd be hard pressed to argue that a [couple] with 11 kids are enjoying their sex life more than a couple with just one kid," says Helfand. He adds that Vermont has a relatively low birth rate partly by its residents' choice. "The more educated people are, the fewer children they have," he says. "And then, here there's the idea of stopping at two for a low carbon footprint and having a life of your own."
Right. But what about the sex toys? A call to Colchester adult store Imago reveals that, though sales have taken a hit from the recession, toys are still hot. "A lot of people would rather come in here than buy off the Internet," says the salesperson.
Exactly, says Helfand. The Men's Health survey is based on national catalog and online sales. "Vermonters are known for buying local," he says. "And people in Vermont are frugal; they're not going to spend a lot of money for something they can buy locally or for something they can make themselves. We grow a lot of zucchinis and cucumbers here."
Um, OK.
Zucchinis aside, it's (not surprisingly) pretty hard to measure a city's sexual happiness. "Burlington has a profile that would suggest sexual happiness, based on other measured indicators like levels of physical activity and exercise, community engagement and caring for others," says Gross. "However, we also lean toward other indicators that suggest some likelihood of sexual issues. We rank nationally higher in depression, substance abuse and addiction. We have swingers, partner swappers and people who cheat on their partners. All of those factors impact sexual happiness."
And that kind of happiness is something we should care about. Gross lists some of the benefits of orgasms — decreased menstrual cramps, reduced headaches, reduced stress and the release of the feel-good chemical oxytocin. People who are in love experience an increase in dopamine reward circuits just seeing a photo of their loved one. Gross adds that a healthy sex life improves self-image, and a healthy self-image improves sex. One big happy circle.
"Sexual activity, from a physiological standpoint, boosts our immunity and keeps us out of doctors' offices and hospitals," she says. "There is simply more and more data from respectable research that remind us that the more healthy sexual activity across a life span, the healthier the individual."
While Vermonters ponder their own hanky-panky happiness, they can take heart from another piece of sex data. From their Cabot compound, Helfand and his wife, Cathie, run intensive retreats for people in troubled sexual relationships. Remember all those Lone Star-state towns in the sex-survey top 10? "We get more referrals from Texas," says Helfand, "than just about any other state."
Burlington couples, meanwhile, very rarely book the retreat. Guess they're too busy getting busy.