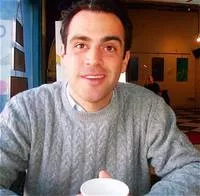 Practically all Vermont Democrats of any statewide note have already portrayed their chances of running for governor in 2008 as somewhere between "very unlikely" and "no way in hell."
Their reasons have varied: Some acknowledge that three-term incumbent Republican Jim Douglas simply can't be beat; others publicly admit to a lack of interest, as Senate President Pro Tem Peter Shumlin did when he told Terri Hallenbeck of The Burlington Free Press, "I don't have the ambition I used to."
Can't wait to see how Mr. Ambition-less plays out the second half of the legislative biennium, eh?
Shummy's even been floating a story about drafting the colorful, maverick GOP State Sen. Vince Illuzzi as an Independent gubernatorial candidate, whom he promises would get Demo-cratic Party support!
Sen. Illuzzi, son of a Barre stone carver, a St. Mike's grad, Essex County State's Attorney and living legend, would certainly make a great candidate. Especially for political reporters. But even Vince the Prince would have a near impossible task taking down the popular, smart, middle-of-the-road Middlebury marvel.
After all, Douglas just beat back two big override attempts by "majority" Democrats of his vetoes of global warming and campaign finance reform. Gov. Scissorhands is looking good. Word is, another term — and then . . . a college presidency?
President Douglas at last!
So who's left? Someone with the talent, brains and passion to actually upset King James?
Only one name comes to mind. Matt Dunne, 37, of Hartland has sorta been there and done that. Native Vermonter. His mom's from Newport, Vermont. Father was a civil-rights activist in the South in the early 1960s.
Like Gentleman Jim Douglas [a Richard Nixon supporter back then], Dunne picked up a seat in the Vermont House shortly after graduating Brown University. President Bill Clinton tapped him to run AmeriCorps/VISTA in December 1999. Young Matt returned to Vermont a few years later and served two terms in the state senate. He also ran for lieutenant governor in 2006.
Dunne assured "Inside Track" in a Tuesday interview that he is giving serious consideration to a gubernatorial bid. That there are many, many variables, including his latest big job — handling community affairs for an ever-expanding Google — and a new family, Dunne says, that "will go into my decision, but fear of losing is not one of them."
Well said, eh?
This week, as you know, folks of every political stripe have been shaking their heads about the surprise launching of a new Gay Marriage Study Commission by Sen. Shumlin and sidekick Gaye Symington, the policy-wonkish House Speaker. After seven years of civil unions, things have been pretty quiet.
For most Democrats and Progs, as well as many Republicans, the head-shaking bewilderment has been about timing rather than substance. Many on the left and in the middle see this as adding extra fuel to the Douglas/Dubie reelection train and firing up Vermont's Bush-friendly conservative Republicans in what ought to be a tough year for Republicans.
But Matt Dunne is not worried.
"I will campaign on an issue of defending and pursuing civil rights in our state any day," said Dunne the Democrat. "As long as we don't have parity, we have not achieved civil rights."
In fact, Dunne noted he first publicly supported marriage rights for same-sex couples way back in 1996 — three years before the Vermont Supreme Court did, in December 1999.
The Vermont Legislature led the nation into uncharted territory over those following hard-fought months of 2000, writing the historic new civil-unions bill. It was groundbreaking legislation that gave full "marriage" rights to gay couples in Vermont, without formally giving such legal unions the official moniker of "marriage."
Now, activists in Vermont's gay community believe the time has come to go all the way, to follow Massachusetts and become a marriage-for-all state! And they've successfully convinced Shumlin and Symington that this is the time to act.
As attorney Beth Robinson from the Vermont Freedom to Marry Task Force wrote the other day on the "Freyne Land" blog:
"It's worth starting this other conversation about whether Vermont will continue to enshrine separation of gay people in our laws. The civil rights of gay, lesbian, bisexual and transgender Americans is the central civil rights issue of our generation; it may not be important to all Vermonters, but it's important to a lot of us . . ."
Commission Chair Tom Little, the moderate Shelburne Republican, chaired the House Judiciary Committee that wrote the civil-unions bill in 2000. He was in the eye of the storm, literally.
And Little said on Ch. 3's "You Can Quote Me" he doesn't expect Storm II to be quite as tumultuous as Storm I.
"I think that the emotional content will be largely the same, but with fewer spikes in it," said Little. "I mean, I think it'll be the same emotional, psychological, religious, spiritual issues involved, but not as much shouting. Not as much noise."
Pause.
"I could be wrong about that," he added.
Dunne, the last gubernatorial candidate in the Democrat bullpen with a fighting chance, recalled the civil-unions fight of 2000 as "a difficult and ugly time."
Yes, indeed. But freedom always comes with a price, does it not?
The success of what happened in Vermont, noted Dunne, "led to change across the country."
Dunne vs. Douglas?
Hmmm.
*****************
Great Movie! — Nothing like a well-done Washington thriller. Topnotch actors. And a wild plot about how racist voter challenges, a stolen election, a rigged U.S. Supreme Court that blocks the recount and a trumped-up red-white-and-blue war are launched against a tiny desert regime on the other side of the world. A regime that was in no way, shape or form a threat to the most powerful nation on Earth!
See the USA in your Chevrolet! Got to get the gasoline somewhere, right? Greed is good!
Now, that's a movie plot that'll sell tickets, eh? Already has, hasn't it?
Unfortunately, it is not a movie, and hundreds of thousands of mostly civilian, defenseless people have been killed and maimed in the process. And never in American history have the American people trusted a president or his entire administration less.
Trust is a rather rare commodity right now on Pennsylvania Avenue. President George "WMD" Bush and his inner circle of VP Dick Cheney, master spinmeister Karl Rove and Attorney General Alberto Gonzales boldly attempt to turn lying into a fanatic religion. They went past "art form" ages ago.
It is a little scary, eh?
In the thick of it all is the tall, bald senator from Ver-mont, Judiciary Committee Chairman Patrick Leahy. In the last week, St. Patrick has skillfully tightened the noose on both Rove and Gonzales. His committee has issued subpoenas for Rove and his assistant to testify in public under oath, and he's given the nation's top law enforcement officer until Friday — one last chance to correct his testimony and simply tell the bloody truth.
Both Leahy of Vermont and his Republican Vice Chairman Arlen Specter of Pennsylvania — two former prosecutors themselves — have made it perfectly clear to Ol' Alberto they do not believe he has told the truth.
"It is obvious that the reasons given for these firings were contrived as part of a cover-up," said St. Patrick on the Senate floor the other day, "and that the stonewalling by the White House is part and parcel of that same effort."
And, noted the senior senator from Vermont, "This stonewalling is a dramatic break from the practices of every administration since World War II in responding to congressional oversight."
Leahy noted the revealing admission in the recent testimony of a former White House political director before the Judiciary Committee "when she refused to answer questions citing the oath she took to the President.
"In this constitutional democracy," St. Patrick politely but firmly pointed out, "the oath taken by public officials is to the Constitution, not any particular president of any particular party."
Appearing on CBS News' "Face the Nation" Sunday morning, Leahy's demeanor reflected the dire situation America's justice department is in right now. A department that, he noted, "is supposed to be very impartial, is currently one that's "being shredded" by Señor Alberto "The Texas Tongue-Twister" Gonzales, a longtime Bush buddy.
"And if you lose confidence in law enforcement," said Leahy, "it hurts everybody all the way down to the cop on the beat."
Like most Americans right now, Leahy and Co-Chair Specter are simply incredulous at what they've seen and heard.
"I think we ought to give the attorney general a chance to correct the record," added Specter the Republican. "There's no doubt, as I have said repeatedly for months now, that the DOJ would be much better without him."
"Frankly, at this point," said St. Patrick to CBS' Bob Schieffer, "the president ought to take a long look at this and ask, does he want to go down in history with this attorney general as part of his historical record?"
Just a little last-minute friendly advice for a White House gone very, very dark.
*****************
Cheer Up, Gang — We will put this country back on track. And end the war. And change our fatal energy policy, and turn the other cheek. And the influence of Vermont (and Vermonters) on that course shift will also improve, as Sen. Leahy is in line to become chairman of an even more powerful committee in the U.S. Senate: the Senate Appropria-tions Committee. The committee that writes the checks and has the last say on the buckeroos.
St. Patrick is the second-ranking Democrat in line for the chairmanship of the powerful committee, behind current Chairman Sen. Robert Byrd of West Virginia and Sen. Daniel Inouye of Hawaii.
The inimitable Sen. Byrd turns 90 in November. Inouye is 82.
Sen. Leahy's a young'un at 67.
Light at the end of the tunnel, eh?
***************
Speaking of Movies — Many in yours truly's generation caught the news reports this week of the deaths of two uniquely talented filmmakers. They touched our lives deeply in those younger Chicago days of the 1960s: Ingmar Bergman of Sweden (Persona and Scenes From a Marriage were our faves) and Michel-angelo Antonioni of Italy (Blow-Up). Movies that weren't made to entertain as much as to stimulate, arouse and challenge. To burrow into one's heart, brain and soul and leave unusual new trails behind.
Thanks, guys.
Thanks very much, indeed!