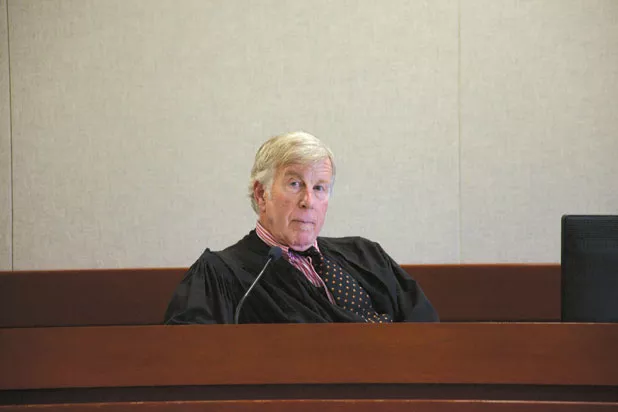 Matthew Thorsen
Judge Michael Kupersmith
Norman Stevens has a peculiar distinction: He is the first person in Vermont history to be sentenced to life in prison without parole for a crime other than murder.
A Burlington man, Stevens was convicted of attempted murder after attacking his ex-girlfriend and another man with a hammer. In October 2001, as Judge Michael Kupersmith considered what to do with Stevens, the judge said he had never confronted anyone worse.
"Frankly, in my mind, you're no better than the people who drove those planes into the World Trade Center a few weeks ago," Kupersmith told Stevens shortly after the 9/11 attacks. "As a matter of a fact, you know, as twisted as those people were, at least they had a cause that they believed in. I don't think you had any cause other than yourself. The only thing that separates you from them ... They affected thousands and thousands of people, where you affected a dozen or so. As I say, in many ways you're worse."
The judge gave Stevens, then 58, a life sentence without the possibility of parole. Twelve years later, Stevens is trying to convince the Vermont Supreme Court that Kupersmith went too far, and is asking for his sentence to be overturned. Vermont's most severe sentence, Stevens' attorneys argue, should be reserved for its most severe crime.
"The punishment in this case doesn't fit the crime," said Stevens' attorney, Kelly Green of the Vermont Defender General's Office, in a recent interview. "Life without parole is Vermont's death penalty, and we should reserve it for people we are certain will not be rehabilitated and who committed the most heinous murders."
Supreme Court justices heard arguments in the case earlier this month and will likely take several months before issuing a decision.
On August 13, 1999, Stevens received a restraining order that had been taken out by his ex-girlfriend, Amy Cruickshank. Early the next morning, Stevens broke into the motel room where she was sleeping with her new boyfriend and attacked them both with a hammer.
Stevens then dragged Cruickshank by her hair out of the room, toward a van he had parked outside.
Inside the van were ropes, gasoline and flares. Stevens later told police that he had planned to drive down the road, step out of the van and set it on fire, with her inside.
But as he dragged her to the van, several neighbors ran out of their rooms, grabbed Stevens and restrained him until police arrived.
Cruickshank survived with relatively minor injuries. She was one month pregnant. After a Chittenden County jury convicted Stevens of attempted first-degree murder, Cruickshank told Judge Kupersmith that the incident had "ruined" her life and caused her to live in a state of constant fear.
"I don't believe he's crazy, because a crazy person wouldn't be able to plan something so well," she told the judge. "I mean, he would have succeeded if I didn't have such good neighbors to look out for me … I don't care if he gets to be 100 years old, I'm still going to be afraid of him."
Cruickshank could not be reached for comment for this story.
But by the time she spoke, Kupersmith had ample reason to be wary of Stevens, who had been at a defendant's table before. He was convicted of aggravated assault in the 1970s for allegedly firing a gun in the direction of his young children during an argument with his former wife.
At his sentencing hearing in Chittenden District Court in Burlington in October 2001, Stevens said he would not fight a serious punishment. Court documents indicate that he suffered physical abuse as a child. He told the judge he knew what it was like to live in fear.
"If there was a death penalty, I'd take it just so they ... I know how it is, so I don't want them to live in fear of me," Stevens told the judge. "You know I never meant to hurt anybody. And not so much to make them happy, but just to make them feel safe, let it be that way, then. That's it, your honor."
But that wasn't it.
After serving 11 years — Stevens currently resides in a private prison in Kentucky where Vermont sends long-term inmates — he appealed to the Vermont Supreme Court in early 2012, arguing that the sentence of life without parole violates the U.S. Constitution's prohibition against cruel and unusual punishment.
While his appeal was pending, Stevens' case lost its novelty.
In August 2012, Edward Johnson, a 52-year-old Barre resident, became the second Vermont defendant to be sentenced to life without parole for attempted murder after being found guilty in Washington District Court of kidnapping a woman, tying her up and slashing her throat.
The judge who sentenced Johnson? Kupersmith.
Kupersmith, through the Vermont Court Administrator's Office, declined to comment for this story. He currently sits in Chittenden County Superior Court, presiding over criminal cases.
Kupersmith served as a public defender in Burlington, and as a private attorney, before he was appointed to the bench in 1987.
Johnson's case is also on appeal before the Supreme Court, but his lawyers are not challenging the legality of his sentence. Instead, they are asking for his conviction to be overturned due to errors they say were committed during his trial.
Norman Stevens' attorneys acknowledge that their case, which they argued in front of Supreme Court justices earlier this month, is something of a long shot.
A plain reading of Vermont's attempted-murder law shows why. "If the offense attempted to be committed is murder, a person shall be punished as the offense attempted to be committed is by law punishable." In other words, a murder attempt could bring a murder sentence — life without parole.
A look at the previous Vermont Supreme Court decisions shows other problems for Stevens: In 2005, the court upheld a 35-years-to-life sentence for a man charged with attempted kidnapping, rejecting his argument that it was unfair to give him the same sentence that someone convicted of kidnapping would receive.
"The law, it's clear. It's crystal clear. And that's what I argued to Judge Kupersmith," said Washington County State's Attorney Tom Kelly, who prosecuted Johnson. "I don't know why it's a topic of discussion."
But in court papers, Stevens' lawyers point to nearly a dozen examples of convicted murderers in Vermont receiving sentences of less than life in prison.
During oral arguments, Supreme Court justices explored the fairness of giving a life sentence to someone who failed to carry out his intended crime.
"The attempt here represents a horrible, horrible crime, so it strikes me that what you are saying is that if the attempt was interrupted by someone who came to the rescue, that [the no-parole sentence] isn't proportional," Associate Justice John Dooley told defender Kelly Green. "But if the defendant did everything they could to kill somebody, but then [she] miraculously lived, it could be."
Associate Justice Beth Robinson challenged Assistant Vermont Attorney General David Tartter, saying there is a clear difference between attempted murder and murder.
"It isn't the same," Robinson said. "The assumption he would have gone through with it — we'll never know. We have to make a guess. How do you put an attempt in the same box?"
"The fact that an outside agent interfered tells us absolutely nothing about the defendant's culpability," Tartter answered, adding later, "The defendant never had a change of heart, he didn't abandon the attempt … so his culpability is the same as if he completed the crime."
Reached after the hearing, Tartter declined to comment on the case, referring to his comments made during the hearing and in written court papers.
Other justices noted that, even if they overturned his life-without-parole sentence, Stevens, now 70, would have received a lengthy prison sentence and would likely die in prison.
"If he receives a sentence of 35 to life, what's the difference?" Judge Tom Zonay, temporarily assigned to sit on the high court, asked Green. "You certainly wouldn't argue that 35 to life isn't proportional?"
"No," Green said. "I wouldn't."