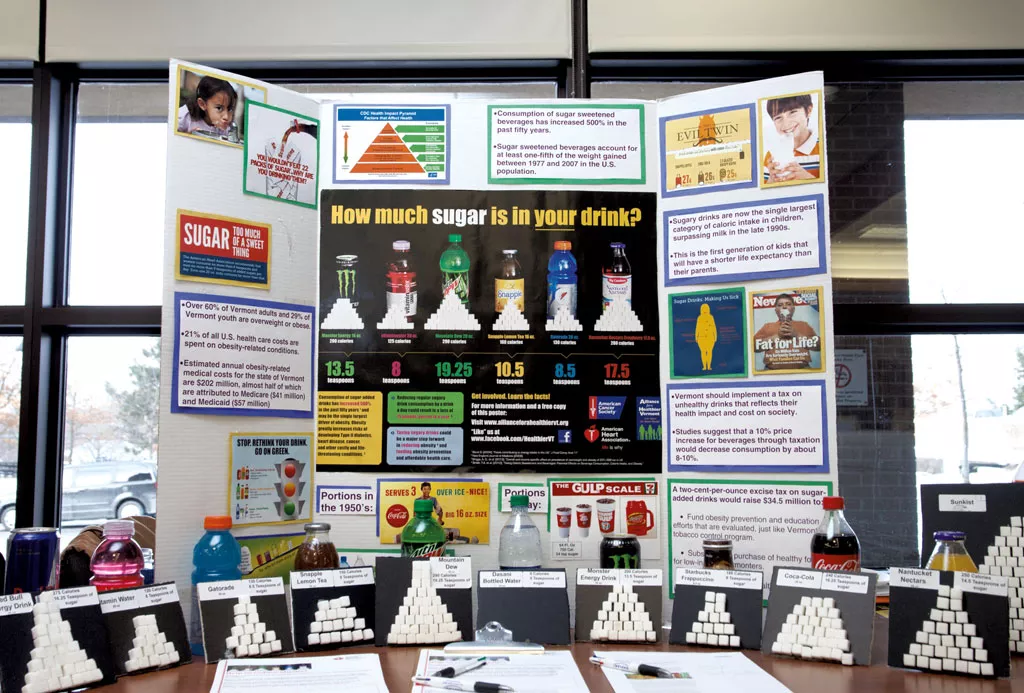 Matthew Thorsen
An Alliance for a Healthier Vermont display
Eight years ago, David Blittersdorf — pushing 50 years old and "obesely overweight" at the time, as he recalls it — resolved to get his weight in check. So the now-CEO of AllEarth Renewables started crunching numbers and came to a sobering realization: He was downing more than 1,000 calories a day in soda alone.
"That was a wake-up call," said Blittersdorf, who switched to diet drinks and went on to drop about 75 pounds.
Now Blittersdorf's company is part of a coalition calling for all Vermonters to cut back on Coke — or pony up some extra pennies to pay for its ill effects. The Alliance for a Healthier Vermont officially kicked off its campaign Tuesday for an excise tax on sugar-sweetened beverages. The group is made up of more than two dozen member organizations, including AARP Vermont, Dartmouth-Hitchcock, the University of Vermont Health Network, the Vermont State Dental Society and the American Heart Association.
The tax would tack an additional two cents per ounce onto most drinks with added sweeteners — think sodas, sweetened teas, energy and sports drinks, and fruit-flavored punches. Milk, seltzers, unsweetened tea and 100 percent fruit juices wouldn't be taxed. The tax would raise the cost of an average six-pack of canned soda by $1.44.
Advocates say the tax would be a win-win: encouraging people to cut back on consumption by hiking prices, and generating revenue — an estimated $35 million annually — for health and wellness programs to fight obesity and related problems such as heart disease, diabetes and high blood sugar. The alliance hopes the state would reinvest at least part of the revenue in programs that would improve low-income Vermonters' access to healthy food and health care, bolster farm-to-school programs and make community grants for sidewalks or bike paths, among other ideas.
According to the Vermont Department of Health, 62 percent of the state's adults, and 29 percent of its children, are obese or overweight. Obesity-related diseases cost Vermont an estimated $202 million a year, according to the Alliance for a Healthier Vermont, roughly half of which is covered by publicly funded Medicare and Medicaid.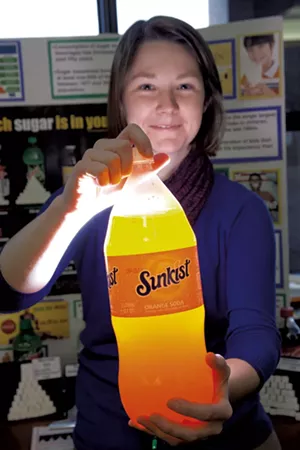 Matthew Thorsen
Emma Helverson
Steve Leffler, an emergency physician at the University of Vermont Health Network, estimated — conservatively — that a third of the patients he sees in the hospital ER suffer from health issues related in part to being overweight.
The idea of taxing sugary drinks isn't new, though to date it has never gained sufficient traction to become a reality. It cropped up in a 2007 report from the legislature's Health Care Reform Commission, and then again in Attorney General Bill Sorrell's 2010 Healthy Weight Initiative. Most recently, advocates went to the mat in 2013, when the House Health Care Committee advanced a penny-per-ounce tax proposal, which never made it out of the House.
The beverage industry outspent proponents of a soda tax 90 to one during the last legislative debate, according to Tina Zuk, government relations director with the American Heart Association in Vermont.
Are the prospects this year any different?
"The consciousness of the role that sugar is playing in making us sick and driving up health care costs — that has increased," said Anthony Iarrapino, an attorney who left his job with the Conservation Law Foundation last summer for a position at the Alliance for a Healthier Vermont. The trim, fit Iarrapino is a strong believer in taxing sugary drinks — but he's no fanatic. The occasional sugary drink as a treat isn't the problem, Iarrapino said. The fact that the average American consumes 46 gallons of them in the course of a year is.
This marks the first year a dedicated coalition is lobbying on the issue. Further, the Alliance hired the Montpelier-based government and communications firm KSE Partners to help persuade lawmakers and get the word out on social media. Iarrapino, no stranger to the legislative process, and grassroots coordinator Emma Helverson will be working the Statehouse halls, too.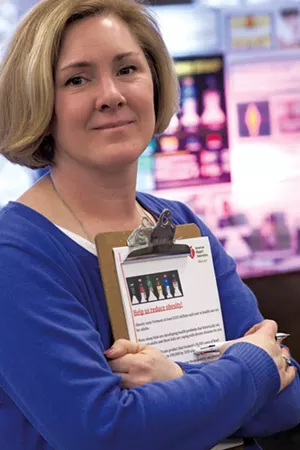 Matthew Thorsen
Tina Zuk
"Vermont has defied some of the other trends in national politics," said Iarrapino, pointing to one recent example: the state's push to label genetically engineered foods. "The biggest spender doesn't always win, which is a cause for great optimism for us."
Proponents figure they have another advantage this year, too: the state's roughly $100 million deficit.
"I'd rather pay for prevention and rein in the problem than continue to pay for the problem," said Rep. Alison Clarkson (D-Woodstock), a member of the House Ways and Means Committee who plans to cosponsor the legislation for the excise tax. Her reasoning? "Thoughtful people are increasingly aware of sugar's impact on the public's purse."
But the prospect of a two-penny-an-ounce tax has opponents gearing up for a fight.
"We think the beverage industry is being singled out wrongly," said Andrew MacLean, a Montpelier-based lobbyist for the Beverage Association of Vermont, a trade association of nonalcoholic beverage manufacturers and distributors in the state. "If the identified villain is sugar, there's sugar in all kinds of food." What's more, there's sugar in plenty of beverages that wouldn't be taxed under the proposal — such as all-natural fruit juices and chocolate milk.
Among those feeling targeted are Dave and Jenny Rooke, the husband-and-wife team behind Burlington-based Rookie's Root Beer. They brew root beer, ginger beer and orange cream soda in a garage-turned-brewery and distribute at farmers markets and Vermont restaurants.
The couple is not just worried that a price hike would hurt their bottom line; they're offended by the characterization of their product as "poison" and "the cause of obesity," as Jenny Rooke put it.
"It has the potential to really devastate us, because we're so small-scale," said Rooke.
MacLean said major beverage producers are already responding to consumer demand for less sugary drinks by reformulating products and introducing new ones with reduced sugar content. Industry leaders recently pledged to cut beverage calories 20 percent by 2025.
MacLean also questioned whether an excise tax would be effective. Since the tax would be levied against distributors, they might choose to spread the cost over all of their products, MacLean suggested — rather than let one group of consumers feel the pain.
Proponents say there's good reason to single out sugary drinks. For one, they contain far more sugar than most people realize, Iarrapino said. A 20-ounce Coke, for instance, contains the equivalent of nearly 17 teaspoons of sugar — far exceeding the American Heart Association's recommendation of no more than six teaspoons of added sugar per day for women and nine teaspoons for men.
Emergency physician Leffler said that most of that sugar is "hidden" from the average consumer. A sugary beverage should be an occasional treat, he said, not unlike a slice of cake or scoop of ice cream.
"Most people wouldn't think about having six ice creams every day," said Leffler. "We have lots of people who drink six sodas a day."
According to the U.S. Department of Agriculture, liquid sugar accounts for 36 percent of the added sugar Americans consume, and is the single largest source of added sugar in the American diet.
Where does Vermont's top doc stand on the issue? Dr. Harry Chen, the commissioner of Vermont's Department of Health, said there are some public health reasons to support a sugar-sweetened beverage tax — but that the evidence isn't entirely compelling. Chen said many studies associate increased consumption of sugar-sweetened beverages with unhealthy weight. Evidence is mounting, Chen said, that increasing the cost of these beverages helps cut consumption — but researchers are still trying to determine whether decreased consumption correlates strongly with decreases in body-mass index.
Ultimately, Chen said, this is a political issue as much as it is one based in science and health. His boss, Gov. Peter Shumlin, has opposed taxing sweetened drinks. Last week, Senate President Pro Tem John Campbell released a statement against the idea, arguing that it would increase the cost of living for working families and harm the businesses that produce, bottle, distribute and sell sugary drinks.
The question at hand, Chen said, boils down to, "What's the responsibility of the state in terms of ensuring that people do the right thing?"
Government already uses excise taxes to dissuade consumers from buying one product deemed especially dangerous and unhealthy: tobacco. Since 1995, Vermont has hiked the excise tax on tobacco multiple times; it now stands at $2.75 a pack, bringing the average retail cost of a pack of cigarettes to $6.54 in Vermont, according to the American Lung Association. The tax pulls in more than $70 million a year for Vermont's coffers.
Last November, voters in Berkeley, Calif., passed a per-ounce excise tax on sugary drinks. In Mexico, which in 2013 surpassed the U.S. as the most obese country in the world, the experiment is already a year under way. Last January, Mexican officials began taxing sugar-sweetened drinks by one peso — about seven cents — per liter; a year later, a study by the country's National Institute of Public Health showed purchases of sodas and other taxed beverages fell 10 percent in the first three months of 2014 compared to the same period in the prior year.
Will Vermont be next?
"Vermont has always been really progressive in terms of health care and health care reform," said Zuk of the American Heart Association. She ticked off a few examples: limiting smoking in the workplace, curtailing cellphone use in cars, requiring seat belts.
"We're really a mover and shaker when it comes to health care issues," said Zuk, "and we're a smaller state, so it does make sense to do it here."
But Jim Harrison, who heads up the Vermont Retail & Grocers Association, reiterated the argument that has won over lawmakers every time a beverage tax has been proposed in the past. "At the end of the day, we all have the responsibility to pick and choose our foods based on what makes sense for us as individuals," he said. "I think it's a really slippery slope of getting into [taxing] individual foods ... No other state in the country has done anything like this. We would really be out there on the gangplank, all for the purposes of being an experiment."
The original print version of this article was headlined "Seventeen Spoonfuls of Sugar: Will Vermont Tax Sweetened Drinks?"