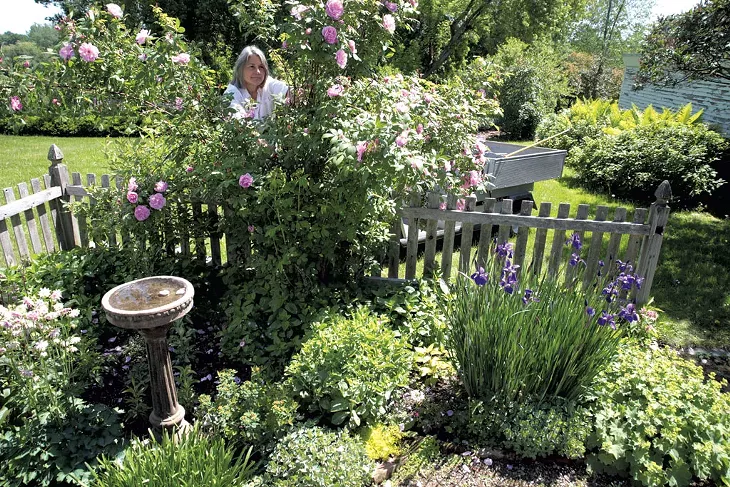 9 slides
One of the pleasures of summer in Vermont is opening the back door and padding onto a sunny deck or the soft grass of a backyard — preferably barefoot. That space outdoors may have sky for a ceiling, but it's still a room of sorts. And whether it's an apartment balcony, a petite city yard or a sprawling back 40, it will be more enjoyable when it's welcoming and conveys your sense of style.
Here are seven suggestions for making an outdoor space all your own this summer.
1. Define the space.
Look carefully at the area. Draw the borders on graph paper to size them up. Study existing features with an eye toward obscuring unsightly aspects with hedges, fencing, trellises or even sheer panels of cloth that float from a porch opening. Plan to draw the eye toward pretty features with landscaping that frames a great view, or interesting trim such as reclaimed roof slate (easy to find free) edged around a perennial bed.
Choose a space for outdoor furniture that orients guests toward a sculptural maple or other flora instead of toward the driveway.
In a small yard, consider using pricier but higher-quality materials for boundaries — real stone, or perhaps a custom-made wood fence instead of hardware-store vinyl. In small amounts, quality materials needn't bust the budget, and their beauty will be appreciated for years to come.
In a larger expanse, create a series of "rooms" instead of trying to decorate a football field. South Burlington interior designer Trice Stratmann framed a cottage garden with an unpainted picket fence within her expansive property. The enclosure beside her century-old farmhouse looks out on a grassy yard, a handsome barn and a stunning mountain view. Yet Stratmann's cozy garden, brimming with hostas, lacecap hydrangeas and descendants of her mother's dark-pink peonies, feels like an outdoor sitting room.
"I like it more intimate," said Stratmann, who owned Left Bank Home & Garden in downtown Burlington from 2011 to 2014. "We have a lot of property here, and I was trying to sort of rein it in."
2. Accent with salvage and collectible items.
Outfit a shed with old lattice windows. Plant annuals in vintage receptacles. When Stratmann found a smooth, white baby tub at the Brimfield Antique Show in Massachusetts, she hauled it home for use as a planter and placed it at one end of a covered walkway between her house and a recently constructed garage/barn.
Stratmann's taste is eclectic; she looks for items at high-end and low-end places, including garage sales and the free pile at her local trash transfer station. "It's amazing what you can find," she said.
3. Furnish the "room."
A foam-green wicker rocker, a silver spray-painted motel chair or a glass patio table can help turn the yard or deck into a gathering place for company.
Pay attention to proportion. Don't cram Grandma's six-piece set of oversize rattan furniture onto a tiny apartment balcony. Instead, find a pair of thin-limbed chairs and a folding metal patio table with an oval top — no corners to bump into.
In a big space, create several groupings: a bench or chairs beside the lemon balm and lavender in the garden, a hammock suspended from the spruce trees, a few Adirondack chairs at the top of the hill.
Mary Heinrich Aloi, owner of Vintage Inspired Lifestyle Marketplace in Burlington's South End, described a red industrial metal barstool that holds a potted plant in her garden. She also pulled an old auger off a tractor, dug it into the garden and called it a sculpture.
And no worries about exposing metal to the elements. It "just gets a better patina when it's exposed," said Aloi. This time of year, two of her best sellers for plant receptacles are wash buckets (about $20) and metal sap buckets ($12 or less). "You want them with the holes in the bottom so [the water] will drain," Aloi noted.
4. Hang it.
Trees branches are great places to suspend a birdhouse, a hummingbird feeder or a lantern with a flickering votive candle. Fence posts and shed walls can support brackets for flowering baskets, as can walls on porches and decks. Retail stores are full of items that can be affixed to outdoor surfaces: faux vintage signs, tin stars, miniature canoe paddles, even lobster buoys, if that's what floats your boat. Who says the outdoors can't be a gallery?
5. Use water.
The sound of moving water soothes the senses and hushes traffic noise, not to mention the roar of a neighbor's lawn mower. And you don't need to duplicate the Trevi Fountain to achieve the effect. A search for cheap backyard fountains will turn up models retailing for $60 or less.
Keep in mind that most "water features" call for electricity. No exterior outlet? Then look for solar-powered birdbaths or bubblers. And for a party, you can always fill up a kiddie pool with ice water, float cans of Heady Topper, and dare your friends to step in and cool their ankles.
6. Light it.
Wrap strands of LED lights around a deck railing or a tree trunk, or suspend them from a porch, a pergola or tree branches. Plenty of retailers oblige customers who want to duplicate Christmas in July. Some lights require an outlet; others run on batteries. Prices can range from $14.95 to more than $100 per strand.
7. Decorate to sell.
Is it time to sell your house or condo? If so, staging your outdoor space is just as important as what you do indoors. And many of the same principles apply. Get rid of clutter — e.g., a broken wheelbarrow or chipped flower urns. Edge the lawn, stain the deck and prune trees so they don't touch the house or garage.
Then do some editing. "If you have a collection of gnomes, have three gnomes in one location; don't have a family of them scattered throughout," advised Donald G. Imgram, a realtor with Keller Williams. The same goes for perennial beds. "The biggest mistake that most people make with gardens is they have too many — like me," Imgram admitted. "Because the average person's going to come along and look at all of the gardens and landscaping and say, 'I could never keep up with that.'"