Patti Smith and Bruce Springsteen wrote that the night belongs to lovers. Wilson Pickett, too, was gonna wait 'til the stars came out to, you know, let his love come tumblin' down. All manner of musicians and poets have extolled the romantic potential of the midnight hour. But tell that to the guy who's grooming your ski trails or keeping the streets safe on the graveyard shift. The waitress pouring your joe at a 24-hour diner might also be skeptical. And romance is not foremost in the minds of workers in charge of preventing hospital meltdowns or dispatching emergency personnel.
While most of us are sleeping, Santa's elves are not the only ones staying busy. Thousands of Vermonters work at night to keep the world as we know it on course, whether they're repairing utilities or baking our breakfast croissants. Daytimers may take that consistency for granted, but the work turns nighttimers' lives — including, yes, their romantic relationships — upside-down. Those who toil at night often lack quality time to spend with a spouse or children, never mind participating in the activities and social events that many consider part of "normal" life.
Moreover, working at night forces the body to operate counter to its natural circadian rhythm — that is, the internal "clock" that tells us when we should be sleeping or awake. Extended periods of nocturnal work have been linked to health detriments such as insomnia, depression and anxiety. The cluster of symptoms is so common that there's a name for it: shift-work sleep disorder, or SWSD.
According to the American Psychological Association, nearly 15 million Americans work nights on a permanent or alternating basis. A 2011 paper on the subject makes such workers sound like ticking time bombs — or rather, sleep bombs. "Many of us share the road with night-driving truckers, count on the precision of emergency-room workers, and rely on the protection of police and national security personnel at all times," the researcher points out with an undercurrent of alarm.
The physical and mental risks of night-shift work are well documented. A longitudinal study reported last year in the journal Occupational and Environmental Medicine found that longtime (10 years or more) night workers exhibited cognitive impairment ­— that is, lower scores on tests of memory, processing speed and "overall brain power." In other words, their brains aged faster. The only positive finding? Overnight workers who changed their schedules within five or fewer years were able to regain their age-appropriate cognitive abilities.
If scientific studies spell gloom and doom for those working nights, it's still true that someone's gotta do it. If you burst an appendix or go into labor or have a traffic accident, you don't want to be told to take an aspirin and call the hospital in the morning. So kudos to those who choose to be there for the rest of us after the sun goes down.
Here's another true thing: Some people actually like the topsy-turvy schedule. For many, the pay is better. Most night work doesn't require employees to sit around in meetings or respond to time-sucking emails. In some cases, the job offers welcome solitude and quiet. In others, the draw is the camaraderie — and occasional adrenaline rush — of working with a team that provides essential services, from plowing the roads to saving lives.
Last week, Seven Days reporters worked the wee hours, too, going out to talk with seven Vermonters about their nocturnal employment.
— Pamela Polston
Ed Walton — Snow Groomer
Stowe Mountain Resort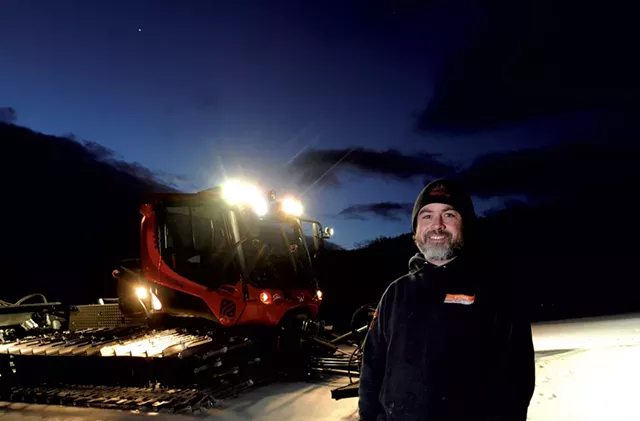 The PistenBully trail groomer climbed the eastern flank of Mount Mansfield like a tank on a midnight mission. At the controls, Ed Walton maneuvered the front plow blade into big moguls of snow, which a sharp-toothed, rotating barrel of steel at the back of the rig proceeded to flatten and groove. The hulking machine proved surprisingly deft: It left a neat layer of white corduroy under the twinkling stars of December.
"Basically, we try to fix up the stuff the skiers mess up," said bearded 39-year-old Walton, wearing a hoodie and Carhartts as he worked the overnight grooming shift at Stowe Mountain Resort last week.
This is the 13th winter on the mountain for the Connecticut-raised man who started as a ski patroller after earning a degree from Lyndon State College. A fellow Stowe patroller moved to the grooming crew and convinced Walton to follow. Since then, he has spent winter nights plying the snow in the heated cab of the groomer with a 24-ounce Thermos of java, rock and roll playing over the voices on his two-way radio.
The secret of operating heavy equipment at 2 a.m.? "Obviously, I love my coffee," Walton quipped.
He followed two other groomers, convoy-style, up the North Slope trail to Lord, Ridgeview and the top of the FourRunner Quad lift. The groomer's powerful lights illuminated the snow, and Walton explained that it's easier to see the white stuff under this artificial glow than in the weak light of dawn or dusk. At the top of the quad, where the temperature dipped to 19 degrees, snow guns sprayed noisily, coating trails and the adjacent spruce trees.
The job alternates between thrill and tedium. Groomers need confidence to steer the big machines over steep pitches on runs such as Liftline, where the snowcat does its work cabled to a metal plate on a cliff.
Patience helps when the weather rebels. "There's just some days, no matter what you do and how experienced you are, it's not going to come out as perfect as you like," Walton said.
Twenty degrees or less, with a firm base of natural snow, is ideal. The mushy manmade snow and 40-degree highs this December have been challenging. Walton, a supervisor, and his crew do their best to smooth the mashed potatoes and stockpile snow on the sides of trails that have thin cover.
Walton works from midnight to 8 a.m. in the early and late winter, and 5 p.m. to midnight in midwinter. In the summer, he works days running a chain saw on the resort's trails crew.
Overnight shifts are difficult. Because of the fatigue, Walton uses his free pass to snowboard less often than he'd like. Sleeping 4 to 10 p.m. isn't great for the home life, either. His fiancée is a teacher, and during the winter the Waterbury couple are rarely home and awake at the same time. "You kinda gotta make do," Walton said. Come summer, they make nightly dinners together a ritual.
On the mountain, equipment drivers sometimes have to dodge animals. But the scariest part of their job is avoiding humans who skin up the mountain on touring skis at dawn, dusk and midnight, said Walton. He worries someone might ski into a groomer cable: "It could cut you in half."
— Molly Walsh
Bryan Smith — 'Cellar Dweller'
Otter Creek Brewing, Middlebury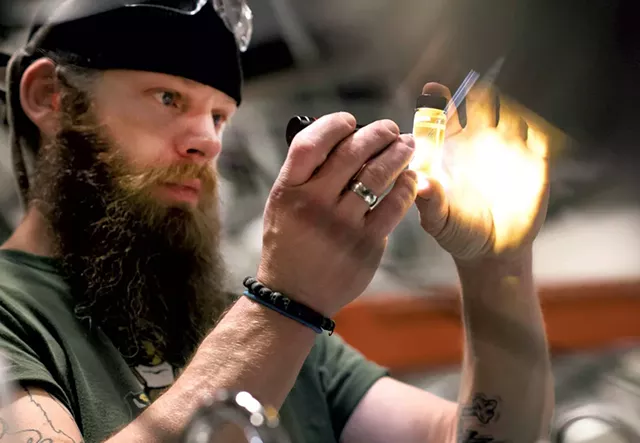 Bryan Smith's 12-hour shift starts at 5 p.m. The Otter Creek "cellar dweller," whom his friends call Bear, is responsible for tending brews from the moment they start fermenting until they're ready to be bottled. It's not an easy job. "There's a lot of work that goes into it, from the time it's brewed to the time it's sealed up in a case box and out the door to the distributor," said 38-year-old Smith, who's been with the company since 2012.
Otter Creek Brewing just recently switched to 12-hour shifts; it will more than double its output when a new 120-barrel brew house is completed in the spring. Previously, Smith worked five eight-hour shifts, Monday through Friday. He's adjusting to the new routine, but he said working three days on and three days off makes it hard to spend time with his girlfriend, Courtney McManus. On sabbatical from her job teaching social sciences and education at Colby-Sawyer College in New Hampshire, she's currently volunteering at a local animal shelter.
At night, Smith shares his Otter Creek quarters with just one other brewer, Nick Smith (no relation). When Seven Days stopped by, it was a quiet scene, with Bryan ducking in and out of the rows of fermenters and stainless-steel brite tanks, where the beer carbonates, and Nick popping into view every so often on the brewing platform.
But Smith said the semi-solitude is part of what he enjoys about his long night. "You hit 'play' on the radio and just go for it," he said. Music figures heavily in his life: Smith is the unofficial archivist for the band Waylon Speed, although he admitted his involvement with the group has dropped off recently because of his schedule.
Every night at the brewery is different. When we visited, Smith had what he described as a relatively light load: He was cropping yeast from one fermenter, cleaning another so it could be filled the next day and sanitizing the keg filler. To round out the shift, he planned to take inventory of the metal clamps used to attach hoses to the bottom of the tanks, among other things.
If that sounds inconsequential, consider that a large portion of Smith's job is maintaining pressure and temperature in a 40-barrel brew house to prevent the massive tanks from imploding — something that, fortunately, has never happened at the 24-year-old brewery. As he adjusted the water flow into a tank he was cleaning, Smith reassured a reporter through the maze of stainless steel and hoses: "It's an idiot-proof system ... until you walk away from it."
The drive from the brewery to Smith's home in Ripton takes 20 minutes. "I come home filthy," he said. "If I can, I like to get a shower in for [Courtney's] sake, and mine." Then "I curl up in bed with her, and that's it." At least until McManus leaves for work in the morning.
"I don't love the schedule sometimes," Smith said. "But at the end of the day, I love what I do."
— Sadie Williams
Danielle Shoram — Server
Denny's, South Burlington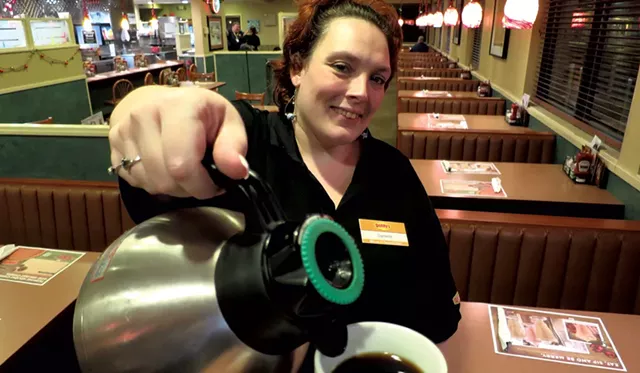 Danielle Shoram doesn't drink coffee, but her customers certainly do. The 33-year-old server bears the weight of overnight hours at greater Burlington's only 24-hour sit-down restaurant — the Denny's on Shelburne Road in South Burlington. Shoram, who's held the position for eight months, works from 10 or 11 p.m. to 6 a.m., Thursday through Monday. On Fridays and Saturdays, she has some late-night help, but she's the only server who stays until morning.
"In the beginning, I was always tired, but now my body's kind of used to it," she said.
Another overnight server covers the wee hours for Shoram on Tuesday and Wednesday, but generally, she noted, "No one else wants to work [overnight]. If I get sick or something, the manager's in there covering."
Working the overnight shift does have its benefits, though — the hourly wage is almost double that of daytime Denny's servers.
At 5:30 a.m. on a recent Thursday, the restaurant chain was decorated with red-and-green Christmas garlands, and the menus declared, "Welcome to America's Diner." Shoram sat in a booth, chatting obligingly with Seven Days as she wrapped tableware in napkins to finish up her shift. Only two other customers came through.
Shoram explained that when she leaves the restaurant, "I go home; I sleep once the kids get to school. I get up about noon and I'm up for the day." She and her children, ages 13, 11 and 8, live with her fiancé and her soon-to-be stepson, 15, at Farrington's Mobile Home Park on North Avenue in Burlington. The couple, who plan to marry this month, knew each other in high school and reunited a few years ago through Facebook.
Hoping to "get ahead a little bit," Shoram recently took a second job at Five Guys Burgers and Fries, just up Shelburne Road. She and her fiancé now both work the 4 to 10 p.m. shift there. His mother looks after the kids while they're at the restaurant.
"We all work more than one job," Shoram said of herself and her coworkers. Among her friends, however, "I'm the only one who works nights."
On her days off, Shoram schedules activities with her kids, since the rest of the time, she said, "They get home from school, I'm with them for an hour, hour and a half, and then I have to leave to go to the other job."
Asked how she's able to get up at noon, Shoram offered a pragmatic answer: "The alarm."
— Rachel Elizabeth Jones
David Jacobs — Patrol Officer
Newport Police Department
Newport patrol officer David Jacobs leafed through the call log before heading out on his Wednesday-night patrol. Thus far, it has been quiet. Other officers had posted a lookout for a Dodge pickup truck and a report of a suicidal man in nearby Charleston.
Jacobs has been a cop for 26 years — enough service time to retire with a pension, and more than enough to muscle his way onto the day shift if he wanted. But he doesn't.
"I don't want to say I'm an adrenaline junkie, but I like the types of calls we get at night," Jacobs, 46, told Seven Days as he cruised through a darkened Newport. The occasional squawk from a dispatcher pierced the silence. "If you're calling at 1, 2 a.m., something serious is going on," he continued. "People are in dire need. And if you're lost in the middle of the night, looking for a place to sleep, who is the first person you'd call?"
A father of four, Jacobs is a gregarious man who walks with a limp from injuries he suffered while wrestling with an intoxicated man several months ago. He and another officer work from 5 p.m. until 5 a.m. Jacobs tries to eat dinner before he clocks in. Around midnight, he usually grabs a black coffee and fruit — he's trying to lose weight, he said.
This evening, Jacobs' first stop was North Country Union High School, where he helped a fellow officer who teaches an evening class for teenagers interested in law-enforcement careers. But minutes later, a dispatcher summoned him to a nearby warehouse where a burglary alarm had been activated. Jacobs drew his gun as he walked inside, yet found only a faulty door.
Newport maintains the only 24-7 police department for 30 miles in any direction. In the old days, Jacobs said, local cops, Vermont State Police and border patrol agents would flip a coin to determine who would make a run to the nearest coffee shop — a Dunkin' Donuts in St. Johnsbury. Now there are closer options, including Azure Mini Mart, where Jacobs pulled in as the store was about to close.
This time of night, he likes to keep an eye on the markets — prime robbery targets — and chat up the workers. Jacobs said he feels a kinship with the cashiers, plow drivers and deliverymen who work while the rest of the world sleeps.
This visit was cut short by the dispatcher informing him that a suspect, whom Jacobs had been seeking for days for violating bail conditions, had been spotted at the Dollar General store a half mile away.
The suspect, a drug addict facing assault charges, had been ordered by a judge to remain in the home of a relative pending his trial. When Jacobs confronted him in Dollar General, the offender briefly tried to flee, but he didn't get far. Jacobs walked the handcuffed man to the police station close by. He spent a couple of hours writing charging documents for the man's morning court appearance.
Jacobs anticipated getting to his home in Holland at about 5:30 a.m. He would see his kids off to school, sleep until noon, tend to his horses and chickens, and split some wood. Then he'd report for nighttime duty again.
— Mark Davis
Rick Ashline — Senior Plant Operator
University of Vermont Medical Center, Burlington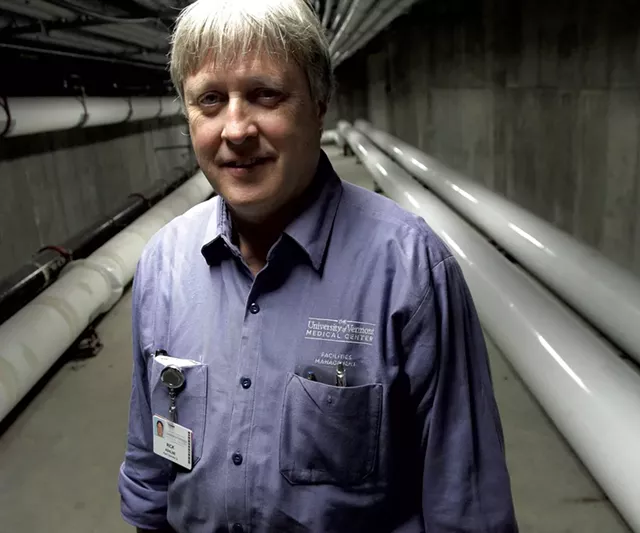 Like most people employed in facilities maintenance, Rick Ashline, 57, has to be a jack-of-all-trades who can troubleshoot almost any problem. On any given night — his shift runs from 7 p.m. to 7 a.m. — he's one of only two people responsible for keeping Vermont's largest hospital up and running. That means maintaining the systems that provide heating, ventilation, electricity, plumbing and fire suppression to seven buildings totaling 2.7 million square feet of space. Each night, thousands of patients, staff and visitors rely on Ashline to keep them safe and comfortable.
From his office deep in the bowels of the hospital, Ashline monitors a bank of 10 computer screens that watch over the hospital's entire infrastructure, from the snowmelt system in the subterranean parking garage to the cooling towers. Though he's not a licensed electrician, he services an electrical system charged with 13,800 volts — more juice than most electricians ever handle.
When a nurse needs the temperature of a room cranked up to 85 degrees for a newly admitted burn patient, she calls Ashline. He can do that in seconds with the click of a mouse. If a smoke alarm sounds anywhere in the hospital, he can pinpoint its location on-screen and direct firefighters there.
Even with all these automated systems, Ashline is on his feet about 75 percent of the night. He estimates he walks seven to eight miles per shift. That was easy to envision as he led a reporter through a labyrinth of surprisingly clean basement rooms and tunnels lined with air vents, water pipes, electrical conduits and pneumatic tubes, the last of which whisk medical specimens across the complex in about 90 seconds.
Typically, Ashline said, his pager beeps all night with calls about leaky sinks, clogged toilets and strange odors. But not all his calls have easy fixes. Ashline has rescued people from stalled elevators, repaired broken respirators, custom-welded medical instruments for doctors and cut rings off patients' hands. Once, the ER requested his help in freeing a 17-year-old boy's hand from a meat grinder.
"We came up with something, and the doctor saved the hand and all his fingers," Ashline recalled. "I was amazed."
He admitted that working nights — as he has for more than a decade — used to take a toll on his family life; it ended his first marriage. His current wife is more understanding, he noted, as she's a nurse who works her own irregular hours in Plattsburgh, N.Y.
Otherwise, Ashline said, he loves the night shift. When his week begins on Monday, he wakes early that morning and stays up all night. On Tuesday morning when his shift ends, he drives home to Peru, N.Y., and goes straight to bed.
In 25 years at UVM Medical Center, Ashline claimed he's called in sick only twice. As he put it, "I'll crawl in here before I call in sick."
Why? "When times get bad, people depend on the hospital," he explained, likening it to a Cold War fallout shelter. "We have to prepare for the worst — on a budget!"
— Ken Picard
Aaron Couture — Lead Baker
Red Hen Baking, Middlesex
Jeb Wallace-brodeur
Asa Kesner, left, Aaron Couture
Drive through Middlesex at night, and you can rely on your nose to find Red Hen Baking. The oven room, where lead baker Aaron Couture, 37, supervises the preparation of two to three thousand loaves per night, emits an aroma that's as good as you'd imagine 2,000 loaves of baking bread to smell.
Couture, who works from about 4:30 p.m. to 2:30 a.m. four nights a week, said he barely notices that smell anymore. But he's never lost his taste for the breads and rolls he's been making at Red Hen for six years. His favorites: the potato rolls, the miche and the polenta bread. "To die for," he said of the last.
A graduate of Vancouver's Pacific Institute of Culinary Arts, where he specialized in bread and pastry, Couture figured he'd someday land a night-shift job. Red Hen delivers its goods to retail outlets from Newport to Brattleboro, so all loaves must be baked, cooled, packed and loaded onto trucks before sunrise.
At midnight, the oven room was staffed only by Couture, assistant lead baker Nick Dentico and two packers, who silently loaded cooled loaves into trucks. Yet it was a lively place where the bakers shared an easy rapport, a professional attitude and a fondness for goofy T-shirts.
They also shared an almost preternatural sensitivity to the rhythms of baking a multitude of loaves in Red Hen's huge, 12-door oven. As Dentico arranged unbaked loaves on the loader (topped with a canvas sheet custom-made by a woman in Morrisville), Couture decoratively slashed their tops with a razor blade on a small handle. They didn't need to inform each other when a batch was ready. They just knew.
The odd hours don't vex Couture. "I had worked in restaurants for a while, and that's 2 to 11 [p.m.]," he said. "Just to have it shift two hours, so it's like 4 [p.m.] to 2 [a.m.], wasn't that big of a deal. It's a good schedule."
The one drawback is that his work schedule is out of sync with his wife's. "When I get home, she's in bed, and then I go crash," Couture said. "Then her alarm goes off, and I'm up to see her off. I don't make any drastic decisions at that point — I'm still out of it."
He added, "I enjoy having dinner with my wife, and that's the thing: I can only do it three times a week. But I enjoy [my job], and I don't think I would want to do anything else."
Couture described himself as a perfectionist, and his eye for detail seemed undulled by the lateness of the hour. He admitted to feeling a twinge of regret when his work yields an asymmetrical loaf. But it's easy for him to tell, simply by handling the unbaked loaves, if the dough is too wet or too "rippy," he said.
Those are minor problems, and easy enough to remedy. "I think we have it easy in here," Couture said. "But, say, an [overnight] nurse, that's a whole different ballgame. Worst thing that happens here is that I burn a loaf."
— Ethan De Seife
Jessie Reardon — Emergency Communication Dispatcher 1
Vermont State Police, Williston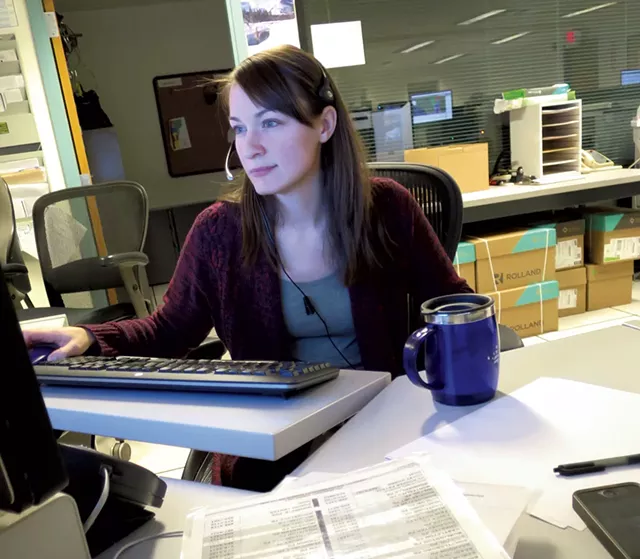 Early in her Thursday shift, emergency dispatcher Jessie Reardon was still having a quiet night. "Early" was a little after 11 p.m., just after she'd logged in for an eight-hour stint in the call center at the Vermont State Police Barracks in Williston. If things picked up, she advised, it would probably happen around 2 a.m. — that's when most bars close in Vermont.
Last call may be the end of the night for bartenders, but it's the start of primetime for local cops, paramedics, tow-truck drivers and other emergency services providers who get their late-night and early-morning marching orders from the civilian dispatchers at the Williston barracks. It's one of two emergency call centers in the state; the other is in Rockingham.
Nodding at a black, multiline office phone situated under a bank of three flat-screen computer monitors, Reardon offered another reason for the current lull: The weather outside was unseasonably warm, with clear skies.
"If it were snowing, every one of those lines would be red, all night long," she said.
Reardon spoke from secondhand knowledge. The twentysomething South Burlington resident has been working dispatch since May and overnights since October, so she hasn't yet handled the blizzard of emergency calls that blow in during a winter storm. On this night, Reardon and the small overnight crew of five dispatchers had little trouble keeping up with the slow but steady influx of generally nondramatic calls: a noise complaint in Charlotte, a possible break-in in Burlington, a truck off the road in Williston.
Something Reardon has had trouble keeping up with? Sleep.
"Adjusting to sleeping during the day is more difficult than I anticipated," she admitted. "I do sleep during the day; it's just not as restful. You feel tired all the time."
Reardon was drawn to emergency dispatch precisely because it's a 24-7 job. She and her husband recently moved to Vermont from New York State so he could take a job with Keurig Green Mountain. He's worked nights for years and continues to with the specialty coffee giant.
"When he was working nights and I was working days, it was definitely difficult. It was hard to find time to be with each other," Reardon said. "So one of the appeals of the job was that I could work nights, too. We call ourselves 'nightwalkers' now."
As a bonus, Reardon's husband has a direct pipeline to caffeine — a necessity in her job, judging by the oversize coffee cups sitting on several desks in the call center.
Though working nights has taken some getting used to, and Reardon said she experiences stressful communications with emergency services workers in dangerous and sometimes life-threatening situations, she knew what she was getting into when she signed on for this job. Her father has been an emergency dispatcher in New York for years.
"He loves working overnights," she said, smiling.
Reardon expects to work overnights until she and her husband decide to have kids. But she'd like to continue doing dispatch and hopes to be trained to handle 911 calls soon.
"It's nice to be a part of something you know is important," she said.
— Dan Bolles