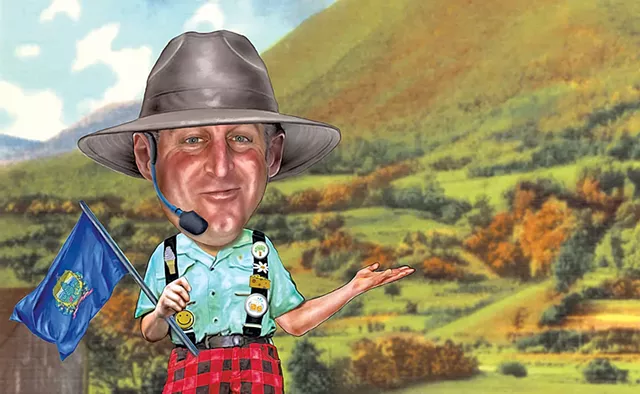 You've probably heard the phrase "No man is a hero in his own country," coined by Australian World War I commander John Monash. Well, here's a related sentiment, updated and de-gendered: No one is a tourist in their own state.
That's not strictly or always true, of course. But it's practically a maxim that many — most? — New Yorkers have never elevatored up to the top of the Empire State Building or boated out to Ellis Island. And, in Vermont, who among us can say we've visited all the state's sites and attractions?
The recent debilitating heat wave aside, summer weather in Vermont lends itself to going out and doing stuff. We generally try to squeeze as much as possible into the short season. Sure, the state offers us plenty of self-propelled activities — hiking, jumping into bodies of water, foraging at the farmers market. But when we learned that one of our reporters — a nearly native Vermonter — had never been to the freaking Ben & Jerry's Factory, a mission was born.
Combining an assignment with a little voluntary edutainment, seven reporters set out to tour something in Vermont. The only rules were that it had to be a guided tour and something they'd never done before.
Their choices ranged from the historic to the agro to the simply scenic. Some locations were highly trafficked, others quieter. The presence of cute animals seemed to be a bonus. In the process, each writer got a taste of what Vermont's $2.5 billion-per-year tourism industry is all about.
That is, before the foliage and the snow return.
— Pamela Polston
As Above, So Far, Far Below
Courtesy Of Rock Of Ages
Rock of Ages quarry
As many Vermonters know, Barre is a city founded on granite — literally. Some folks raised in the Green Mountain State, myself included, may even have hazy memories of a granite quarry tour lodged deep in their psyche, tied tenuously to an elementary school geology unit.
I'm no longer a third grader but an aging millennial, more excited now than years ago to visit this big, pretty hole in the ground. At roughly 600 feet deep, it happens to be the largest operating deep-hole granite quarry in the world.
Our tour departed from the slick, glass-walled Rock of Ages visitors center, a multipurpose space that serves as gift shop, history exhibit and, as director of visitor services Todd Paton explained, HQ for retail memorial sales. For the first time, it struck me as odd that we take hard stone from the ground to put on top of the soft bodies we bury back in the ground.
Of course, less sordid things could be gleaned here, too: A sign near a cardboard cutout of Chris Pine as Captain Kirk explains that the quarry was featured in 2009's Star Trek, for example. A time line with vintage photographs details the history of the area's granite industry; Rock of Ages officially opened for business in 1885 and continues operations today.
The 40-minute tour (a mere $5) departed at 3 p.m., led by veteran guide Pam Manning, a Long Island native who's worked at Rock of Ages since 1979. It was a very hot Tuesday afternoon, the day before the July 4 holiday, so I was not surprised that participants comprised just me and two other fellows — a gentleman from Peacham showing the sites to his son-in-law from Boston.
We boarded a spacious 15-seater van, which inexplicably had Jersey plates. Manning cued up her microphone, and we headed out from the center toward the top of the E.L. Smith Quarry. Flanking us on the left were massive piles of "grout," or discarded stone named after a Scottish word for waste. Scots, along with Italians, Spaniards, Swedes and French Canadians, were among the immigrants who came to Barre for work. Manning noted that many of the homes we passed were built as boarding houses for the stoneworkers.
We continued to wind up a bumpy road, past the open access gate and to the tippy top. We disembarked at a stunning vista, three quarry "lakes" shimmering far below the sheer walls of whitish-gray granite. The closest body of water was an unreal milky turquoise-blue color — my fellow tourist noted that it "looks like coolant," and he was not wrong. The shade is created when granite mixes with water, Manning explained. The tour was worth it for this color alone.
In the sky above, lines of thick cable converged at two yellow metal derricks, the tallest of which towered at 190 feet. Camel's Hump was a small silhouette in the background. We gawked at the view as Manning explained the nuts and bolts of removing and transporting granite.
Nearby, we examined one of the massive stones once used to anchor a derrick — unsurprisingly, these are called "dead men."
View properly absorbed, we clambered back into the van and headed down the hill. Manning recommended a visit to the nearby Hope Cemetery, a trove of large-scale works in granite. "I think they're sculpture, versus monument, really," she said.
Pulling back into the visitors center, Manning reminded us that the manufacturing plant was open for self-guided tours — her job was done. As a parting shot, she gestured toward a bin of small granite shards that we were welcome to sift through. A free 400-million-year-old souvenir? I thought. Don't mind if I do.
— Rachel Elizabeth Jones
Bouncing on the Beer Bus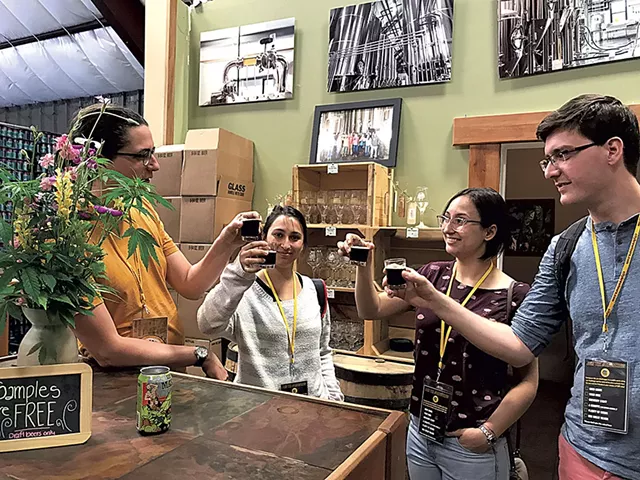 Sally Pollak
Burlington Beer Tour at Fiddlehead Brewing
The Beer Bus had traveled only a few blocks from its downtown Burlington starting point when the driver announced that one reason Vermont produces superior beer is that brewers "pull water" from Lake Champlain. The lake water, he told us, is "one of the best waters in the world to make hoppy beers."

I was among five passengers on the bus, which was bound for the first of four breweries we'd visit that blue-sky day in late June. If I'd been drinking water — or beer — at that moment, I might've spit it out. The local news had been reeking of reports of sewage discharged into the lake. Vermont's water wasn't too appetizing.
But this was a beer tour — a $90 excursion operated by multi state City Brew Tours — and tales (some tall) flowed and bubbled over like endless brew from a tap. The best approach, I figured, was to soak it up and pretend — if only for four hours on a summer day — that the key to life really could be found in a bottle of Magic Hat No. 9.
Magic Hat Brewing was, in fact, our first stop. We took a minor detour en route to the South Burlington brewery to catch a glimpse of the file-cabinet sculpture on Flynn Avenue and bounce past the South End branch of City Market, Onion River Co-op. (I'm still recovering from the pothole pounding of Briggs Street.)
"Just in case you thought the roads were bad in Canada, welcome to Burlington," our driver said to his passengers from north of the border.
At Magic Hat, discussion of things like inert gases, amino acids and fermentation gave way to these instructions from Matt, our tour leader and driver, who did not want to divulge his last name: "Your only job is to enjoy yourself."
We had our choice of flights, heard stories about Magic Hat cofounder Alan Newman crashing frat parties and watched an animated movie — strangely narrated in a Southern accent — about brewing.
Sally Pollak
Folino's pizza
Then the bus took us to Fiddlehead Brewing in Shelburne, where we cheered our good fortune in the tasting room. Matt took care of ordering beer for our BYOB pizza lunch at neighboring Folino's.
"Can I get a growler of the Drummer, a growlette of the IPA, and a four-pack of the Second Fiddle?" he asked the bartender. Then he turned to us tour takers and joked: "Do you guys want anything?"
Our party of five had more pizza and beer than we could possibly consume. Over lunch, I learned that my tour mates were 26-year-old twin sisters from Montréal, both engineers, and their partners — a husband from Montréal and a boyfriend from Belgium.
The married couple had taken the beer tour two summers ago. Helping herself to a slice of pizza, Samina Bergeron told me that lunch at Folino's was a major reason she wanted beer tour No. 2.
We still had plenty of beer to drink, pizza to eat and stories to share when Matt informed us that it was time to get back on the bus.
"The hardest part of being a tour guide is not rushing people," he said, "but being on time."
We returned to Burlington for our last two stops: Queen City Brewery and Zero Gravity Craft Brewery, where we sat on the patio in the sunshine and talked politics — the president versus the prime minister — and pot laws.
Heading north, I had one question for Matt: "What do people do when the trip is over?"
"I always recommend the beer-tour siesta," he replied.
— Sally Pollack
Summer Cruising
Spirit of Ethan Allen Lunch on the Lake, soea.com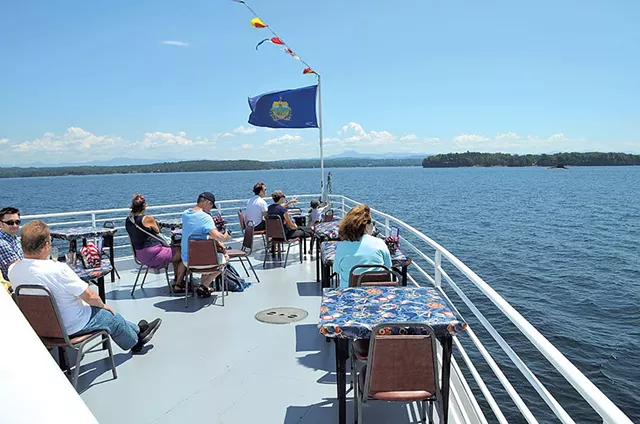 Ken Picard
Spirit of Ethan Allen
The Spirit of Ethan Allen cruise has much in common with New York City's Statue of Liberty boat tour: Both offer spectacular, unparalleled views from the water, provide plenty of interesting history and draw tourists from around the world. And both tend to be ignored by locals — many of whom, in the Vermont case, have never even heard of the Burlington cruise.

After 16 years of living in Vermont, I thought it was finally my turn to get in the spirit. At 11:45 a.m., I boarded the Spirit of Ethan Allen III for the noon Lunch on the Lake tour. (The standard 90-minute narrated cruise costs $22, but it's worth the additional $8 to get a three-course meal.)
Outside the vessel, docked alongside the Burlington Community Boathouse, a uniformed crew member whose name tag read "Dimitar — Bulgaria" took my ticket and directed me into a carpeted and air-conditioned banquet room.
Every summer for decades, Spirit owner Mike Shea has been hiring college students on J-1 work visas from Eastern Europe and former Soviet-bloc countries. They get an opportunity to live and work in Vermont, and the cruise gets some international flavor. Dimitar said this was his second summer aboard.
Missy, my server from Montenegro, led me to my table, then took my drink order over the gentle hum of the engines. Other uniformed staff laid out an ample buffet spread for two dozen diners; the dining room easily could have seated three times as many. The Spirit also has two bars and a full menu of maritime-themed cocktails — Ocean Mist, Malibu Bay Breeze, Tequila Sunset — but, being on duty, I stuck to nonalcoholic drinks.
Promptly at noon, the ship backed away from the pier as the PA system played "Anchors Aweigh," and we motored north. Prerecorded narrations, which the captain controlled from the bridge, highlighted notable natural features and recounted local lore. The latter included the 1984 mass sighting of "Champ," Lake Champlain's fabled sea creature, by 70 passengers on the Spirit, including Shea himself.
The vessel passed Lone Rock Point and veered westward into the broad lake, passing yellow diving buoys that mark the location of a horse-ferry shipwreck 50 feet below.
As the ship looped south, my server directed me to the buffet, where I scooped generous servings of fruit and veggie salads, focaccia bread, ginger-carrot soup, beef Stroganoff and potatoes au gratin. While I ate, I listened to the on-board narration, which seemed somewhat Eurocentric in its recounting of Samuel de Champlain's "discovery" of the lake, though it gave nods to native Abenaki and Iroquois histories, too.
After lunch, I went topside for some fresh air on the bow just as we approached Rock Dunder. According to our narrator, during the War of 1812 the tiny rock isle was pummeled by British forces, who mistook it for a ship in the fog. (A strikingly similar legend surrounds another Lake Champlain island, Carleton's Prize.)
As we passed Red Rocks Park, the narrator noted that it's a popular spot for cliff jumpers. As if on cue, a teen leapt from the cliffs into the 50-foot-deep waters. Next, we entered Shelburne Bay, passing Shelburne Shipyard, one of the oldest continuously operated shipyards in the country.
When it got too steamy outside, I headed inside to the bar, where I met bartender Tristan Lalor. He'd been on staff just three weeks. Though most of the college-age crew members are foreigners, Lalor is from Manchester, Vt., and studies finance at the University of Vermont. When I mentioned that I'd once lived in Manhattan and worked on Wall Street, he peppered me with questions about life in the Big Apple, then explained that he's interested in starting his own business in Vermont. I suggested he talk to Shea, a successful Burlington entrepreneur.
I returned to my table to find dessert waiting for me — a slice of brownie pie — and finished it off just as the ship docked, with maritime efficiency, at 1:30 on the dot.
— Ken Picard
Say Cheese!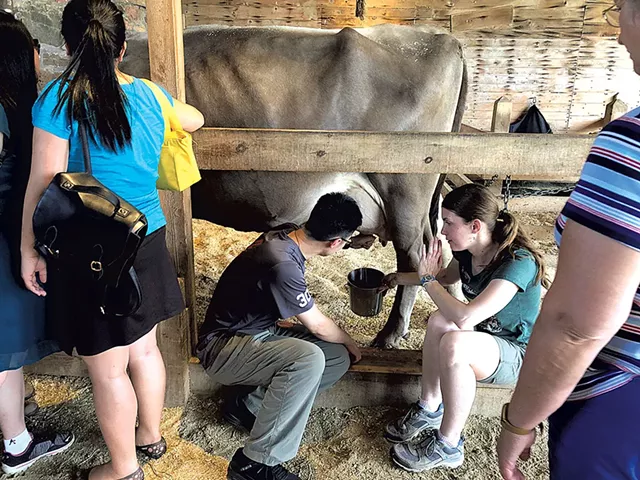 Sadie Williams
Shelburne Farms
The pastures at Shelburne Farms rippled in the heat last week as 13 people gathered outside the Welcome Center & Farm Store for the popular Sun to Cheese Tour. The weekly, two-hour tour of the cheese production facility — and its cow barns — is billed as a dive into the "art and science" of cheesemaking.
Veteran guide Judy Brook explained the structure of the $20 tour. We'd visit the Farm Barn to see where the cheese was made, then milk a cow, taste cheese and, lastly, check out the dairy operation. Katy Luk, part of a contingent from New York, elicited laughter when she asked whether it would be a simulation or a real milking. Brook assured her it would be a real cow.
We piled into a surprisingly cool bus. Brook pulled over occasionally to discourse on the scenery, noting, "This property is a classroom. It's a wonderful place to learn."
That comment was one of many that made the tour feel as much like an advertisement for the nonprofit's many offerings — stays at the inn, weddings at the coach barn — as an educational experience.
Like the signature "eyebrow" windows designed by architect Robert H. Robertson, my brows perked up as we entered the barn to see the stainless steel kitchen where cheese is made. Visible behind a window, three workers shoveled curds and sprayed down appliances.
Brook explained how rennet is added to milk to separate the curds from the whey, and what it means to "cheddar": to stack curds repeatedly to expel the remaining whey.
As we walked from the cheesemaking facility to the milking demonstration, I chatted with Paul Rocque, a Los Angeles pastry chef. Originally from St. Albans, he had visited the farm as a kid and wanted to experience it as an adult.
A volunteer informed us that the cow was too tired to be milked much more, so only three people took a turn. Rocque's partner, Robert Shagan, opted out. "Once was enough," he said with a grimace, referencing a childhood experience.
Soon we returned to a cool room to taste some cheeses. Brook had only two rules: You must taste at room temperature and move from mild to full-bodied flavor. We sampled all six of the Farmstead Cheddars, including one aged six months, another aged three years, a smoked cheddar and a clothbound one aged in the Cellars at Jasper Hill Farm. In addition, we tasted Tractor Cheddar, cheese that doesn't meet the farm's stringent flavor-profile requirements. It was piercingly sharp but delicious.
We wrapped up the tasting and filed back onto the bus to visit the dairy cows. After petting the calves, we observed the adult bovines as their teats were hooked up to milking machines.
Finally, Brook showed us the sperm repository where samples from studs are kept in an innocuous-looking aluminum container. The studs' comical names included Tequila and Lucky Carl.
Perhaps it made sense to put that part of the tour last, given that contemplating sperm canisters may not appeal to all visitors. When the tour ended, we hadn't learned much about the science of cheesemaking — how exactly different seasons and plants affect milk production and flavor — but everyone walked away with a brick of cheddar.
And I got to pet at least five calves.
— Sadie Williams
Stepping Into the Past
Justin Morrill Homestead House Tour, Strafford, morrillhomestead.org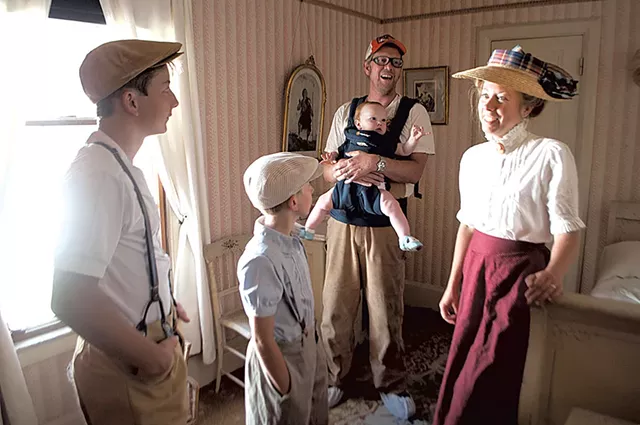 Hannah Palmer Egan
Emily Howe (right)
On a late June afternoon, Justin Morrill Homestead curator Emily Howe wore a pintuck cotton shirt with a high collar fastened by a cameo brooch. To modern tastes, her billowy, floor-grazing skirt and straw hat might have seemed oppressive in the heat. But they would have been breezy summer attire for Victorian women of a certain stature.
At the outset of a $6 home tour, Howe, 40, paused in the entry foyer of the 1851 house built by Justin Smith Morrill, a U.S. congressman and senator from Vermont in the years 1855 to 1898. His former home contains the nation's oldest surviving wall-to-wall carpet, Howe said as she dispensed white shoe covers to her visitors.
Morrill's legislative legacy includes the establishment of the Library of Congress and the land-grant colleges (including the University of Vermont). The land-grant act reserved 30,000 acres in each state for public education in topics such as agriculture, engineering and the sciences — studies meant to boost the middle class.
"[Morrill] wanted everybody to have equal opportunities," Howe explained. She noted that the Strafford native was born to humble means but made a fortune after partnering with a local businessman on a highly successful chain of general stores.
Howe led our shoe-covered group of five through a darkened hallway into the dining room, where a wool floor covering, woven in an intricate diamond pattern, stretched from end to end.
A lace runner ran down the middle of the table, which was set with a crystal water pitcher, a vase holding flowers, and china teacups and saucers for three. More china and serving ware were visible in the walk-in pantry near a window.
All of these objects are original to the home, a rare example of a Gothic Revival house that largely escaped renovation. Perhaps more remarkable than that, Howe said, is that the building was boarded up for decades in the middle of the last century.
During that time, local children would sneak in, according to stories from old-timers native to the area, she said. Girls would host tea parties at the table using the statesman's china and peruse the titles in the library. When it was time to go, they would replace items where they had found them and exit as quietly as they'd come.
Though the property was declared a national historic site in 1960, not much has changed since then. The site receives minimal funding, and a patina of age covers the place. In some rooms, plaster is flaking away from the ceiling; in corners, that wall-to-wall carpeting has started to fray.
On the upside, Howe said, the low visitor volume means that "everything doesn't have to be roped off and put in glass boxes." So tours unfold with easy candor, and guests are afforded intimate access to the stunning artifacts of a past life well lived.
In the study, Parisian stained glass glitters from a south-facing window. "When the sun shines directly through," Howe said, "the whole room fills with rainbows."
Near the door, a cabinet safe once housed documents of national interest. Howe's sons, Eli and Ira O'Brien — along for the tour and dressed in period costume — recalled finding a pull-handle at the back of the chamber. Beneath it they found a trove of Civil War documents that had stood untouched for more than 100 years.
Those treasures are now at the Library of Congress, but others, such as an early edition of Charles Darwin's On the Origin of Species and the complete works of William Shakespeare, remain in place for all to enjoy.
In a small living room off the formal parlor hang portraits of Morrill and of his freckle-faced spaniel by renowned Vermont painter Thomas Waterman Wood. Script letters beneath the dog's face commemorate his name: Trump.
— Hannah Palmer Egan
A visit to the Justin Morrill Homestead is worth 10 points in the Good Citizen Challenge. Find out more about Seven Days' and Kids VT's youth civics initiative at goodcitizenvt.com.
A Zen Cone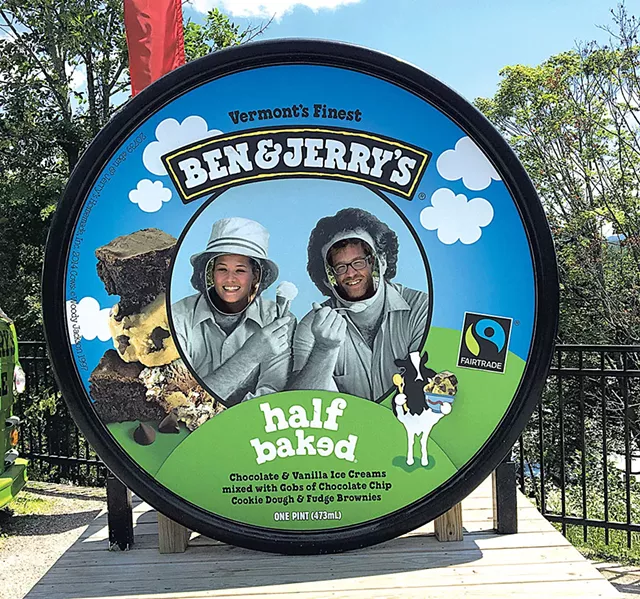 Dan Bolles
The obilgatory pint shot
I have a confession: I've lived in Vermont for close to 30 years and, until last week, had never been to the Ben & Jerry's Factory.

I love the ice cream and the company. But, having spent my teens and twenties in the service industry — including on a summer resort island and as a brewery tour guide in Vermont — I'm allergic to tourists. And yet I volunteered to visit the ice cream Disneyland in Waterbury at the height of tourist season and on one of the hottest days on record.
You might think that when it's 95 and humid, an ice cream factory would be an ideal destination. However, on the day my girlfriend and I visited, numerous pun-riddled signs warned that much of the facility was under "cone-struction" — including the AC.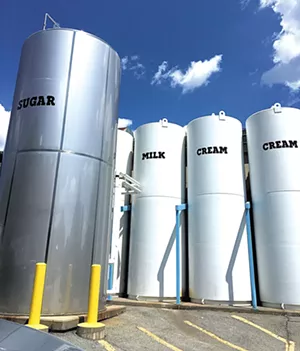 Dan Bolles
Tanks outside the Ben & Jerry's Factory
I'm sure that most tourists are fine, productive people in their regular lives. But something happens when they board a ferry or enter an amusement park — or an ice cream factory — that diminishes their mental faculties. As a guide, I can't tell you how many times I was asked, "What time does the two o'clock tour start?"
So one of my biggest fears about tourists is becoming one of them. When we arrived at B&J's to find a mass of wilted tourists crammed into the lobby and gift shop, I got a reminder. Reading on a large screen that the next tour would begin at 2:20 p.m., my normally sharp girlfriend asked, "What time is it now?" She failed to see the clock right next to the screen. Uh-oh.
We purchased our $4 tickets and opted to spend our 25-minute wait in the outdoor courtyard by the scoop shop. Tourists of all stripes sought refuge there in waffle cones and under umbrellas. Others took photos of each other inside the giant carton of Half Baked ice cream. A small child gleefully ran through a sprinkler along a nearby walkway. Taking his cue, we strolled through it, too, then let the sun dry our clothes before making our way back inside for the tour.
In the lobby, a pleasantly sarcastic young woman corralled the next tour group, imploring the herd to "mooooove" toward her — the first of many bovine puns we would hear over the next 30 minutes. After a brief introduction, she directed us to the "Moovie Theater" for a short, fun film on the past, present and future of B&J's.
During the viewing, I was surprised to experience a sense of Vermont pride. It's easy for locals to take for granted how innovative and important Ben Cohen and Jerry Greenfield have been, here and globally, since founding the company 40 years ago. The duo laid a blueprint for socially responsible business practices — and marketing style — that's been emulated countless times and become Vermont's entrepreneurial identity.
That legacy has continued even under Unilever, the British-Dutch transnational giant that purchased B&J's in 2000. The last segment of the film was all about the company's new social justice initiative, the Poor People's Campaign: A National Call for Moral Revival, named after the movement started by Dr. Martin Luther King Jr. in the late 1960s.
Next we moved to a viewing area above the production floor. Owing to maintenance, the factory wasn't producing ice cream that day. But, through clear explanation and well-worn jokes, our guide gave us the gist of how the company produces so much Cherry Garcia and Chunky Monkey.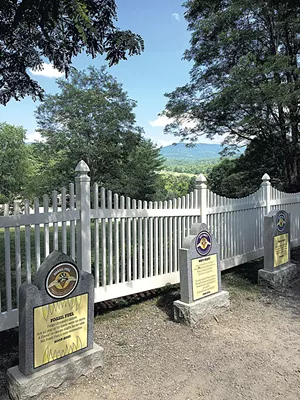 Dan Bolles
Flavor Graveyard
Our last stop was the tasting room, where we indulged in samples of an experimental s'mores-based creation. The tour then deposited us back in the gift shop, where people from all over browsed the tchotchkes and T-shirts. We opted instead to visit our long-gone friends in the Flavor Graveyard — RIP, Wavy Gravy — before heading home.
— Dan Bolles
The Road Not Taken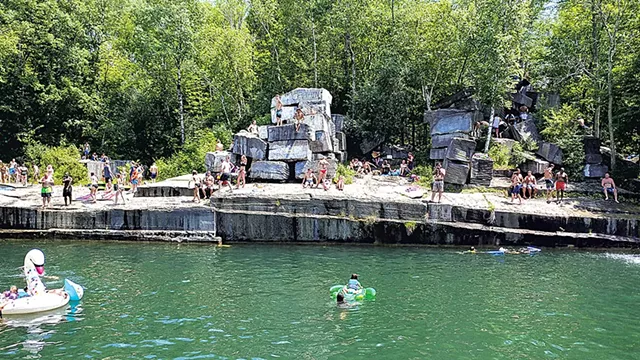 Jordan Adams
Dorset Marble Quarry
According to Sharon O'Connor, owner and operator of Backroad Discovery Tours in Manchester, five general types of people inhabit the quaint tourist haven and its surrounding towns. They include New Yorkers who fled the city post-9/11, second homeowners, artists and professionals, blue-collar types, and those who work in the tech or startup industry. She spouted such fun facts, along with well-rehearsed snippets of local history, through a pint-size PA system during her three-hour backwoods bus tour.

The $35 excursion — which runs daily, assuming at least two people sign up — skirts main drags in favor of winding country roads and stops at off-the-beaten-path gems along the way.
Departing in the early afternoon, our tour picked up in Manchester Center and looped through the adjacent burgs of Dorset, Rupert and Pawlet, making a couple of five- to 20-minute stops per hour. While anyone who knows how to google could discover these sights on their own, a typical southern Vermont tourist is likely to focus on Manchester Center's concentrated downtown.
O'Connor, a former New Yorker herself, has been operating this tour since 1998. (Her husband, Dick Smith, conducts a history tour centered on the Civil and Revolutionary wars.) On a recent Saturday, only two female friends from Connecticut and I were in tow. But our small number fostered some truly intimate conversations. By the end of the day, we knew way more about each other's personal lives than I would have expected.
"People feel comfortable, and they get chatty," O'Connor reckoned.
After taking a roadside pit stop to check out a gorgeous view of Arlington's Mount Equinox — home to North America's only Carthusian monastery — we headed over to the Kitchen Store at JK Adams, known for its fine wooden wares and other items. With about 90 people on staff, the company is the largest employer in the area.
Next up was the Dorset Quarry. The oldest marble quarry in the country is now the go-to local swimming hole, O'Connor told us. Stacks of gigantic cuboid slabs of gray stone surround gorgeous green-blue water some 75 to 100 feet deep. With youths cliff jumping while families basked in the summer sun on grassy flats and smooth, carved terraces, the scene resembled a Disney theme park. The water was so inviting, I had to restrain myself from plunging in fully clothed.
"We're standing right here," O'Connor said, opening a binder and pointing to a historical photograph of the quarry in its heyday.
Jordan Adams
Alpaca
Cruising down Dorset's Church Street — or simply "the street," as it's known colloquially — we opted not to stop at 3 Pears Gallery. In 90-degree heat, I don't think any of us could muster art appreciation. Instead, we gawked at the eerily pristine boulevard. All of the domiciles — colonials, capes and farmhouses — were white with dark green or black shutters, per town ordinance. Before taking off to our next destination, O'Connor cheekily pointed out the village's "busy financial district" — a tiny branch of Berkshire Bank.
After a brisk walk down a shady path at the Merck Forest & Farmland Center, we cruised over to our final stop: an alpaca farm. Five freshly shorn, glassy-eyed camelids greeted us with inquisitive stares. Though a bit skittish, they greedily gobbled up apple slices that O'Connor provided. With patience and a steady hand, I was able gently to caress one alpaca's giraffe-like neck. It was an adorable end to an itinerant afternoon.
— Jordan Adams