Courtesy Of Lord Sensing Microstrain Systems
Drones outfitted with MicroStrain's Emesent application
Vermont has long been a hotbed of entrepreneurs who influenced their industries — from Ben & Jerry's founders Ben Cohen and Jerry Greenfield to Burton Snowboards' Jake Burton Carpenter. The state's technology sector is having an equally outsize impact in fields such as robotics, aviation and sports, attracting national and even global attention.
See speakers from these companies — and the products they describe — at "7 Tech Wonders of Vermont" at the
Vermont Tech Jam
, Thursday, October 17, 9:30-11 a.m., at the Champlain Valley Exposition in Essex Junction. Free.
While many tech companies in the Green Mountain State produce software and other digital solutions, the seven profiled below create physical products. They manufacture things that users can use or wear or step into, such as Revision's protective eyewear, Beta Technologies' electric vertical takeoff and landing vehicle, and Mamava's private pods for mothers who breastfeed.
These seven companies include the state's largest private employer, GlobalFoundries — which produces components used in consumer electronics made by other companies — as well as those with just a handful of employees, such as Mobile Virtual Player. LORD Sensing MicroStrain Systems and other tech companies have been around for decades; others, including Benchmark Space Systems, were founded in the last few years. All but GlobalFoundries were founded in Vermont.
Each company is developing cutting-edge technology in its field, and some are creating entirely new fields. Find them all at "7 Tech Wonders of Vermont" at this year's Tech Jam.
LORD Sensing MicroStrain Systems
Williston; number of employees: 65
In 1987, Steve Arms founded the company known today as LORD Sensing MicroStrain Systems. The tiny sensors he developed began in orthopedic biomechanics, measuring the strain of human movements on knee ligaments damaged in sports and workplace injuries. Three decades later, many of the microsensors that LORD Sensing makes still help laborers stand, balance and move around on the job — but, increasingly, those workers are robots.
"A lot of these systems that have historically relied on human labor are more and more transitioning to automated systems labor," said Gregg Carpenter, senior field applications engineer at LORD Sensing. "Inertial sensing systems are vital to allowing those [automated] systems to operate."
Inertial sensors act as a robot's "inner ear," Carpenter explained, enabling it to balance and adjust its position and velocity as it moves. Simple inertial sensors in smartphones track the user's location and adjust the view screen based on the phone's orientation.
Carpenter, who's been with the company since before LORD purchased MicroStrain in 2012, noted that the explosion of cellphone technology drove down the cost of inertial sensors. This price drop enabled LORD Sensing to find even more applications for its own, more advanced technology. Its inertial sensors are now finding applications in construction, agriculture and mining.
LORD Sensing's products are also found in the antenna-pointing systems used on commercial aircraft to connect to ground-based internet services. So, the next time you check your email mid-flight, there's a good chance this Vermont company helped deliver it to your inbox.
Benchmark Space Systems
South Burlington; number of employees: 13
Courtesy Of Benchmark Space Systems
Bechmark Space Systems team testing equipment
One of the fastest-growing sectors of the aerospace industry is small satellites, aka "smallsats," which range in size from a loaf of bread to a mini fridge. Benchmark Space Systems builds propulsion systems for smallsats, which move and reposition them in space.
Ryan McDevitt, Benchmark's CEO and vice president of research and development, cofounded the company in 2017 with Matt Shea, chief operating officer and vice president of product development. McDevitt initially developed the core technology while working on a NASA-funded project as part of his doctorate in mechanical engineering at the University of Vermont.
Among the biggest challenges Benchmark faces, McDevitt explained, is educating customers about why smallsats, which are used for telecommunications, ground mapping and Earth imaging, even need propulsion systems. Because they're in low Earth orbit, smallsats eventually slow down, fall out of the sky and burn up upon reentry. In fact, early models, which had no propulsion, were treated as disposable, sometimes operating for no more than six months.
Courtesy Of Benchmark Space Systems
Bechmark Space Systems satellite system assembly
"But that doesn't fit in with the idea of using space responsibly," McDevitt said. "As people put more sophisticated technology on these small satellites, they want to get more value out of them."
Once a satellite is in space, Benchmark's propulsion systems kick in to move the satellite out of the path of other satellites, reposition it for new tasks and, at the end of its life, bring it down safely over an ocean versus, say, a forest or city.
Benchmark's propulsion systems are also eco-friendly. Other rocket propellants use hydrazine, a hazardous, cancer-causing chemical that's dangerous to manufacture. By contrast, Benchmark's systems use a chemical that's safer to handle and breaks down into water and oxygen.
Though smallsats orbit miles above the Earth, McDevitt believes they have an impact on Vermont.
"There are a bunch of companies that want to be the ones providing high-speed internet to everywhere, including to rural areas," he added. "Obviously, a big thing we think about in Vermont is broadband connectivity, and these small satellites are going to be a part of that story."
Mobile Virtual Player
Bradford; number of employees: 7
Courtesy Of Mobile Virtual Player
Mobile Virtual Player robotic tackling dummy
In 2010, Dartmouth College's head football coach, Eugene "Buddy" Teevens, eliminated tackling from all team practices. Why? He was concerned about what repeated blows to the head would mean for his players later in life. At the time, researchers were beginning to recognize the relationship between multiple head traumas and what's now called chronic traumatic encephalopathy, a neurodegenerative disorder that afflicts many National Football League players.
"They were living the dream of every young football player," said John Currier, a research engineer at Dartmouth's Thayer School of Engineering. "And yet, they [ended] up, in many cases, committing suicide or suffering from very severe dementia in their late twenties and thirties."
While watching a practice in 2012, Currier asked Teevens how he could get more student athletes engaged in engineering projects. Teevens suggested that they build a movable, pop-up tackle bag that his players could chase and hit.
"I said, 'Buddy, I think we can do that,'" Currier recalled. The idea behind Mobile Virtual Player was born.
Currier presented the idea to his engineering students, four of whom developed a prototype robotic tackling dummy that simulates a human player. It led to the development of a commercial product: MVP|DRIVES, which weighs 190 pounds, evades tacklers and reaches speeds of 18 miles per hour. In its first two seasons of use at Dartmouth, MVP|DRIVES reduced player concussions by 58 percent.
In 2015, Currier and Teevens launched the Mobile Virtual Player company, which now sells robotic tackling dummies to half the teams in the NFL, as well as to dozens of high school and college teams nationwide.
The company has since expanded into military and law-enforcement training. Its Humanoid Engageable Kinetic Training Robot, or HEKTR, can be used as a target in live-fire exercises and in hand-to-hand combat training.
Whether the police, the military or athletes use the robotic training dummies, Currier added, "We're trying to take those unnecessary hits out of the equation."
Mamava
Burlington; number of employees: 27
Courtesy Of Mamava
A mom going into a Mamava lactation "pod"
It's long been known that breastfeeding provides numerous benefits to infants and mothers alike. But all too often, nursing mothers have trouble finding clean, comfortable and private settings in which to nurse or express milk.
Since 2013, Burlington-based Mamava has been building freestanding lactation "pods," or private nursing suites. Cofounders Christine Dodson and Sascha Mayer were inspired to launch the company by their own experiences of having to breastfeed and pump milk in less-than-ideal locations, including public restrooms, cars and windowed conference rooms.
Mamava's lactation pods, which are free to use, are now found in airports, shopping malls, sports arenas, big-box stores — even at the Statue of Liberty. This fall, the company reached an important milestone: the sale of its 1,000th pod.
While breastfeeding is low tech, Mamava is not. In 2014, the company introduced its first free smartphone app, which enables on-the-go moms to find available pods and other private nursing locations, said Rebecca Roose, Mamava's director of digital products.
Last year, the company updated its app with additional features. The award-winning version, which is still free, tells users whether a pod anywhere in the country is vacant, which is helpful for mothers flying into an airport who need to make a tight connection. If one is occupied, the app indicates how long it's been in use — the average time is 20 minutes — and sends an alert when it's free. Once inside a pod, mothers can use the app to adjust the room's airflow and lighting.
If no Mamava pod is available, the app lists more than 4,000 alternative locations to nurse, such as publicly available lactation lounges and private rooms in libraries, schools and hospitals — and lets moms submit their own recommendations.
Because breastfeeding can feel isolating, Roose added, "We noticed that moms organically were leaving notes inside the pods for the next moms to find as words of encouragement." This new app lets moms share those notes digitally, offering inspirational messages such as "You're doing the right thing," and "I know it's hard, but you've got this."
Beta Technologies
South Burlington; number of employees: 50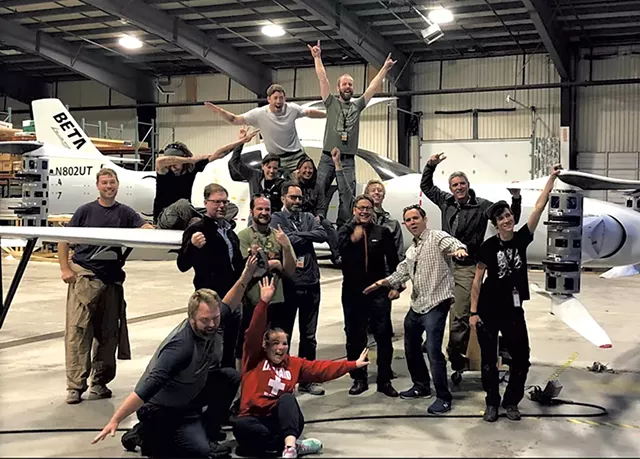 Courtesy Of Beta Technologies
Beta Technologies' crew with the prototype electric vertical takeoff and landing vehicle
Aviation has a nasty habit to kick: fossil fuels. As one of the fastest-growing sources of global greenhouse gases, commercial aircraft account for about 3 percent of all human-caused CO2 emissions, according to the Environmental Defense Fund. If aviation doesn't change course, its greenhouse emissions are projected to triple by 2050.
Enter Beta Technologies. Its eVTOL, or electric vertical takeoff and landing vehicle, combines the flight characteristics of a helicopter and fixed-wing airplane. The company designed revolutionary cockpit and control systems that replace mechanical moving parts with wired and even wireless technology.
The brainchild of company founder Kyle Clark, Beta's experimental aircraft is "just coming out of stealth mode," said chief operating officer Tom O'Leary. Over the last year, Beta has built and flown a prototype eVTOL that, he claimed, is the world's largest electric aircraft by weight.
This year, O'Leary added, Beta has taken what it learned from more than 200 tests on the prototype and built a commercially viable aircraft that it plans to bring to the Federal Aviation Administration for certification.
The South Burlington startup has also inked a deal with its first customer: United Therapeutics, a biotechnology firm that does research and development on organ transplants. Soon, Beta's eVTOL will be able to transport organs from one medical facility to another 250 miles away — a flight range comparable to today's twin-turbine helicopters.
But as O'Leary pointed out, eVTOL's advantage over conventional helicopters isn't just that it can travel as far on cleaner fuel. Electric aircrafts' operational costs also will be significantly lower. As he explained, aircrafts with internal combustion engines must be overhauled regularly, which essentially means being taken apart piece by piece. This process dramatically increases the aircraft's downtime and maintenance costs. Because electric vehicles don't require such overhauls, he noted, their operational costs are projected to be four to five times lower.
Though 250 companies worldwide are currently developing eVTOLs, O'Leary said that Beta's size and reputation are soaring: In the last year alone, the company grew from 15 employees to 50 — and it's still hiring.
Revision
Essex; number of employees: 130
Courtesy Of Revision
Revision's laser-protective eyewear
Military and law-enforcement agencies are in a constant race against emerging threats to their personnel and equipment. One Vermont company is offering protection from high-tech weapons that can disorient or blind troops and flight crews — and even bring down a military or civilian aircraft.
Revision — part of Revision Military until the eyewear division was sold to a private equity firm in early October — designs and manufactures protective eyewear that guards against "directed-energy," or laser, attacks.
"Officially, there aren't many laser weapons that are being acknowledged, but there are groups using lasers as an offensive tool," said Garth Blocher, a research engineer who helps design Revision's eyewear. "There are thousands of laser strikes on aircraft in the United States and internationally every year."
Indeed, the Federal Aviation Administration began documenting laser strikes on aircraft in the 1990s. In 2006, the FAA reported 384 laser strikes. By 2016, those incidents had climbed to 7,398. Just weeks ago, Vermont State Police reported that someone had shone a laser into the cockpit of a Dartmouth-Hitchcock Advanced Response Team medical helicopter in the Burlington area.
Such incidents can come from someone who doesn't realize the hazards posed by hitting a plane with a laser pointer, or from terrorist organizations that use lasers to try to injure personnel and damage flight equipment.
Though other companies make laser safety goggles, Blocher said, Revision's are highly desired by military and law-enforcement personnel for two reasons: They protect against a variety of wavelengths, and they have ballistic-resistant properties suitable for combat situations.
"We're truly one of the only companies in the world making ... laser-protective eyewear," Blocher added. "And we're not only developing those solutions here in Vermont, but we have our whole R&D and manufacturing capability here."
GlobalFoundries
Essex Junction; number of employees: more than 2,500 in Vermont and 16,000 worldwide
Courtesy Of Globalfoundries
A wafer being processed at "FAB 9"
In Vermont's tech sector, GlobalFoundries is the 800-pound gorilla. As the state's largest private employer and electricity consumer, GlobalFoundries' Essex Junction complex is like a city unto itself.
"Fab 9," as the Vermont foundry is known within the international company, doesn't manufacture finished goods. It makes the integrated circuits, or chips, used in other companies' products, including those of IBM, which divested the Essex Junction plant in 2014. GlobalFoundries' chips are used in everything from smartphones, laptops and tablets to 5G infrastructure such as cell towers and base stations.
Fab 9's 480,000 square feet of humidity- and temperature-controlled clean rooms, which are cleaner than hospital operating rooms, produce 8-inch-diameter wafers, each of which contains hundreds to thousands of chips.
As Dale Miller, senior location executive at Fab 9, explained, those chips are exceedingly complex. Each is composed of layers of circuitry stacked on top of one another in hundreds of steps, and it takes months to manufacture them. Because these chips are imprinted with lines as tiny as 350 nanometers (or one-billionth of a meter), a speck of dirt .02 micrometers (one-millionth of a meter) is "catastrophic," Miller said. For comparison, Miller noted that a human hair is 30 micrometers wide; a typical skin flake, 35 micrometers.
A single wafer may contain up to approximately 50,000 chips. The Essex Junction plant produces tens of thousands of such wafers per month. Of the more than 50 billion chips that GlobalFoundries shipped worldwide in the last five years, more than 50 percent came from Essex Junction. They're now used in 17 different phone brands, comprising 85 percent of the global smartphone market.
"It's a technology that's been very good for the company," Miller added, "and very good for this Vermont location."