James Buck
Fries and a Michigan dog from Beansie's
Food trucks are the restaurant version of dandelions; as soon as the snow melts, they start popping up, heralding the beginning of summer. By mid-May, they're everywhere.
Amid a global pandemic, the trucks remain ubiquitous, slinging to-go fare: burgers and fries, kebabs, and even martinis, thanks to the current relaxation of Vermont's alcohol ordinances. While restaurants have had to shutter their dining rooms and adapt to takeout, curbside pickup is in the nature of a food truck. Their dining rooms are open lawns, personal cars, living rooms and well-spaced rocks — perfect for social distancing.
As Vermont's Agency of Commerce and Community Development told Seven Days last month, most food trucks, snack stands and food carts are permitted to operate under the "Stay Home, Stay Safe" order because takeout and curbside capabilities are built into their business models.
That permission comes with conditions: For now, food trucks aren't allowed to congregate the way they did at the ArtsRiot Truck Stop, which is tentatively targeting a July 4 start date. Truck operators are required to follow the same health and safety requirements as other to-go food businesses: proper distancing, wearing face coverings, handwashing and sanitizing. And there won't be any self-serve condiments.
We're celebrating summer with seven food trucks around the state: classics and new kids on the block in the Burlington area, ramen and comfort food up north, and an Airstream second act from a beloved local chef in Manchester.
While all these trucks are out and about, or working on opening up ASAP, be sure to double-check hours and locations. Though it may be close to business as usual for these mobile masters, "rain or shine" is more like "rain or shine, but pandemic."
— J.B.
Back to Beansie's
For 76 years, the outdoor eating season at Battery Park in Burlington has informally kicked off with the arrival of the bright yellow Beansie's Bus. That happened three weeks late this year, on May 1, when owners Tammy and Chris Corron opened after making sure they were in compliance with city and department of health guidelines.
"A lot of customers, I'm close to," Tammy Corron said. "Normally, I go out and give them a hug. It's just not the same."
Despite everything, she said, business has been good, assisted by a well-timed rerun of an episode of the Travel Channel show "Man v. Food" that featured Beansie's Double Georgia bacon cheeseburger sandwiched between the halves of a Koffee Kup Bakery doughnut. "We're happy to be open again. Happy to be here," Corron said.
The dark gold, skin-on, fresh-cut fries are still cooked old-school in lard. The Michigan dog is still smothered with a finely ground meat sauce and best enjoyed with "the works": yellow mustard, relish, chopped onion and ketchup. The creemee machine is purring again, sometimes operated by the Corrons' 10-year-old granddaughter, Hailey.
On a sunny weekday afternoon, the steady stream of customers included Mary Williams of Burlington, who said she's been a regular at Beansie's since she was a child. Though staff and some customers wore masks, and the park's jungle gym was wrapped in yellow caution tape, Williams said ordering her standard cheeseburger and fries "makes it all feel slightly more normal-ish."
— M.P.
Vegan Junk Food
Dos Feos, 378 North Avenue, Burlington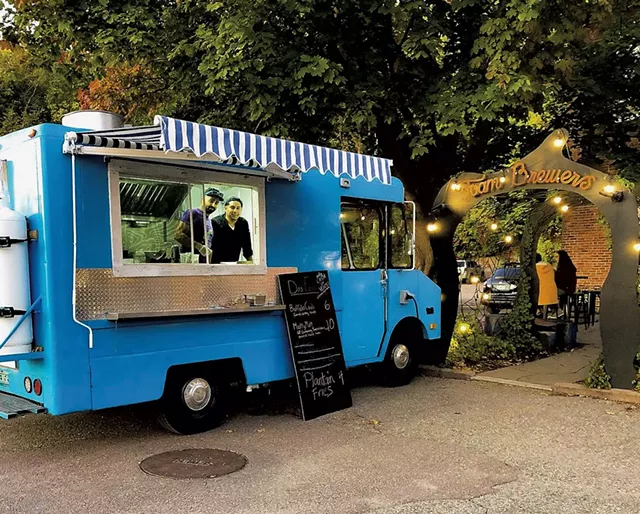 Courtesy Of David Quintana
David Quintana and Juan Yagual of Dos Feos
David Quintana had all the cooking skills needed to open a food truck when he and Juan Yagual started planning Dos Feos. He didn't realize he'd need to be a welder, too. Alas, the bright blue truck the business partners purchased from Massachusetts in spring 2017 ended up being more of a fixer-upper than they'd bargained for.
The truck was dragging when it arrived in Burlington, weighed down by a lack of springs and an inexplicable layer of concrete hidden under tile in the back. "We made the mistake of getting excited," Quintana said. "It was a food truck, but I had to rip everything out and start from the beginning."
Two years, one almost-chopped-off finger and a bunch of new construction skills later, Dos Feos held its soft opening in a backyard in the New North End last September.
Shortly after its test run, Dos Feos took over the Tuesday night food truck spot at Burlington's Foam Brewers. Vegan food might not seem like typical brewery fare, but Dos Feos' menu of "Buff caulis" and melty Matty Melts (made with an Impossible Burger base) is the sneaky kind of vegan food. In fact, the truck's signage hardly advertises that the menu is 100 percent vegan — and 100 percent gluten-free.
"We try to make everything on the junk food side," Quintana said. "Possibly the healthiest thing about it is that it's vegan." For all the skeptics out there, he has a message: "It's fried, bro!"
Quintana always tries to keep one dish on the menu that represents his Puerto Rican roots. "It adds a little Latin flair," he said. Potato balls translate well to mobile cuisine, as do fritter-like alcapurrias and coconut-based flan for dessert.
Dos Feos is signed on for this summer's ArtsRiot Truck Stop, if it happens. In the meantime, the partners are ironing out the details of online ordering and plan to open for pickup soon.
— J.B.
Energy-Efficient Kebabs
Micro Mobile Kitchen, 10 Farrell Street, South Burlington, 276-1115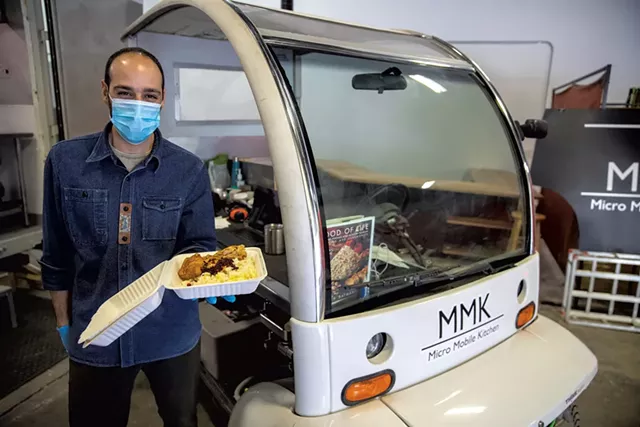 James Buck
Daryoush Khamnei of Micro Mobile Kitchen
Micro Mobile Kitchen, an electric-powered mobile eatery that serves Persian food, kicked off its second season last weekend in South Burlington.
The pairing of Middle Eastern cuisine and green technology is the brainchild of Daryoush Khamnei, 33, a native of Tehran who moved to Burlington at age 15. Khamnei did his senior year of high school in Burlington and went on to study engineering at Rutgers University.
Now he drives a golf cart-size vehicle equipped with kitchen essentials from his home in Burlington to 10 Farrell Street, where he serves traditional Persian fare. The menu includes tomato-based stews of chicken, beef or lamb and a veggie bean version that highlights herbs such as mint, parsley and dill. Khamnei grills kebabs and tomatoes and serves the food with rice or quinoa.
"The good thing about the food: It's very healthy and a good portion," Khamnei said. "I make sure you're well fed."
Khamnei recently completed a design-build project: a commercial kitchen in a 20-foot shipping container. With the new kitchen, which will give him more space for cooking and storage, Khamnei intends to expand his menu. He also hopes eventually to rent the kitchen to aspiring chefs who lack access to commercial facilities, creating a kind of maker space for cooks that could launch other food businesses.
"It connects like a vacuum cleaner to a wall," Khamnei said of his creation. "It's the cleanest kitchen you can make; it's a super sanitary place. You could get a power hose and wash the whole thing."
Micro Mobile Kitchen will operate at Farrell Street four days a week, schedule to be determined, and pop up at other sites. "We had so much fun with it [last year]," Khamnei said. "It was very eye-catching. People would stop by and appreciate the design."
— S.P.
Rolling Ramen
Miso Hungry, 1249 North Hill Road, Westfield, 518-605-4474
Courtesy Of Jordan Antonucci
Miso Hungry
In a normal summer, Jordan Antonucci and Momoko Munenaka would be packing up their cedar-shingled trailers every weekend to sling steamy bowls of ramen at music festivals all over the Northeast.
"But everything's canceled," Antonucci told Seven Days. The couple closed the ski-up tramside version of Miso Hungry on March 14, when Jay Peak Resort shuttered for the season — more than a month before their own season usually ends. They laid off seven employees and reformulated their summer plans as festivals and other events pulled the plug.
"It's totally a bummer," Antonucci said. "We've got a good thing going, and it was all scheduled. But the joy of this business is that it's very easy to adapt. The characters who thrive in the ever-changing chaos of food truck life, we're used to things being flipped upside down."
Now Miso Hungry is sticking closer to home and connecting with the local community in ways the couple hasn't had time to focus on in the past. Depending on how things develop, Antonucci hopes to host smaller-scale music events on their property in the Northeast Kingdom and is working on a "dinner and a movie" night in the parking lot of a local ski shop.
Right now, he and Munenaka are taking orders online for pickup and delivery. One day a week, they head to Newport, Jay and Montgomery; another, down Route 100 to Stowe; another, all the way to Burlington. They offer assemble-your-own ramen kits, products from neighboring farms, and even a CSA-style "farmers' basket" with locally sourced meat, cheese, veggies, eggs, maple products and more.
The pivot makes sense: Prepping and packing food in the trailers is business as usual, and the drive to Burlington is shorter than the eight-hour road trips the couple would take to festivals. "Gas is pretty cheap, I've got coolers, and I know how to store food," Antonucci said.
Their new routine is not without challenges. Used to having a built-in customer base of hungry festivalgoers, the pair is learning how to engage their target audience and work with new technology to deliver food efficiently.
"As a food truck, you work your butt off," Antonucci said. "You work for 16 hours straight cooking bowls of noods, and that's the easy part. Staring at a computer and trying to figure out why your shipping dates aren't aligning? That's a pain in the ass."
— J.B.
Sharing the Joy
My Favorite Things, Jeffersonville, 734-7939, @myfavoritethingsvt on Instagram or My Favorite Things Food Truck on Facebook
Melissa Pasanen
Lea Ann Macrery of My Favorite Things
"I hope you can see my smile under this mask," said Lea Ann Macrery, chef-owner of My Favorite Things. On a recent chilly Sunday around noon, there was no need to social-distance using the orange cones carefully placed in the parking lot of the former Smugglers' Notch Distillery building on the Jeffersonville rotary. We hunkered down in our car to dig into a sampling of Macrery's comfort food, served with a smile.
The generous pile of poutine, made with rugged hand-cut fries, local cheese curds and her from-scratch sausage gravy, would indeed satisfy "one hungry bear," as the menu forewarns. A crisp, cinnamon-kissed waffle special came topped with well-seasoned chicken nuggets, also freshly cut. The hefty beef burrito was anointed with a melty puddle of cheese on the outside — a genius touch.
Macrery, who grew up in South Africa and Malawi, runs the truck with the help of her husband, Corey Cayton. She worked in restaurants in New York City for about a decade before moving in 2014 to Vermont, where she continued to cook and tend bar. During her "rookie" food truck season, summer 2019, she stuck close to her Jeffersonville home.
The goal has always been to stay local. "I want to do this for the people in my community," Macrery said.
My Favorite Things' menu is exactly what it sounds like. "It's how I cook for myself," Macrery said. The flaky-crusted meat or vegetarian pies, for example, recall a favorite tuck shop snack from her South African high school days. "I get a lot of joy passing that joy along," she said.
— M.P.
Live Streaming
Amy's on the Road, 4361 Main Street, Manchester, 753-6105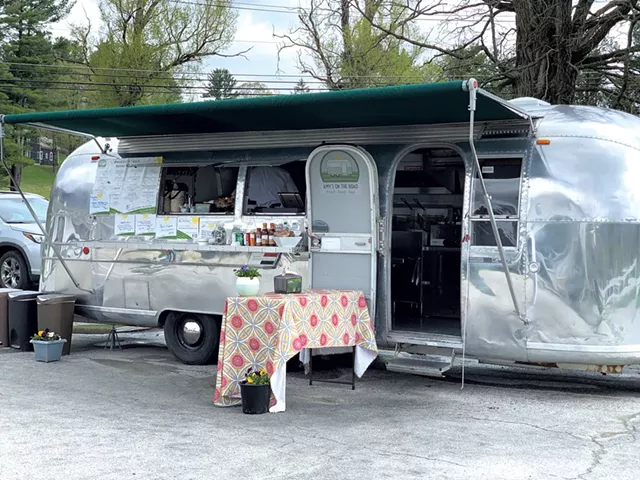 Courtesy Of Amy Chamberlain
Amy's on the Road
A common trajectory in the food business is to start with a food truck, develop a following, and open a brick-and-mortar restaurant. At Manchester's Amy's on the Road, it happened the other way around.
Chef Amy Chamberlain closed the Perfect Wife Restaurant and Tavern in the fall of 2018 after running it for 23 years as a gathering place for skiers and locals alike. She's now in her second season of serving breakfast and lunch out of a converted 1968 Airstream trailer, together with business partner and chef Gary Walker.
In mid-April 2020, Amy's on the Road reopened in a new, more visible location right in the village, and it's been slammed — despite how snowfall and school and business closures have affected its usual breakfast business. "We came along about a month after the initial shutdown, and people were ready for something new," Chamberlain said.
The chefs serve up egg sandwiches, breakfast bowls and burritos; for lunch, there are vegetarian and globally inspired dishes, as well as pulled pork and fried chicken sandwiches. "The menu is not your everyday food truck or typical dairy bar menu," Chamberlain said. "Everything's homemade, made-to-order and fresh."
Amy's on the Road takes both walk-up orders and call-ins, and people have been respectful of social-distancing rules so far, Chamberlain noted. She and Walker separate their duties when they work the truck together. He handles the cooking, wearing gloves and touching only the food, while she answers the phone, takes the money and talks to customers, washing her hands constantly.
"I love the contact with customers," Chamberlain said. "I've met so many people who were regulars at my restaurant that I never knew, because I was always downstairs in the kitchen."
That's just one of the benefits she sees to the mobile-biz lifestyle. "The food truck is built for situations like this. If I owned the restaurant still, I don't know what I would do," Chamberlain said. "I don't know how the stars aligned that I decided to get out of that and into this. I found a great business partner, and we're able to thrive."
— J.B.
Sunset, Fries and Martinis
Courtesy Of Solomon Bayer-pacht
Pork belly banh mi at Foam Brewers
Gazing at the evening sky over Lake Champlain has long been a popular pastime on summer nights in Burlington. Solomon Bayer-Pacht, chef and co-owner of the Farmers & Foragers food truck, pictures people taking in that view this summer at Burlington Harbor Marina as they eat truffle fries and perch po'boys and sip martinis.
In its first permanent location since it opened six years ago, the Farmers & Foragers food truck will be stationed this season at the 160-slip marina by Waterfront Park. Adjacent to the truck will be a sail tent with seating for 60 (in normal times), a fire pit and a bar.
"I'm a bartender first — and, sitting on the water, nothing is better than a good cocktail," said Bayer-Pacht, who runs the truck with his partner, Lauren Johnson.
Farmers & Foragers, winner of the 2019 Seven Daysie for best food truck, will offer curbside and takeout service at the marina Wednesday through Sunday, 11 a.m. to 9 p.m. The truck will serve food and drink to bikers, walkers, boaters and others who are out and about in the park and along the bike path. People can find a picnic spot by the lake or, when regulations allow, eat under the tent, spaced appropriately.
"We're there to feed everybody," said Bayer-Pacht, whose other seasonal job is coaching the South Burlington High School boys' basketball team.
Favorites at Farmers & Foragers include the Vermont cheesesteak, pork belly bánh mì, poutine and fried chicken. Picnics designed for boaters and bikers — cheese plates, sandwiches, crudités — will be offered. Bayer-Pacht will add seafood dishes, such as lobster rolls and scallops po'boy to the menu as ingredients become available, he said.
The shutdown this spring has given Bayer-Pacht and his family time to work in their gardens and greenhouse in Hinesburg, planting herbs and vegetables that will supplement other locally sourced food at the truck.
Bayer-Pacht's plans to shuck oysters and host trivia nights under the tent are on hold. But the sunset is on.
— S.P.