Glenn Russell
Isaac Winsten-Pinel at the Sisters of Anarchy ice cream stand at Fisher Brothers Farm
When Bob Clark was growing up in upstate New York, 80 percent of the family on his mother's side farmed. "Now, I'm it," he said.
In 2011, after two decades of "trotting around the country," Clark and his wife, Becky Castle, moved with their three daughters back to the East Coast from Pasadena, Calif. A couple of years later, they bought a long-fallow Shelburne dairy farm, established an assortment of berry plants and named the operation in honor of Clark's mother's family. "It would make them happy that someone, somewhere is running a Fisher Brothers Farm," he said.
From its inception, the goal was not to sell fruit but to produce ingredients for a value-added product. The couple began to make their own ice cream featuring farm-grown produce and set up a small scoop shop at the farm. They also have a traveling ice cream truck. "We wanted to make sure our daughters knew something about where things come from, both agriculture and business," Clark said.
The Castle-Clark family's ice cream enterprise, called Sisters of Anarchy, is but one example of Vermont farm-based food — and one result of the creative energy and hard work that keep the state's agricultural landscape vibrant. From sweet treats to an Italian feast, here are seven delicious ways to eat on a Vermont farm this summer.
Farm to Cone
At Fisher Brothers Farm in Shelburne, Sisters of Anarchy ice cream (pictured above) is named for the three daughters of Becky Castle and Bob Clark. Visitors to the ice cream stand will likely glimpse the sisters, ages 11 to 15, helping out around the farm and ice cream operation. The ice cream is churned on-site, starting with dairy produced by Kingdom Creamery of Vermont in East Hardwick. Many of the creative flavors feature farm-grown herbs such as peppermint, and fruit including blackberries, raspberries and lesser-known aronia. Purple Haze, for example, pairs a bright, tart aronia base with sweet aronia brownie chunks. Whiner is flavored with the farm's Marquette grapes.
Do not expect sprinkles or chocolate sauce, Clark cautioned: "When you have that much good stuff to put in the ice cream, we want you to taste it."
Winner, Winner, Chicken Dinner
Maple Wind Farm, Richmond, 434-7257, maplewindfarm.com
Courtesy Image
Bruce Hennessey serving up a fried chicken dinner at Maple Wind Farm
For the second year, Maple Wind Farm is hosting monthly fried-chicken dinners on select Friday nights through October. "We wanted to share our good food around our signature pasture-raised chicken," said farm co-owner Beth Whiting, "and no one else was doing farm-fried chicken."
The dinners take place at the farm's Richmond barn and packing location on Route 2. Before or after digging into a plate of crunchy fried chicken, corn bread and several side salads, diners can peek into the cozy brooder barn. That's where chicks spend their first two and a half weeks before heading to the fields, where they are moved to fresh grass daily. Guests can linger to listen to live music, sip beer from Stone Corral Brewery and finish up with a scoop from the Sisters of Anarchy ice cream truck.
Breakfast With Cows
Maxwell's Neighborhood Farm, Newport; Sprague Ranch, Brookfield; 828-2430, vermontbreakfastonthefarm.com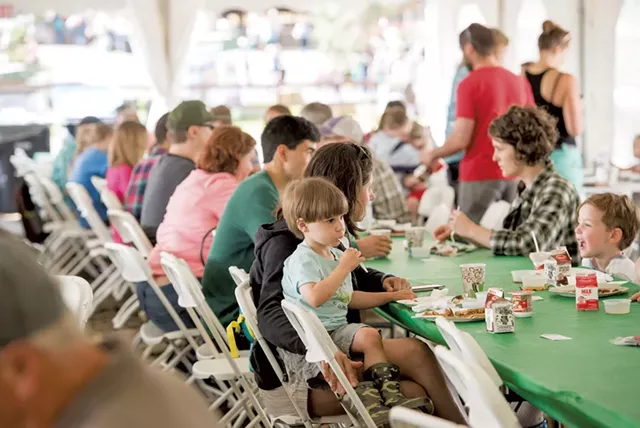 Courtesy Image
Breakfast on the Farm guests
Dairy still accounts for the most agricultural acreage and revenue in Vermont. While traditional red barns with grain silos and black-and-white cows continue to dominate the state's farming image, dairy farmers are eager to share that they are not stuck in the olden days. Enter the Breakfast on the Farm program, now in its fifth year, which offers free on-farm breakfasts and tours.
This summer's breakfasts will be at Maxwell's Neighborhood Farm in Newport on Saturday, June 22, and at Sprague Ranch in Brookfield on Saturday, July 27. Volunteers help make and serve a pancake breakfast with Vermont maple syrup, sausage, fresh berries, yogurt and, of course, milk to drink, as well as coffee and tea. (Breakfasts are free, but tickets must be reserved.) There also are hands-on activities for kids and education stations set up around the barns.
Chelsea Sprague of Sprague Ranch said that she and her husband, Keith, are looking forward to welcoming the public to their fifth-generation family farm, which they run with his father and uncle. "We're doing everything as well as we possibly can to help protect the water and the land," she said. "We want people to be informed about what a conventional dairy farm looks like and feels like."
Floral Feast
Ardelia Farm & Co., Irasburg, 324-4178, ardeliafarm.com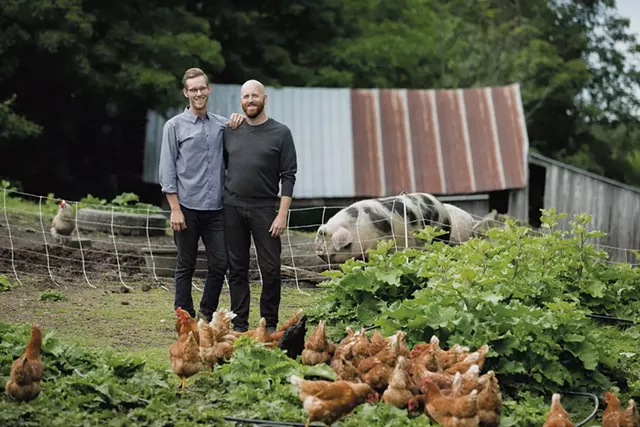 Courtesy Of Brent Harrewyn
Ardelia Farm & Co. co-owners Thomas McCurdy (left) and Bailey Hale
Bailey Hale and Thomas McCurdy left Philadelphia and settled in the Northeast Kingdom in 2011 seeking new ways to apply their floral design and professional baking expertise, respectively. Attendees at Ardelia Farm & Co.'s Brunch & Blooms, scheduled on four Sundays June through September, will experience the best of both on the couple's Irasburg flower farm. After enjoying an elegant and bountiful spread of freshly baked and cooked fare made by McCurdy, guests can take a pasture walk, wander through five greenhouses full of flowers, and say hello to the pigs and beefalo. Then they can select from an abundant array of farm-grown blooms and provided containers to create their own arrangement with the input of Hale and a guest floral designer.
"This is a way for us to bring all the things we love together," McCurdy explained. A plus is that they can stay home to do it. "It's so nice to be able to bring people here," he said. "It generates some income and brings us joy."
Taste of Italy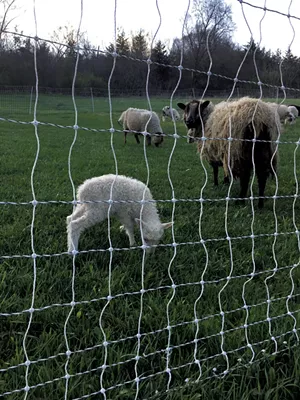 Melissa Pasanen
Sheep at Agricola Farm
Ale Rellini and Stefano Pinna blend the flavors of their native Italy with those of Vermont in monthly lunches and dinners made primarily with ingredients they raise, forage and cook from scratch at Agricola Farm. A ticket to the private event entitles guests to a preprandial guided tour of the Panton farm to see the pigs, sheep, poultry, and garden featuring Italian vegetables and herbs. It also includes discounts on its packaged meats, as well as wine purchased for the BYOB events at Vergennes Wine.
The multicourse meals take place in the couple's 1850s farmhouse and have the leisurely feeling of a big, warm family gathering. A three-hour dinner might meander through eight courses, including house-cured mutton sausage, rye fritters stuffed with smoked pork and wild greens, fresh pasta, braised pork shoulder, and a delicate panna cotta.
"We don't compromise the authenticity of the recipes," Rellini said. "It's really designed for people to experience the whole meal like we would in Italy."
Triple Blues
Owl's Head Berry Farm, Richmond, 343-3387, owlsheadfarm.com
Courtesy Image
Music night at Owl's Head Berry Farm
Back in the 1990s, before farms hosted events regularly, Owl's Head Berry Farm in Richmond started its Music While You Pick series on many Tuesday and Thursday evenings during the July and August berry season. Picking of the blueberry kind starts at 5 p.m., and picking of the musical kind — mostly bluegrass and blues — begins at 6 p.m. Local artists range from Red Hot Juba's jazz and blues to the Vermont Bluegrass Pioneers. There is no fee other than a two-quart-minimum berry purchase per adult.
Traditionally, attendees have brought their own picnic suppers, but this year, said co-owner Rachel Gray, a few food and beverage vendors will offer their wares on select nights, including the Pie Empire food truck, the Udder Guys ice cream, Simple Roots Brewing and Citizen Cider.
"Many people love to bring their own food," Gray said, "but we wanted to give people another option."
Golden Summer Days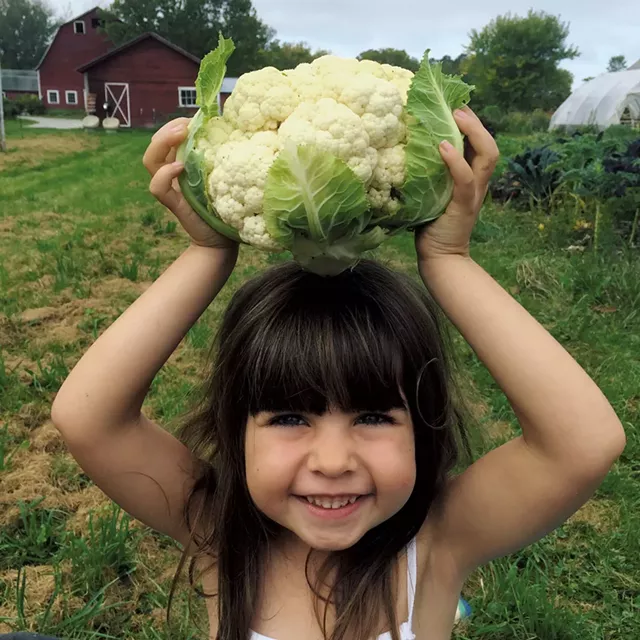 Courtesy Image
A young vegetable fan at Golden Well Sanctuary
In New Haven, Nicole Burke and Ryan Miller run a 170-acre organic farm, apiary, healing center, retreat and event space called Golden Well Sanctuary. They use their own honey to produce APIS Honey Kombucha and host an on-farm CSA called Green & Gold, which fills their farmstand along with other locally sourced products.
Two events on the summer calendar feature farm-grown produce. A July 6 concert by Indian sitar player and composer Deobrat Mishra will follow a farm-to-table Indian meal with dishes such as kale-coconut saag with mushrooms and a seasonal vegetable curry.
On July 28, a tubing and taco fiesta calls for drifting lazily down the New Haven River until music pulls you to the shores of Golden Well. There, attendees will find a taco feast of veggies or local beef wrapped in local corn tortillas from All Souls Tortilleria in Burlington. They can kick back and relax with a cup of honey kombucha or the Otter Creek Brewery and tortilleria collaboration, All Souls Lager. That crisp, summery beer is made with the tortilla maker's organic hominy.