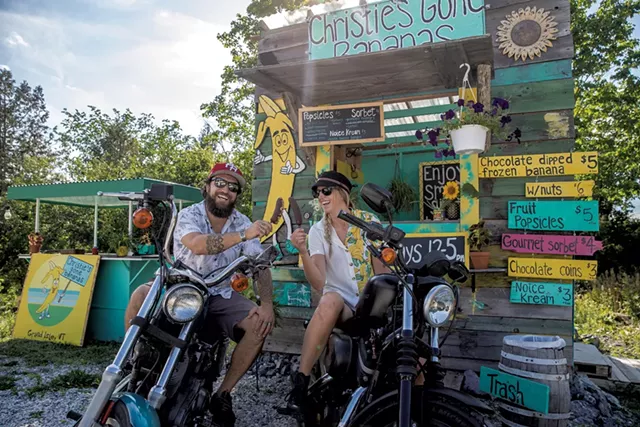 James Buck
Christie and Matt Farkas of Christie's Gone Bananas
Vegan creemees and frozen bananas and sheep's milk gelato — oh, my! When the mercury rises, there's nothing better than digging into an ice-cold treat. And while the state is full of roadside creemee stands and windows for scoops, the landscape of frozen desserts has evolved to include more and more creative confections.
This year in particular, Vermont's ice cream scene isn't frozen in time. Beyond experimenting with ingredients such as CBD and nondairy offerings, these businesses are adapting to the reality of COVID-19. They've changed where and how they sell their products: adding doors and restricting hours at honor stands, transforming into drive-throughs, and driving to the people. We sampled seven frosty treats and explored the innovative ways their producers are keeping us cool this summer.
— J.B.
Cantaloupe Blues
Adam's Berry Farm, 985 Bingham Brook Road, Charlotte, 578-9093
Courtesy Of Adam's Berry Farm
Adam's Berry Farm popsicles: blueberry-strawberry-peach, blueberry-lime and cantaloupe-raspberry-mint
In the summer of COVID-19, heartbreak is relative. Driving 13 miles for a cantaloupe-mint popsicle and finding none in the freezer lands on the mild side of the scale.
I felt this sting on a sultry day in late June when I drove to Adam's Berry Farm in Charlotte to load up on berries and popsicles. Among the array of flavors, along with blueberry-lime, strawberry-lemon and blueberry-strawberry-peach, is a cantaloupe-mint popsicle studded with raspberries.
When I'd tried the cantaloupe flavor earlier in June, I swooned. The pale orange treat is the gustatory equivalent of a head turner, possessing a subtle and sublime flavor unlike any popsicle I've had. My daughter agreed: "This is really, really good!"
When I returned for more, Adam's was out of cantaloupe pops. (They'll be back soon, farmer and owner Adam Hausmann assured me.) Still, the five-pound bag of ice in the back of our car didn't go to waste: We used it to bring home a variety of other flavors.
Hausmann's partner, Jessica Sanford, conceived of the cantaloupe treats as a way to use melons the farm grew but had no market for, Hausmann said. "We have mint, we have cantaloupe, we have raspberries," he said, explaining her thinking. "Let's put all this together." The berries and mint in the pops are also grown at Adam's, with some melons sourced from other local growers.
This summer, its 19th season, Adam's is not operating its booth at the Burlington Farmers Market, and its pick-your-own business is closed due to safety concerns. But the berries and popsicles are available at local stores and the Charlotte farmstand, where masks are required and one person at a time is permitted in the self-serve barn shop.
During afternoon drizzles or sunsets, we've been sitting on the front stoop and cooling off with a pulpy, not-too-sweet strawberry-lemon popsicle, dyeing our lips red and killing the cantaloupe blues.
— S.P.
Banana Bread and Butter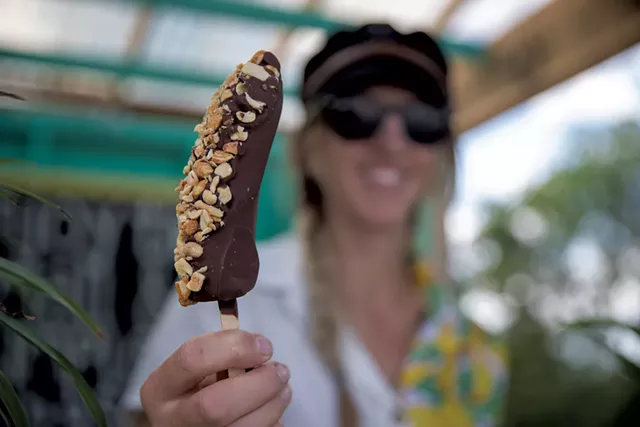 James Buck
Frozen banana from Christie's Gone Bananas
When I wrote about Christie's Gone Bananas last summer, most reader comments said the same thing: "There's always money in the banana stand." That indelible line from "Arrested Development" proved prescient for owners Christie and Matt Farkas this year.
In early March, the couple quit their jobs to run the restaurant at Burlington's ArtsRiot as part of the Riot Squad ownership group. When the sale of the business fell through amid pandemic uncertainty, they found themselves unemployed — and unable to qualify for benefits. The banana stand in their driveway, which they'd put on the back burner, quickly became Christie's full-time job. (Matt was hired by Burlington's ZAFA Wines.)
"We got sidetracked with ArtsRiot, because it was such an amazing thing to be included in," Matt said. "But we could be 85 years old running Christie's Gone Bananas. It's something we can always put on hold; now it's keeping us afloat."
Last summer, the stand generally operated on the honor system. Customers could pull off the islands' main drag, grab a chocolate-covered frozen banana from the cooler, and leave $5 in the cash box.
Now, to ensure safety and social distancing, the Farkases limit their hours to Saturday afternoons. Christie's frozen bananas are also available at Burlington's Deli 126 and CO Cellars.
With people heading to their island homes early this year, the stand has had a busy start to the season. "We've definitely seen a lot more bicyclists coming out and a lot of people visiting the farmstands up here," Christie said.
The menu of frozen bananas, sorbets and seasonal popsicles now includes drinks to quench bikers' thirst and kid-friendly offerings such as banana "coins" dipped in chocolate. Also new is the dairy-free, whipped banana-based Noice Kream.
"It's not ice cream, but it's Noice Kream," Matt explained, putting on his best Vermont accent.
The couple has also started a kids' book club inspired by the summer reading program at Manchester sweet shop Mother Myrick's Confectionery, which Matt remembers from growing up in southern Vermont. "Kids choose a book, read it, and then we're asking them to write to us and we'll send them a coupon for a free banana," said Christie, who developed a passion for handwritten correspondence while working for the U.S. Postal Service.
"Seeing that suffering right now, we feel like there's a joint education opportunity here," Matt said. Saving the USPS and getting kids to read? Noice.
— J.B.
Cream of the Crop
Dairy Creme, 320 State Street, Montpelier, 223-5802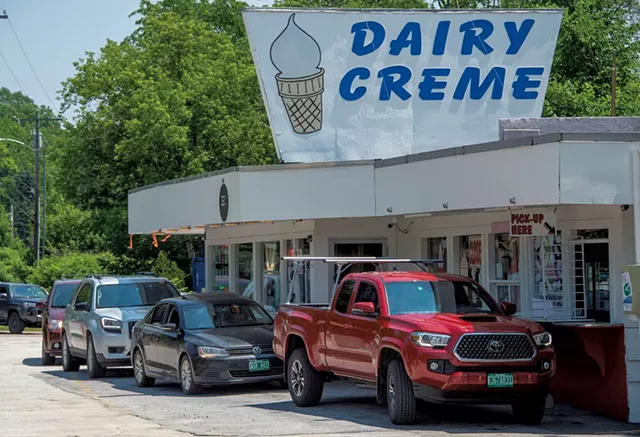 Jeb Wallace-brodeur
Drive-through service at the Dairy Creme in Montpelier
We counted 20 cars in front of us on a Saturday night in late June when we pulled up behind a maroon Chevy at Dairy Creme in Montpelier for a 1950s-style night on the town with 2020 health precautions.
Following red arrows painted on concrete stanchions, we drove in stops and starts to the roadside stand's creemee window. In 20 minutes — one minute per car — we had the goods in hand: a coffee-maple twist and a vanilla blizzard loaded with Reese's Pieces.
This summer, the capital creemee joint is operating as a drive-through, using cars as a physical distancing mechanism. No kids congregate at the counter, and the picnic tables where families used to hang out eating cold creemees and hot mozzarella sticks have been stashed away.
Dairy Creme gets highest marks for its public health measures. Besides staying in their vehicles, customers are instructed not to touch the basket that emerges from the server window, frozen treats within. With our food safely in hand, we drove to Montpelier High School for a parking lot picnic.
Cliff Dodge, who owns Dairy Creme with his wife, Laurie, said the 2020 system requires a little traffic control. He gave props to the local cops for supporting the effort.
The couple, residents of Middlesex, were high school sweethearts at U-32. "I got married to the girl next door and moved down one house," Cliff, 62, said.
The Dodges purchased Dairy Creme, housed in a former A&W restaurant, 24 years ago. Cliff eventually quit his job as a UPS driver to run the business, taking over from the couple's two daughters who wanted to get "real jobs," he said.
Cliff's trips to the roadside spot go back to childhood. About 50 years ago, he delivered the local newspaper by bicycle, riding a route that took him past what was then the A&W.
"I used to eat fries here," he said. "And most of my profit went back into the A&W."
— S.P.
Counting Sheep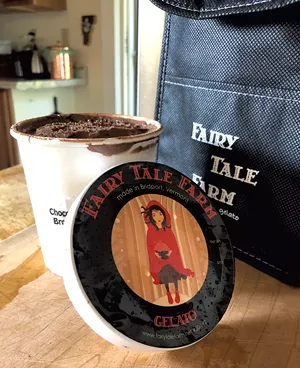 Jordan Barry
Chocolate brownie sheep's milk gelato from Fairy Tale Farm
I've eaten ice cream-related products made from oat milk, soy, coconut, banana, you name it — but, until recently, I hadn't experienced a frozen treat made of sheep's milk. Fairy Tale Farm helped me take the leap.
The sheep farm and dairy in Addison County is mostly known for its small-batch artisan cheeses; the Spanish-style, mixed-milk Nuberu and the aged winter tomme-style Tomte are farmers market and co-op staples. For the past year, though, the farmers have also been selling sheep's milk gelato at local markets.
Fairy Tale Farm's gelato fits right into the seasonal ethos expected of farmers market vendors. In addition to a chocolate line, the farmers have developed flavors using locally sourced fruit, including Vermont raspberry, mulberry-mint and a popular blueberry-merlot. Nut-based flavors such as pistachio and maple-pecan are in the works.
Like any gelato, Fairy Tale Farm's is denser than ice cream. While sheep's milk is higher in fat than other dairy products, the farm's gelato recipe contains no additional cream, so the final product has a lower total fat content than most gelati.
This year's regulations eliminating sampling at farmers markets have posed a challenge, owner Alissa Shethar said. Now she has to rely on customers who are willing to commit to a pint of the product without trying it first.
"Sampling was such a huge part of what we did at the market," Shethar said. "Now we just stand there."
Still, sales at the weekly Richmond and Burlington farmers markets have picked up, she said. For some customers eager to partake, the lack of single-serving scoops is no barrier. "Sometimes, when I hand people a pint, they'll ask for a spoon," Shethar said with a laugh.
Shethar had hoped to expand the farm's gelato production this year, marketing it to local stores and co-ops, but "Now's not a good time to market anything," she said.
At the Richmond Farmers Market on Friday, the flavors were a chocolate lover's dream: chocolate caramel, fudge ripple, brownie, plain chocolate. I went for the chocolate brownie ($9 a pint) and was thrilled to learn it came with a pint-size insulated tote.
If the speed at which I ate my pint is any indication, there's no reason for customers to be sheepish about giving this gelato a try.
— J.B.
A Perfect Window
Honey Road, 156 Church Street (window on Main Street), 497-2145
Melissa Pasanen
Dana Parseliti of Honey Road with a tahini sundae
The increasing bustle of downtown Burlington prompted the team at popular Eastern Mediterranean restaurant Honey Road to consider their next step. The restaurant will keep offering the online takeout menu it launched on March 19 but has no plans for seated dining.
"We thought it would be nice if people could just walk up and order," chef/co-owner Cara Chigazola Tobin said.
So, on June 12, Honey Road opened a quick-service window. The tall, double-sashed window on Main Street has a sill just wide enough to hold a spray bottle of sanitizer and other pandemic-era necessities.
"The window's always been there, but we've never thought twice about it," Chigazola Tobin said. "It's a perfect window for what we're doing."
The quick-service menu features some of the restaurant's savory favorites, such as dips, salads and shawarma. But it's especially perfect for instant gratification, which is delivered by the frosty creations of pastry chef Amanda Wildermuth.
Wildermuth's tahini ice cream bars have earned a cult following. The current version is one chunky bar, rather than the original smaller pair. Rich tahini ice cream is sandwiched around a chewy layer of salted peanut caramel, and the whole thing is bathed in dark chocolate.
"It's like a Klondike bar," Chigazola Tobin said — but one that has matured from a promising youngster into a sophisticated, well-traveled adult.
The tahini ice cream also stars in a sundae drizzled with caramel and showered with shards of halvah, the Middle Eastern candy made from ground sesame seeds.
Single-serve cups hold a rotating menu of Wildermuth's other inspired ice creams, sorbets and frozen yogurt. A recent selection included delightfully tart sorbet made with rhubarb, lime and cardamom and creamy honey-lemon-saffron frozen yogurt.
Also on offer are frozen drinks such as "frosé," or rosé wine blended with juices and syrups, such as grapefruit, rhubarb and orange blossom. They give Chigazola Tobin a chance to use the slushy machine she's had in a closet for three years: "I pulled it out and thought, Finally, this is the time."
— M.P.
Truck It
Jordan Barry
The Lake Champlain Chocolates ice cream truck serving up a Benefit Batch at Waterfront Park
The Lake Champlain Chocolates ice cream truck isn't the traditional kind that circles the streets blasting a repetitive jingle. But that hasn't stopped it from heading out into neighborhoods this summer.
The company now offers "neighborhood pop-ups" in greater Burlington. All residents need to do to schedule a visit from the mobile scoop shop is let their neighbors know it's coming and help find a good parking spot.
"You spread the word; we'll bring the fun," Lake Champlain Chocolates' Meghan Fitzpatrick said. So far, posts on Front Porch Forum, flyers and good ol' word-of-mouth have led to successful evenings of scooping cones and sharing safe neighborly camaraderie.
There's no cost to book the truck; customers simply pay for the ice cream they buy. They're asked to wear masks when ordering and practice social distancing; many take their cones back to their front porches to enjoy.
The pop-ups weren't in the original plan for the ice cream truck's third season, which had a packed schedule of festivals and events. With those canceled, Fitzpatrick said the pop-ups have helped increase local awareness of the chocolate company's small-batch ice cream, which is also available at its three retail locations. The Pine Street Factory Store will have a takeout ice cream window later this month.
"The pop-ups have been a great way to get the word out that we have a truck and that we sell ice cream," Fitzpatrick said. "And the neighborhoods we've gone to have been thrilled; it's a way to gather and socialize in a safe way."
Lake Champlain Chocolates makes its ice cream using Kingdom Creamery of Vermont's base in a small-batch machine at its Williston production space. The Belgian chocolate is quintessential, of course, but less obvious flavors such as salted caramel and maple butter pecan are equally decadent. A recent Benefit Batch incorporated crème fraîche from Vermont Creamery and raised money for the Vermont Foodbank.
"It's such a classic thing, an ice cream truck," Fitzpatrick said. "To be a little bit more mobile and have more flexibility to get our ice cream to more places has been great."
— J.B.
Chef Meets Creemee
The Mill Market & Deli, 1580 Dorset Street, South Burlington, 862-4602
Melissa Pasanen
Jim McCarthy with a vegan berry creemee at the Mill Market & Deli
The creemee menu at the Mill Market & Deli's seasonal ice cream window has a few uncommon offerings.
New this year, customers can order a vegan seasonal fruit creemee made with oat milk, or the elaborate CB-Dreemee, a chocolate creemee topped with CBD-infused caramel and chocolate sauces and CBD brownie crumbles.
Even the classic maple creemee has the extra touch one might expect from a chef-owned creemee stand. Former Inn at Shelburne Farms executive chef Jim McCarthy, and his wife, Antonia Cavalier, bought the Dorset Street fixture at the end of 2018.
In addition to Vermont maple syrup and the 10-percent-fat Hood creemee base, their very good maple creemee has one unexpected ingredient that few may detect.
"We add a touch of sherry vinegar," McCarthy said. "It just brings a little bit of oakiness that goes really well with the maple."
As for the CB-Dreemee, McCarthy developed that with the assistance of a CBD processor who used to work in the same building. He said the CBD-infused components have a distinct flavor.
McCarthy is trying to stand out in a crowded field. "You know," he said, "we're in the creemee business, and if you're on Instagram you see that everyone's just trying to one-up each other."
The vegan creemee starts with extra creamy oat milk, corn syrup and sugar. Right now, the fresh fruit purée is strawberries with a little orange zest. As the summer goes on, blueberries and peaches will cycle through.
My husband ordered the fruit creemee without noticing it was vegan. He found it less creamy than a regular creemee but refreshingly good, on the sherbet side of the ice cream spectrum. A vegan friend noted approvingly that it reminded her a little of the strawberry layer in Neapolitan ice creams of her childhood.
Personally, if I branch out from my go-to maple creemee, I will try the cider doughnut sundae with housemade cider caramel sauce, Island Homemade Ice Cream's Vermont Maple Walnut, baked oat crumble and a pair of the market's signature cider doughnuts. That should serve to take us into fall.
— M.P.