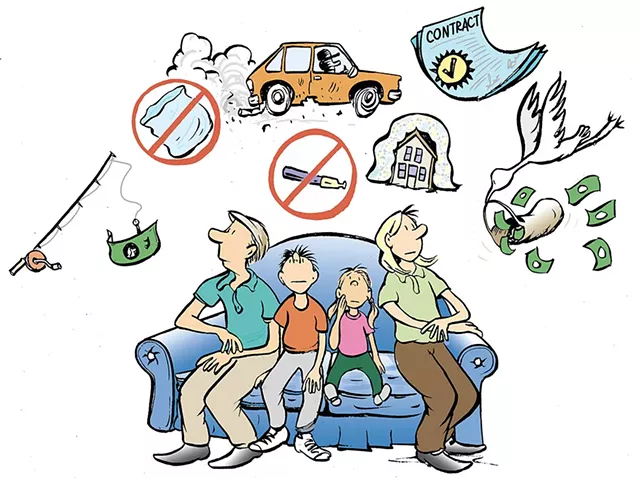 The story of Vermont's 2019 legislative session is what didn't get done. Despite holding veto-proof majorities in the House and Senate, Democratic and Progressive leaders failed to pass several of their top priorities: a higher minimum wage, paid family leave, and a taxed and regulated marijuana marketplace.
But that's not to say they didn't get anything done. Far from it.
According to the legislature's bill-tracking system, the general assembly sent Gov. Phil Scott 86 bills for his signature this year.
Some are pretty minor. Take, for example, H.549, which would dissolve Rutland Fire District No. 10. Stop the presses! Others, such as H.542 —also known as the state budget — include many major programing and funding changes.
Many of these bills have received scant attention from the media (sorry!), but that's not to say that they won't affect your life. Here are seven that you might notice when they take effect, in most cases on July 1.
Note: Several of these bills are still on their way to the governor, so it's possible not all will become law — though Scott isn't expected to veto much this year.
Fees Increased ... By Request
For the first time since Gov. Scott took office two years ago, his administration asked for — and the legislature approved — state fee increases that would affect a wide variety of Vermonters, from family therapists to hunters.
Some advocacy groups took an unusual lobbying approach: Instead of crying foul over a proposed fee hike, Vermont anglers told the Department of Fish & Wildlife that they wanted to pay more in order to save the Salisbury Fish Culture Station.
The hatchery, which has faced budgetary and environmental problems, was slated for closure earlier this year. But Fish & Wildlife Commissioner Louis Porter said the state's hook-and-bullet crowd offered to foot the bill, for now, with a $2 increase in hunting and fishing licenses and a $5 increase in combination licenses.
"Hunting, angling and trapping groups reached out proactively and said, rather than see a reduction in fish stocking, they would support a modest increase in licenses," Porter said, adding that the change should raise about $140,000 in the coming fiscal year.
The legislation, H.527, increases dozens of other fees, including annual registration for all-terrain vehicles ($35 to $45) and licensing fees for real estate brokers ($50 to $100).
— T.D.
Cash for Clunkers
Vermonters whose cars and trucks failed their annual emissions tests used to have a grace period to get the problem sorted out. It was called a conditional permit, and it allowed drivers to keep their vehicles registered and on the road while they fixed the issue.
But the Department of Motor Vehicles stopped offering conditional permits on January 15, leaving many drivers stranded. Some little-noticed language in this year's sprawling transportation bill, H.529, will help get them back in gear.
Concerned about air pollution, Rep. Curt McCormack (D-Burlington) spent the session looking for a way to get more cars repaired. Others, such as Sen. Dick Mazza (D-Grand Isle), sought to simply exempt more vehicles from the requirements.
A late-session compromise between the House and Senate did both.
The deal will grant some Vermonters up to $2,500 toward the cost of fixing certain malfunctioning emissions systems. More vehicles will also be exempted from the emissions requirement altogether. Currently all automobiles built after 1996 have to comply. But starting July 1, only vehicles 16 years old or younger will be required.
Of course, there are caveats. Cars under warranty or worth less than $5,000 don't qualify. And the vouchers are only available to residents who also qualify for the state's Low Income Home Energy Assistance Program. Families with gross household income of less than 185 percent of the poverty level may be eligible.
"It's a balance between affordability and meeting federal air quality standards," said Scott Davidson, chief inspector at the DMV.
— K.M.
No Vaping, Kids
A trio of bills made their way through the legislature without much controversy this year, all designed to bring down the rate of tobacco use in Vermont — especially among young people.
One, S.86, will raise the minimum age to purchase tobacco products from 18 to 21, aligning it with pot possession and alcohol sales. Two other bills were specifically designed to tackle the surge in youth use of e-cigarettes and other vaping products. One, H.47, extends the state's 92 percent tobacco tax to such devices, and the other, H.26, restricts their online retail sale.
Rep. George Till (D-Jericho), a practicing physician, said all three bills share the same goal.
"We really know that if somebody doesn't get addicted to nicotine by the time they're 21, they're most likely not going to get addicted to nicotine, whether it's vaping or traditional tobacco products," he said.
The initiatives aren't expected to be big moneymakers for the state because about half of the new revenue raised by the e-cig tax would be offset by reduced sales to the 18-21 crowd. But that's beside the point, according to Till.
"The idea is to try to keep it out of the hands of 18- to 21-year-olds," he said.
— T.D.
Winter Is Coming
Vermonters hoping to make their homes more energy efficient before winter returns will be heartened to hear that the state's weatherization programs received a multi-million-dollar boost this legislative session.
Such programs help low- and moderate-income homeowners reduce the cost of energy-saving upgrades such as attic insulation and electric heat pumps.
The state is well behind its climate goals of retrofitting 80,000 homes by 2022, having performed only about 26,000 to date. So the legislature voted this year to increase the weatherization budget for Efficiency Vermont, the state utility dedicated to reducing electricity usage, by $2.6 million.
The bill, H.63, should provide enough funding for an additional 1,500 upgrades for moderate-income Vermonters by the end of 2020, according to Efficiency Vermont spokesperson Abby White.
Unlike a separate low-income weatherization program, which is also getting a bump, Efficiency Vermont's program is available to families that make 80 to 140 percent of the median income.
"We know through experience that even customers who don't qualify for the low-income program can find it very challenging to undertake this work," White said.
The incentives average about $1,200 per project but end up saving homeowners an average of $375 per year indefinitely, White said.
— K.M.
Plastic Bags Bagged
Despite the best efforts of industry lobbyists, legislators passed a bill that forbids retail stores from giving plastic bags to customers at checkout and bans the use of Styrofoam carryout containers. Under S.113, restaurants and other businesses could continue to dispense plastic straws — but only by request.
The bill got a significant boost from school kids, who lobbied the legislature about the harms of plastic on the planet.
Manchester fifth-grader Malayla Green put lawmakers' choice in simple terms: "If we don't ban these now, plastic bags will still be around by the time our great-great grandkids die," she told one Senate committee.
Plastic industry lobbyists pointed out that Styrofoam is easier to clean up because it doesn't break down in the environment, and a lobbyist for movie theaters said the legislation might lead to an increase in soda spills, which could result in more slips and falls in dark cinemas.
Lawmakers were largely unswayed by those arguments. And one of the young Vermonters mobilizing behind the policy also had a chance to vote on it: 23-year-old Rep. Patrick Seymour (R-Sutton) broke with the majority of House Republicans and endorsed the policy.
"This is honestly the bare minimum that this legislation could be," he said during the House debate on the bill.
— T.D.
Fair Care
The lack of affordable, quality childcare is often cited as a challenge to raising a family in Vermont — but solutions have proven elusive.
This year, however, state leaders heard from a broad coalition of groups making the case that a crisis was at hand, according to Let's Grow Kids lobbyist Sarah Kenney, whose organization advocates for childcare access.
"Vermonters have been speaking out about what a problem it is, everybody from parents to providers to employers," she said.
The result was that families receiving state support for childcare will get some long-overdue relief. Next year's budget, H.542, increases subsidies to the Childcare Financial Assistance Program by $5.8 million.
For a single parent making $15 per hour with two children in childcare, copays are currently pretty steep: $250 per week. The more generous subsidies approved this session will reduce those copays to an estimated $153 per week, a 38 percent savings.
Kenney estimates that the parents of about 2,700 kids in the state will benefit from the bump, and thousands more may now find childcare within reach. While the increased subsidies are a "big step" toward making childcare more affordable in the state, Kenney said more work is needed.
"The forces all aligned to make this initial investment this year, but there is still universal acknowledgment that this is not going to solve the problem," Kenney said.
— K.M.
Bad Contracts Barred
The phrase "unconscionable terms in standard-form contracts" may not spark political passion, but Sen. Jeanette White (D-Windham) said the need for S.18 became apparent when lawmakers saw a real employment contract for a Vermont-based worker that was, well, unconscionable.
Under the contract, workers had to report an incidence of sexual harassment within six hours; they were allowed a one-minute deposition about their complaint; and all legal actions against the company had to be filed in New Mexico, where the company was headquartered. (White didn't name the company.)
To her and other lawmakers, that wasn't acceptable. Both chambers passed S.18, which sets out a number of "unconscionable terms" that are not legally enforceable in Vermont even if they appear in otherwise legally binding agreements.
The legislation bans contract provisions requiring that legal claims be made in an "inconvenient venue," waive a person's right to sue for punitive damages or put time limits on legal action.
Whether Vermonters are dealing with an employment contract, a cellphone contract or a written agreement to have a driveway plowed, the new law will keep it conscionable.
— T.D.