Photo Illustration
Seven Restaurateurs
For chefs, Valentine's Day means a lot of deuces. That's restaurant lingo for a table for two, the configuration that fills dining rooms on February 14. Oysters, Champagne and chocolate are standard fare, set on a white tablecloth with a candle burning. But a romantic spread can involve much more than those totems. Seven Days asked seven chefs and restaurateurs what a romantic meal means to them — professionally, personally or both.
Robert Barral
Chef-owner, Café Provence, Brandon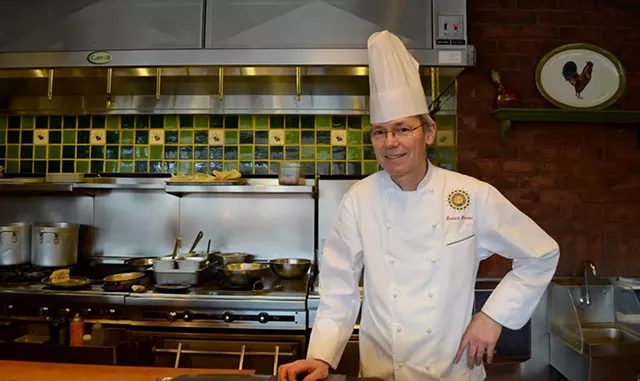 Courtesy
Robert Barrall
A former executive chef at the New England Culinary Institute, Barral offers weekly cooking classes in a space he calls his "culinary theater." The week before Valentine's Day, Barral's teaching menu will include special dishes that people "who want to stay cozy at home" can make for the occasion, he said: homemade cavatelli with red-beet purée and lemon-butter sauce; smoked salmon mousse; and crêpes Suzette with orange-caramel sauce.
Cooking for the customers at Café Provence, Barral tries "to stay within the comfort zone and give people what they like with a little twist, keeping the Valentine's Day spirit alive," he said.
For example, because Barral finds that diners shy away from raw oysters, he'll make a crêpe appetizer with cooked oysters, braised leeks, caramelized onions and a Champagne sauce. His main courses will include seared yellowfin tuna with sesame-ginger-maple-vinaigrette sauce, grilled double lamb chops with garlic mashed potatoes, and lobster out of the shell on red-beet risotto.
And, yes, he'll be at the stove on Valentine's Day. "I cook every lunch and dinner, six days a week," Barral said. "I'm 64 years old, but this job is keeping me young."
Shari Brown
Manager, Blueberry Hill Inn, Goshen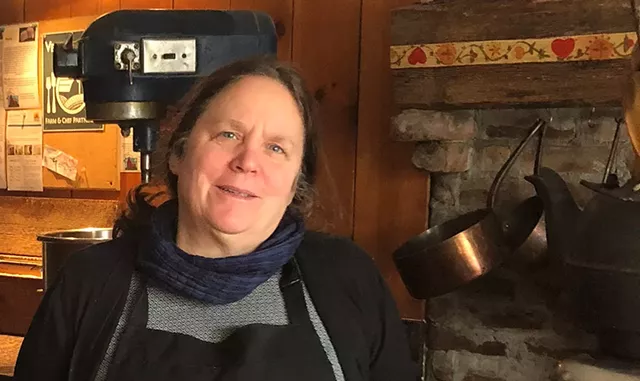 Courtesy
Shari Brown
Brown, 55, shares cooking duties at Blueberry Hill Inn with the owner — her former husband, Tony Clark. She usually does the baking; he prepares the main dishes.
"Is it romantic that my ex-husband and I cook together?" Brown asked with a laugh.
Blueberry Hill will serve a $55 prix fixe dinner on Valentine's Day, but in Brown's mind, the inn offers romance every day.
"When I think of romance up here, I don't think of it in the typical sense that you might think of for Valentine's Day," she said. Instead, Brown thinks of the history of the inn, founded in the 1940s and purchased by Clark in 1967. The inn and network of ski trails sit on a 50-acre plateau property, six miles down a dirt road and surrounded by the Green Mountain National Forest.
"It takes you back to a time that was quieter and less harried — you can make real connections with people [and] the environment," Brown said. As guests share a home-cooked meal and lively conversation at a farm table after a day outdoors, friendships take root.
"It's really quite phenomenal," Brown said. "There's a romance to it. It's a little bit out of people's comfort zones to begin with, but at the end most people are sparkling."
Jackie Major
Executive chef, Butch + Babe's, Burlington
Courtesy
Jackie Major
Romance struck pre-Valentine's Day for Major, 32, when she arrived home from work at about 11:15 on a recent Friday night, and her husband pulled a pot roast from the oven.
"That was the most romantic gesture he could've done for me," Major said. "To make sure I could have a real dinner before I go to bed."
In her household, Major continued, a romantic meal is a meal she doesn't make. "It could be a grilled cheese," she said. "It could be an egg sandwich."
At Butch + Babe's, Major cooks four nights a week and Sunday brunch. If she scarfs down food during her shift, "it's usually over a trash can as quick as I can.
"It's thanks to the men in my life that I eat," Major added. "If my husband doesn't make sure I eat, my crew does."
Case in point: The Saturday night after her pot roast dinner, Major recalled, she stopped to chat before leaving the restaurant. Suddenly, a staff member presented her with her favorite cocktail and her favorite meal: a Negroni and a falafel hot dog.
For couples seeking more exotic romantic fare, Major is creating a Valentine's Day menu inspired by the romantic comedy When Harry Met Sally... It's named for that movie's most famous scene: "I'll Have What She's Having."
George Schenk
Founder and owner, American Flatbread, Waitsfield
File: Jeb Wallace-brodeur
George Schenk
Schenk and his wife, also named George, have been married for 32 years. The American Flatbread founder writes short prose pieces, which he calls "dedications," about food, farming and community. He wrote the following essay, titled "Love and Food," for Seven Days:
Love is perhaps humanity's greatest gift to the world. Although every day it is well worth celebrating Love, Valentine's is certainly its special day, and our best celebrations so often include sharing a good meal with people we love in a place that feels warm and safe.
As for the food, it can be almost anything if made with care and thoughtfulness, but special foods, foods that use delicious ingredients but may be a little expensive for everyday use or take a little more time to prepare, signal the specialness of the day and the kindness of the intent.
As for the place, a candlelit table and a flickering fire always feels safe and warm, but in truth it can be any place: at home, at a friend's, in a restaurant — favorite or new. If at home, maybe turn down the lights, light a few candles, set the table as best you can with cloth and napkins, plates, silverware and glasses ... and, if you are lucky, two roses, one for each heart that made the scary and sometimes hard, but always worthwhile, choice to love.
Bill Snell
Chef-owner, Tourterelle, New Haven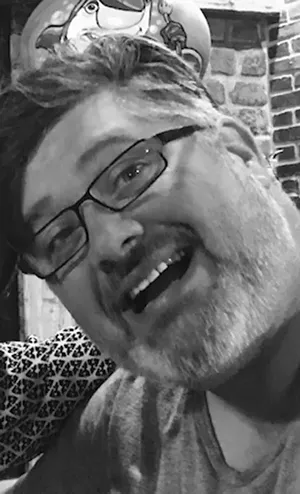 Courtesy
Bill Snell
Snell, 47, owns the French restaurant with his wife, Christine. When he thinks about food and romance, he thinks of the passion he brings to his cooking and his effort to inspire that feeling in diners.
"For a chef, it's about constructing," Snell said. "You're constructing a dish, and you know the components are going to work, but you never really sit down and enjoy the components together. You're building your plate with the passion and the tools that you know how to use, and you want people to feel that in your plate."
In New York, where the Snells owned two restaurants in Brooklyn before moving to Vermont, the couple sometimes got a babysitter for their children on February 15. They went out to eat — not so much to celebrate their love as to mark another Valentine's Day in the books, Snell said.
They'd start with a "tower of oysters." "Oh, man," Snell said, relishing the memory. "I want to say three dozen oysters." Then they'd order tapas-style food, sharing a bottle or two of Sancerre.
"The key is to eat for a long time," Snell said. "And just to relax and drink. Because we're usually exhausted but relieved that we got through it — that we were successful on another Valentine's Day."
Chiuho Duval
Chef-owner, a Single Pebble, Burlington
Courtesy
Chiuho Duval
For Duval, 45, a romantic meal is "planned and thoughtful." It's what she experiences when she comes home from work to find that the table is set, the family is together, "and they actually have dinner prepared," she said.
Her fiancé likes to cook crêpes, and Duval recalled with fondness a family dinner of sweet crêpes with strawberries, bananas, whipped cream and chocolate syrup. "I think it is really touching for me when I walk through the door and see it all planned," she said, "and for him to make the meal."
At a Single Pebble, young couples typically dine together on Valentine's Day. "They're not very adventurous," Duval said; several years ago, she noticed that the kitchen served a lot of fried rice and noodles that night.
Her solution? A prix fixe menu that introduces the restaurant's signature dishes to Valentine's Day diners.
Laura Wade
Co-owner, Misery Loves Co., Winooski
Courtesy Of Paul Sarne
Laura Wade
Wade opened Misery with her brother, Nathaniel Wade, and her husband, Aaron Josinsky, in November 2012. Before that, the trio worked various Burlington restaurant gigs that often had them cooking and serving on Valentine's Day.
One day, the three were sitting around the table when an idea struck. They wanted to create and host a February 14 dinner that deviated from the standard Valentine's Day celebration. They'd "throw out the formula of couples having to eat strawberries and chocolate," Wade said, in favor of a communal event that brought together family members, singles, friends and restaurant people. "It would be more fun," Wade said. They'd call it Misery Loves Co.
The special meal never happened, but Misery Loves Co. did.
"The whole concept of that dinner sort of embodied what we wanted to create in a restaurant," Wade said. "We wanted to do something that wasn't expected or scripted — and that, to me, is what romance should be about."