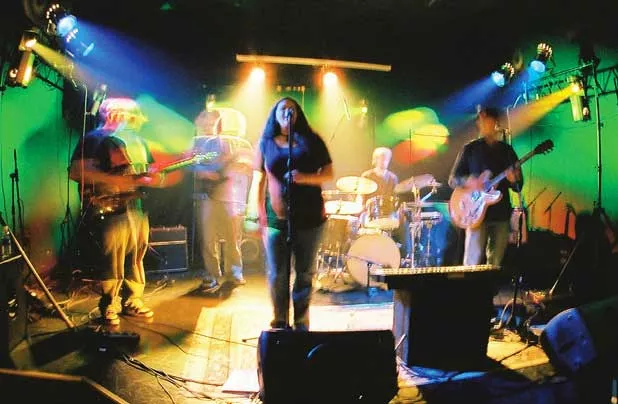 Kentucky's eclectic roots-rock outfit Genuine Junk Band gives new meaning to the term "road warriors." Living in an RV dubbed "HaRVy," the quartet has relocated to Vermont during a month-long residency, Monday nights at Nectar's. But things haven't gone entirely according to plan. From spending all their money getting here to bouncing around Wal-Mart parking lots to "losing" their bassist, it's been a tumultuous introduction to life in the Green Mountains.
Seven Days recently chatted by phone — from the RV, of course — with GJB multi-instrumentalist Nathan Gillum to see how the band is holding up.
SEVEN DAYS: So what is a "junk" band, exactly?
NATHAN GILLUM: I think a lot of people get confused and think that we play "jug"-type instruments, like washboards and stuff, which is totally not what we do. We kind of think of "junk music" as just a big conglomeration of all kinds of different styles. Just a big mix of everything that we like to play.
The name actually originated from an old, broke-down car that I had. And some kids around town called it the "junk-mobile." And somehow that came up when we were talking about band names. At the time we were playing on really bad equipment, so it all just seemed to fit. That's where the name came about.
SD: Are you guys really living out of an RV? In Vermont? In October?
NG: Yes. For the entire month. It's interesting, to say the least. We do have a stove and a sink and a bathroom and beds. So we're set up fairly decent. But, you know, the water supply only lasts for a few days. And when you run out of that, it's kind of, like, "OK, now what do we do?"
It's interesting. You've gotta conserve water, conserve food. Don't take anything for granted, that kind of thing. It's fun, though!
SD: And you "lost" your bassist?
NG: Yeah. I was afraid that I worded that badly. He didn't die or anything. But what happened is that, the weeks leading up to the trip, it just seemed like thing after thing kept piling on top of us. Like, reasons to make us think we should not be going on this trip.
So, two weeks before we were leaving, he decided that he wanted to go back to school, and he has plans on gettin' married . . . so he decided that this lifestyle wasn't for him. So then it was kind of, like, "Well, what do we do now?" So we just said, "Screw it. We're going anyways."
So our guitarist switched from guitar to bass. And without practicing or anything, we played our first show the night we rolled into Nectar's. We were all kind of hesitant about how it was going to go. But we're all loving the new setup. Maybe it's something that happened for a reason.
SD: And you're broke?
NG: It took every bit of our money to get up here.
SD: So . . . aside from all of that, what do you think of our fair state?
NG: We absolutely love it up here. We did a six-week tour back in the summer. And Phish is a big influence on our band, so that kind of sparked our interest in the area. So, we got up here, played a few shows, and just totally fell in love with Vermont. So here we are.
SD: McCain or Obama?
NG: I'm gonna have to say Obama. Of course, I'm not speaking for everybody. We don't discuss politics a whole lot amongst the band. But I'm gonna have to say Obama.
SD: Kentucky is historically a red state. Will you be home in time for the election?
NG: We're definitely making it back home in time to vote. If nothing else, we all definitely know the importance of it. We're definitely planning on that . . . unless we get stuck here.
SD: Well, given your luck . . .