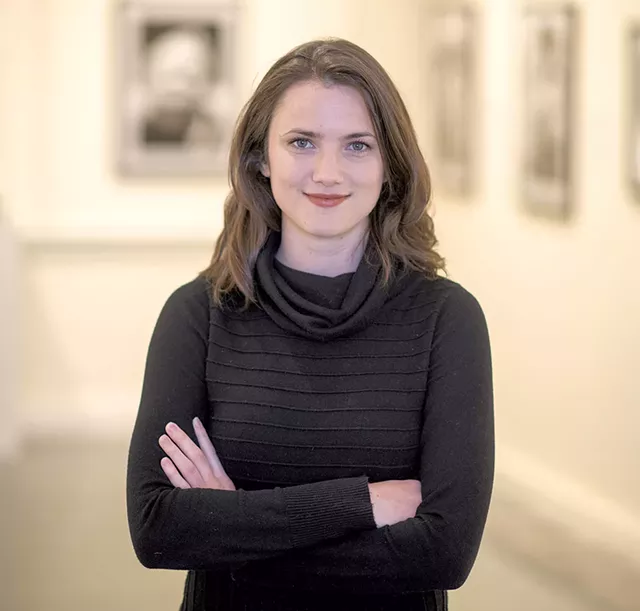 Caleb Kenna
Kathleen Haughey
Two years ago, Kathleen Haughey moved from Rhode Island, where she had completed a master's degree in ethnomusicology at Brown University, to become the education director at Vermont Folklife Center in Middlebury.
During her interview for the position, she felt an immediate chemistry with the institution's longtime co-executive director, Greg Sharrow, Haughey recalled. She came from a family of wheat farmers in Montana; Sharrow wrote his dissertation on folklore related to agricultural practices and farming. They shared the same views on how ethnography — the study of people and cultures — can help people understand one another.
"When I started at the Vermont Folklife Center, I finally found my ideological family," Haughey said.
Haughey, 29, grew up in Montana and attended Pacific Lutheran University in Tacoma, Wash., where she majored in Spanish literature and cello performance. During a semester abroad in Argentina, she developed an interest in the connections between music and culture.
"It was really interesting to learn about the dictatorship and its effect on Argentine culture, history and politics though [artistic] expressions," she explained.
Haughey has been VFC's head since taking over from Sharrow and fellow co-executive director Andy Kolovos about seven months ago.* "It is equal parts an honor and terrifying," she said. "I feel supported, and I also feel I have the freedom to take the folklife center in a new direction."
Besides working her full-time job, Haughey is still completing her PhD at Brown. She plans to finish her dissertation on Bhutanese musicians by spring 2019.
Seven Days caught up with Haughey to learn more about her vision for VFC's future.
SEVEN DAYS: What has it been like easing into your new position?
KATHLEEN HAUGHEY: It's really exciting to be a woman and a leader right now, because I get to be around other really inspiring women who are leading their fields. I don't have a lot of experience being a leader in a formal, professional space. And so I'm making it up as I go along. I'm also watching a lot of role models.
There are so many ways to be a leader. I'm more quiet and not a traditional leader, in the sense that [I don't dictate] things. I'm trying to foster a collaborative environment in which people feel they have [the reins] of their own program and the autonomy to make creative decisions.
SD: What's the most difficult part of your new role?
KH: Being able to raise enough money to keep the organization going, and the tension that comes with that work and the other core to my job: talking to people, recording and sustaining culture. It's about having to choose [between] the work that needs to be done to financially sustain the operation and the work that's moving us forward.
SD: Who are the people keen on documenting their history?
KH: Most people are interested in sustaining something about their own identity, whether it's their family's legacy or the history of their town. Most people are not only interested in that but also [in] reflecting on where they've come from, who they are and where they're going. So I think it just takes a certain person or a certain experience for people to realize that they can actually do that.
SD: Who are some of the people you've met while documenting social history and doing fieldwork in Vermont?
KH: Vietnam veterans. I met a woman whose father had a very successful career in academia and also has interesting family stories, and she wanted me to interview him. She just wants to be able to have that record for her family.
I'm also doing my own research for my dissertation on Nepali Bhutanese musicians, so I do a lot of interviews with musicians in that community. I've spoken to a lot of farmers, especially in the Rutland area, where there's a farming renaissance. A lot of older farmers who've been around for a while are mentoring new, younger farmers.
SD: The center has many projects, such as publishing comics about undocumented migrant farmers and supporting immigrant musicians. These might not necessarily seem to typify "Vermont folklife." Have changing demographics led the center to alter its mission?
KH: The way in which folklore is a practice and academic discipline has evolved. People often think it's old white people doing white-people things. But, over the years, the field, folklorists and even ethnomusicologists have opened up their lens. Now, folklife is just the way of life in any community.
We're interested in everything happening in Vermont, and not just the old things that we think we need to save. We're interested in what's happening right now, how the past and the present can inform the future. The [goal] within Vermont is to make Vermonters more visible to one another. We're just trying to draw attention to the more unexamined parts of life. Greg says we're trying to point out the extraordinary and the ordinary.
SD: Tell us more about the monthly podcast you're working on, and when it will launch.
KH: It's going to feature content from our archives. Our archives stem back to the late 1800s. We have some stories about things happening in Vermont then. We also have stories about things happening now. The core of [the podcast] is to showcase the type of storytelling that we do. [It will launch], if not by the end of this year, then very early in 2018.
SD: What are your goals for the folklife center?
KH: In addition to making Vermonters more visible to one another, [we want to] make the folklife center more visible to Vermonters. We need to be more present in different parts of the state. Our multimedia initiative is to get our own content out into the world and engage with people through exhibits, podcasts, documentaries or photography. [We also want to] sustain the diverse cultures of Vermont, continue our education program, continue to evolve all of our programs and digitize our archive.
*Correction, December 6, 2017: An earlier version of this story did not reflect Andy Kolovos' previous role as co-executive director of the Vermont Folklife Center. The story has also been updated to clarify the subject matter of Greg Sharrow's dissertation.