James Buck
Drinks by the fireplace at Juniper
Grey Aiken is the fire starter and tender at Philo Ridge Farm in Charlotte, where he builds a blaze every morning in the fireplace of the common room that adjoins the farm market.
Aiken, 47, uses a mix of hardwoods — oak, maple and ash — that come to the farm in 16-foot logs. He cuts the logs into 23-inch sections, then splits the lengths into wedges that dry for at least two years. The aged wood, Aiken said, produces a cleaner burn and minimizes the amount of creosote that can build up in the chimney.
Aiken likes a low-wind (or no-wind) morning for starting a fire, which he builds from balled-up newspaper, kindling, and three or four logs. The lit newspaper ignites the kindling, which in turn fires the logs. The fireplace at Philo Ridge burns about seven logs an hour, he said.
"I find that the fire draws people together," Aiken continued. "It provides warmth and aesthetics and creates great conversation. I like the noise and the crackling of the fire. And it creates an aroma in the room."
Last week, morning story time at the fireplace drew babies, kids, parents and a grandmother. "It's cozy," said Erin Just of Charlotte, who sat by the fire with her 3-month-old twins. "And it's a fire I don't have to build."
Asher Kent, 5, of Charlotte, shared a fireside chair with his sister and listened to storybooks being read aloud. After snacking on a piece of pound cake, he told Seven Days that if he could eat one thing by a fireplace, it would be meatballs.
"They're hot," Asher said. "Like a fireplace."
As winter takes hold of Vermont, there's something special and alluring about eating near a warm fire. Area restaurants have gas fireplaces and even TV screens broadcasting a blaze, but a wood-burning fireplace is worth seeking out.
Seven Days checked out seven places to dine and drink by a fireplace. We ate oysters and chicken wings, s'mores and a spiked root beer float. Our fireside meals moved from breakfast to an after-dinner cocktail, but not one included meatballs.
— S.P.
716 Pine Street, Burlington, 489-5102
Courtesy Of Katie Palatucci
The Great Northern fireplace
On a recent morning, Paul Sayler, brewmaster at Zero Gravity Craft Brewery, finished his breakfast at the Great Northern — a bowl of granola, yogurt, fruit and honey — and offered a recommendation for my morning meal.
Egg and cheese on a biscuit with bacon, Sayler, 57, suggested. "I've eaten way too many of them," he said with a laugh. (This could explain his granola deviation.) Before heading back to the brewery that's next door to the Great Northern, Sayler also advised me on condiments for the sandwich, recommending a two-sauce combo of Sriracha and Cholula Hot Sauce.
I did as directed and ordered the egg and cheddar biscuit with my latte. Then I took a seat by the fireplace, unlit on the gray November morning, and imagined flames in place of the faded flowers and gourds that decorated the hearth.
This imagining was easy to do, as I've sat by the fireplace at the Great Northern on several occasions when logs were aflame. The stone structure, with a mantelpiece made from repurposed telephone poles, anchors an area of the dining room that Sayler called the "conversation pit."
The space features a supersize inglenook and a pergola with a chevron design. (If there's no fire to gaze at, look up.) A set of small tables is arrayed before the hearth, each one just the right size for a breakfast sandwich, a latte, a bottle of water and a table setting. Mine was dead center, facing the fireplace.
The conversation pit was quiet that morning, which suited me fine. I sipped my latte and listened to Wilco until my sandwich was served. The bacon fell over the edge of the flaky biscuit; the egg, capped by melted cheese, held its form. I lingered over another cup of coffee.
Last Thursday, two days after my breakfast, the Great Northern lit its first fire of the season. During winter and its approach, the South End fireplace can be aglow all the way from morning coffee through after-dinner drinks. It's worthy of a place named after the majestic rustic lodge in the TV show "Twin Peaks."
— S.P.
3629 Ethan Allen Highway, New Haven, 453-6309
Jordan Barry
Oyster night at Tourterelle
The list of must-haves for a Vermont inn is pretty well established at this point: It should be cozy, inviting and rustic, with a scattering of antiques and a crackling fireplace emitting a warm, welcoming glow.
Tourterelle, the hilltop inn and restaurant on Route 7 in New Haven, checks all the boxes. Beyond that list, the atmosphere — and the menu — has a French accent, inspired by co-owner Christine Snell's childhood in Brittany. Chef and co-owner (and Christine's husband) Bill Snell has crafted a menu of classic French dishes using ingredients sourced from area farms, including pork from Ferrisburgh in the pâté and beef from Boyden Farm for the steak frites.
When I saw that Tourterelle offers a $1 oyster night every Wednesday, I figured it would be a safe bet given the Breton connection. Bivalves are ubiquitous in the coastal region of France, and they're a great way to set the mood for a classic French meal.
Tourterelle serves Malpeque oysters, sourced from Malpeque Bay in Prince Edward Island, Canada. Malpeques are among the most common oysters at restaurants and raw bars; they won the top prize at the World's International Exposition in Paris in 1900 and have been considered among the world's tastiest ever since.
My order of six oysters arrived on a bowl of ice, expertly prepared and served with a shallot mignonette. The Malpeques were briny but clean-tasting, reflecting the pristine Atlantic waters whence they came.
The dollar deal lasts for only an hour on Wednesdays (from 5:30 to 6:30 p.m.), but it seemed to draw a fair number of early diners. Tables around the main dining room ordered rounds of oysters — half a dozen to start, then maybe half a dozen more — as the fire crackled in the stone fireplace, warming and brightening the whole room as twilight turned to all-too-early darkness.
If you find yourself at Tourterelle outside oyster hour, the menu lists an appetizer that takes the classic up a notch: Quatre Huitres offers four hand-selected Malpeques with shallot mignonette and tobiko. It's slightly more spendy at $14 but still perfect for slurping.
— J.B.
160 Bank Street, Burlington, 859-0888
Jordan Barry
Chicken wings at the Farmhouse Tap & Grill
Allow me to let you in on a little secret: The Parlor — the speakeasy-style basement bar you'll find behind an unmarked door in the entrance hallway of the Farmhouse Tap & Grill — has a fireplace. Not only that, but the full Farmhouse menu is available in the Parlor, and the tables are first come, first served.
On a recent Saturday evening, the upstairs wait was more than two hours. Downstairs? All it took was a little hovering. (Apologies to the group I stalked; I saw the server take your ketchup caddy and banked on the fact that you weren't getting dessert.)
Having successfully snagged a repurposed church pew in front of the roaring fire, I pored over the extensive draft list. The Farmhouse is synonymous with beer and burgers. So, of course, I ordered a cocktail and chicken wings.
Flannel Weather seemed apropos for fireside sipping; the menu called it "warming, soft, elegant." I chuckled, thinking of the Vermont phenomenon of wearing flannel as formal wear. But the combination of Nardini amaro, sweet vermouth, verjus, rosemary and rose water was obviously the eleganza, not the dubiously dressy plaid.
The herbal, fruity notes of Nardini — an Italian amaro made with bitter orange, gentian and peppermint — played perfectly with the sweetness of the vermouth, the savory rosemary and the floral rose water. Between the cocktail and the fire, "warming" was an understatement.
If I'd been on autopilot, I would have ordered the classic beef burger, but in the flickering light of the fireplace, the barbecue dry-rubbed chicken wings with Bayley Hazen Blue cheese dressing caught my eye. The six huge wings were thoroughly coated with a dry rub that made them taste like they'd been Shake 'n Baked in a bag of Honey Nut Cheerios crumbs — but in a good way. I had a nostalgic moment, both for Shake 'n Bake and for breakfast — and asked my server if I'd figured out the secret ingredient.
"No," she said. "But you're not the first person to guess that." Perhaps the wings will make their way to the brunch menu.
— J.B.
275 Main Street, Warren, 496-6350
Jordan Barry
Duck cassoulet at Tracks
I thought I'd be safe showing up at the Pitcher Inn without a reservation during stick season, when the crowds of skiers are waiting to take their cue from the snow before descending on the Mad River Valley. I was wrong, but also lucky.
The upstairs main dining room, an elegant fine-dining experience, was full when I arrived. Thankfully, the more casual Tracks downstairs had room at the bar. Tracks feels like the living room of a classic Vermont ski lodge — complete, of course, with a massive stone fireplace.
As I ordered a beer from Hill Farmstead Brewery, the conversation at the bar was about woolly bear caterpillars and their ability to predict winter weather. In a mountain town with a snow-reliant economy, I wasn't surprised to hear that this Farmer's Almanac folklore was well known. "I saw a woolly bear that was almost totally black," one local said. "It's going to be a snowy one."
Diners downstairs can order from the pub grub-style Tracks menu (think burgers, fish and chips, and mac and cheese) or from the full menu of the dining room upstairs. Imagining the long winter ahead, I went for the duck confit cassoulet. The rich stew of beans, pearl onions and whole baby carrots had a piece of duck on top with crispy skin that yielded to fork-tender meat.
The Pitcher Inn recently hired Jacob Ennis as its executive chef, and he's already making an impact. According to the inn's blog, Ennis purchased an entire flock of Vermont-raised Pekin ducks over the summer. The ducks were raised organically and fed a rich diet that includes spent grain from Waitsfield's Lawson's Finest Liquids. If the cassoulet is any indication, they were a good investment.
— J.B.
294 Mountain Road, Stowe, 760-6066
Jordan Barry
Root beer float with fernet at Doc Ponds
Stopping at Doc Ponds for a meal is like showing up at a really great party; the music is spot-on, cans of Bud Heavy and glasses of Wunderkammer Bier cover the tables in equal measure, and everybody's having a blast.
That vibe was at its peak on a recent Sunday night. The second I sat down, a ruckus bellowed out of the kitchen — somebody had bought the staff a round, and they were banging on sheet trays to express their appreciation.
In the restaurant's lower-level dining room, lounge-like seating, a vintage rug and stacks of logs ready to be thrown on the fire keep up Doc's house party feeling. Going with a group is the best way to guarantee a fireside seat; the table directly in front of the stone fireplace seats eight.
The menu fits the atmosphere of an unpretentious local hangout and post-ski destination. Chips and dip, old-school calamari, and a damn good burger are all solid choices for eating by the fire. The best move I made, though, didn't involve the meal itself. It was choosing a dessert that might seem out of season in a fireside setting: a root beer float.
Made with Rookie's Root Beer and vanilla ice cream, Doc Ponds' float is a Vermont take on the old soda-jerk treat. I'm a sucker for fernet — the bitter, mentholated, almost cough-syrupy amaro — and the menu offers it as an addition to the float. Doc's orders, right?
I propped the float on the edge of the fireplace to snap a photo, pausing for a second to watch the ice cream melt into the combo of root beer and fernet. It was a good metaphor for November: Stuck between two seasons, I held on to the flavors of summer even as I succumbed to the inevitability of winter's chill.
— J.B.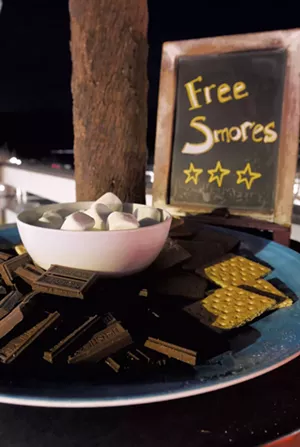 Jeb Wallace-Brodeur
Fixins for s'mores at Zenbarn
179 Guptil Road, Waterbury Center, 244-8134
The band played "Fire on the Mountain" on the stage last week at Zenbarn as a fire burned outside in the bright red "s'mores station." This is the name that Zenbarn co-owner Noah Fishman, 37, has given to the restaurant's outdoor fireplace.
Doing justice to this moniker, the Waterbury bar/music club/restaurant/wellness center treated customers to make-your-own s'mores at its weekly Grateful Dead cover show. On the patio by the fire, Zenbarn staff set out chocolate bars, graham crackers and marshmallows, along with a container of wooden skewers for roasting.
Those ingredients lured me into eating dessert outside before dinner. The night was cold and the stars bright when I knelt at the flames to make my s'more. I got sticky eating it and talked to a couple of blaze-staring patrons about the appeal of fire.
"It creates an outdoor space that's for congregating," said Rob Colbert, 53, an architect from Waterbury Center. "I come for the music, and I'm drawn to the fire to see who's hanging out."
After my fireside chat, a friend and I went inside and staked out seats at the bar for a set of songs from another lifetime and a 420 Burger firmly rooted in this one. In that other life, pot was pot, and CBD — the 420's special ingredient — was decades away from trending.
The meal is high — literally — with fat onion rings stacked on the cheeseburger between the halves of the CBD-buttered bun. We were feeling good, eating in time to the band, Sugar Shack, as they covered the tunes of Jerry and Phil et al., and watching dancers in tie-dyed clothing.
We took our nightcap — a creamy maple liqueur — outside and pulled up a chair at the s'mores station to roast another round. Clouds had rolled in; the band was winding down. We caught the last song, Little Feat's "Willin'," and hit the highway home.
Look for CBD marshmallows in future fixings at the s'mores station.
— S.P.
41 Cherry Street, Burlington, 651-5027
In Hotel Vermont's lounge, Juniper, on my fourth fireplace hangout in four days, I listened to singer-songwriter Eric George and drank a Negroni. After singing a few Neil Young songs, George covered a Beatles tune, "All My Loving." Then he asked for requests.
Thinking of fire and the Beatles, I asked if he'd play "Norwegian Wood (This Bird Has Flown)." He obliged. Suddenly, my week at fireplaces began to make sense: flames, loss, beauty, heat. John Lennon said it all in his 1965 song on Rubber Soul.
George played his next song, also from Rubber Soul; I took a bite of chocolate cake and another sip of my drink. The pairing of rich, dark cake and brown, earthy spirits (the Negroni was made with Caledonia Spirits' Tom Cat Gin) was both a harbinger of winter and an antidote to it.
Across the room, a 6-month-old Australian shepherd named Growler lay down and closed his eyes. (Yes, there was a dog in the lounge.) At the mic, George was in a Beatles groove and a dog groove, too. (He howled and barked a bit.) Near the end of his show, after treating us to a new original called "Don't Land on Me,'' he sang "I'm So Tired."
Earlier in his Friday night gig, on a set break, I had talked with George about playing music in a room with a fire. He said he likes to look at the blaze.
"In the same way that a fireplace creates the feeling of a living presence in a space, playing music around a fire creates a sense of the music being alive in a different way," the 29-year-old Burlington musician told me.
He went on to say that the fun of performing comes from "figuring out a way to engage in the activity of having no thought." Since he was kid, George said, looking at a fire has been his favorite way to do that.
When his show was over, a spot opened up on the hearthstone and I moved there, inches from the fire. I watched the flames die and thought about what George had said. Another log, a burst of fire, and I'd be thinking of nothing.
— S.P.