Journalists these days can easily file their stories thousands of miles away from their employers. That may be why Vermont has become a haven for its share of professional newshounds — both the semiretired and the still working. After all, when you're given a choice of living in a pricey, one-bedroom walk-up in New York City or in a converted farmhouse a short drive from the best skiing in the Northeast — or in your Vermont hometown — the decision is a no-brainer.
While limited space prevents us from including all of them, here are brief profiles of seven professional journalists who have broken major stories for some of the nation's most prestigious news outlets and who call Vermont home.
Barrie Dunsmore
Arguably Vermont's most recognized name in broadcast journalism, the retired ABC News correspondent, now 73, spent three decades covering U.S. foreign policy from more than 100 countries. Dunsmore's career spanned seven U.S. presidents, from Lyndon Johnson to Bill Clinton, though he says he was never on the campaign trail with any of them. Dunsmore rode with Israeli forces when they captured the Suez Canal from Egypt in 1967, and traveled with president Jimmy Carter when he cemented the Israel-Egypt peace treaty in 1979. He covered the fall of South Vietnam in 1975, conducted the first American television interview with Egyptian president Anwar Sadat and accompanied three former U.S. presidents when they attended Sadat's funeral. Dunsmore's biggest international scoop came in 1979, when he announced to the world that Soviet forces had invaded Afghanistan.
Dunsmore got his introduction to Vermont in the 1970s, with a vacation at Jay Peak. In the '80s, he and his wife, Whitney Taylor, bought a place there and visited from their London residence whenever they could. Following his retirement in 1995, the couple purchased a house in Charlotte so Taylor could work as a Chittenden County public defender. Dunsmore still writes a Sunday column for the Rutland Herald/Barre Montpelier Times Argus and does biweekly commentaries for Vermont Public Radio. He has authored a collection of essays, There and Back: Commentary by a Former Foreign Correspondent.
K.P.
Bill Arkin
An investigative reporter who writes for the Washington Post and who's domiciled in the tiny Windsor County hamlet of South Pomfret would have to be a paradoxical kind of guy. Sure enough, reporting on top-secret U.S. spy installations from a home without cellphone coverage is only one of many apparent contradictions Bill Arkin embodies but manages to reconcile.
Since 1993, the 56-year-old Manhattan native has lived in an old house near the Suicide Six ski area. He loves being in cities, though. A former intelligence analyst for the U.S. Army, Arkin later initiated Greenpeace's Nuclear Free Seas campaign and worked for the Institute for Policy Studies, a left-wing think tank. Arkin describes himself as both a mainstream journalist and an advocate of progressive causes. And, while he worries about the possible emergence of a police state in America, Arkin says he retains a lot of faith in American democracy.
K.J.K.
Tom Powers
Powers is an author and journalist who won a Pulitzer Prize in 1971 for his reporting on 1960s Weatherman radical Diana Oughton, who was killed when she accidentally detonated a bomb in a Greenwich Village townhouse. Over his 40-year career, Powers has written for numerous publications, including the New York Review of Books, the Atlantic, the Los Angeles Times, the New York Times Book Review, Harper's,, the Nation, Commonweal and Rolling Stone.
Born in New York in 1940, Powers married in 1965 and moved to Italy. There he spent two years writing for an English-language newspaper, the Rome Daily American, which, unbeknownst to the newspaper's staff, was owned by the Central Intelligence Agency. After returning to New York City in 1967, Powers spent several years reporting for the wire service United Press International on various subjects, including NYC's antiwar movement. He covered the 1968 takeover of a Columbia University building by Students for a Democratic Society.
In 1971, Powers left UPI to become a freelance writer. He has since penned nine books, including several on the history of intelligence organizations. Powers moved to South Royalton in 1982 with his wife and three daughters; they built a house on a family farm his parents bought in 1938.
K.P.
Steve Benen
In the 10 years since he started blogging about national politics, Benen's audience has grown exponentially, but his workplace remains the same: a quiet home in Essex Junction. "I could do what I do if I was sitting in an office on K Street in Washington, D.C., or I can do it from my home office in Essex Junction," he says. "Nobody cares where I am."
Founder of the seminal, left-leaning blog the Carpetbagger Report, Benen, 39, took his prolific reporting and commentary to the ashington Monthly in 2008, then to MSNBC's "The Rachel Maddow Show" in January 2012. A producer for the show and an MSNBC contributor, Benen occasionally writes scripts and produces segments — but the bulk of his work is feeding the Maddow Blog with his signature posts. In the year since he joined Maddow, Benen says he's shown his face at 30 Rockefeller Center, where the show is produced, just twice. "One of my colleagues joked not too long ago that I remind them of Batman," he says. "I'm rarely seen. I live in an isolated place. No one knows what I look like."
P.H.
James Bandler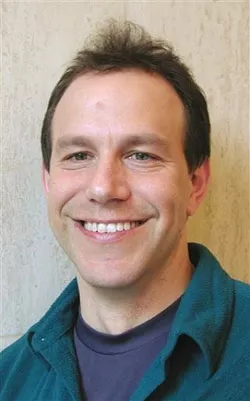 Bandler first made a name for himself at the Wall Street Journal, where he was part of a Pulitzer Prize-winning team that in 2006 uncovered the widespread practice of backdating stock options for corporate chieftains. When Fortune magazine wooed him away from the Journal in 2008 to serve as its editor-at-large, Bandler made one thing clear: He wanted to move from the Boston suburbs back to Vermont, where he had launched his journalism career at the Rutland Herald. "They were cool with it, as long as there was an internet connection and I could get to the airport or the city," Bandler says.
Today, the 45-year old New York City native lives in Norwich and works out of a White River Junction building that also houses cartoonists' studios, the Windsor County state's attorney's office and Northern Stage theater. "It gets me out of the house, so I'm not living out of the refrigerator," Bandler says. The location also requires the occasional explanation to phone interviewees when they hear a train rumbling by his window or, say, "the cackling in the next room of the Wicked Witch of the West" during a Northern Stage rehearsal.
P.H.
Sue Halpern
Halpern, a writer, editor and teacher, lives in Ripton with her husband, writer and activist Bill McKibben. She serves as a scholar-in-residence at Middlebury College, where she runs the Narrative Journalism Fellowship. Halpern, 56, has written for such publications as Rolling Stone, the New Yorker, the New York Times Magazine, Glamour, Good Housekeeping, Mother Jones and Condé Nast Traveler. She edits NYRB Lit, the electronic version of the New York Review of Books.
A Rhodes Scholar and Guggenheim Fellow, Halpern is also the human half of a therapy-dog team. Her sixth book, about that work, is called A Dog Walks Into a Nursing Home and comes out in May. In an email, Halpern says her family moved to Vermont in 2001 "so we could live in a vibrant community — Ripton — with excellent schools — the North Branch School, especially — close to a college — Middlebury — and be able to ski out the door to both the Catamount Trail and the groomed trails of the Rikert Ski Touring Area." And, perhaps, to make ample use of the em dash.
K.P.
Michael Hastings
If you haven't heard of Hastings, you will soon. The 32-year-old Rolling Stone contributing editor and BuzzFeed reporter is quickly building a reputation as one of the country's most provocative journalists. And the Rice High School grad is doing so from his hometown of Burlington. It was Hastings' June 2010 story in Rolling Stone documenting the frosty relations between Gen. Stanley McChrystal's staff and the White House that prompted President Obama to can the top NATO general in Afghanistan. Hastings was also the one who famously goaded Secretary of State Hillary Clinton's spokesman last fall into telling him via email to "Fuck Off" and "Have a good life." Just last week, Hastings drew headlines again after accusing former White House chief of staff and current Chicago Mayor Rahm Emanuel of grabbing him during an interview last fall, alleging that he was "clearly trying to intimidate me with a threat of physical violence." So if you see him around Burlington, be sure to say hi. Just be careful what you tell him.
P.H.
The print version of this article was headlined "Dateline Green Mountains".